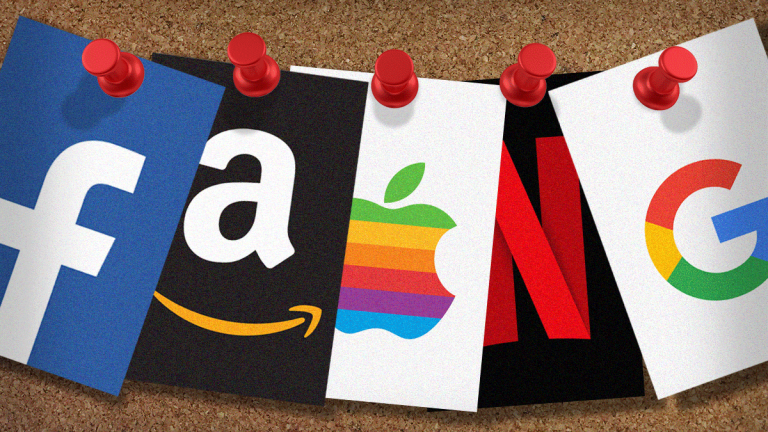 Big Tech Hearings and Scrutiny 'More Bark Than Bite,' Says FAANG Bull
The latest government scrutiny could even end up being a long-term positive for Facebook, Amazon, Apple and Alphabet, says analyst Dan Ives.
Big tech is under the microscope again -- several, in fact -- but one analyst says the recent government scrutiny is just a lot of noise and that the FAANG stocks still have plenty of upside. 
"This broader Beltway vs. Big Tech battle is more bark than the bite of broader structural changes across the tech food chain and will likely result in business model tweaks and potential DOJ/FTC fines in a worst case scenario rather than forced breakups of the underlying businesses," WedBush Securities' Dan Ives wrote in a note on Tuesday evening. 
Representatives from Facebook (FB) - Get Meta Platforms Inc. Report , Amazon (AMZN) - Get Amazon.com Inc. Report , Apple (AAPL) - Get Apple Inc. Report and Alphabet  (GOOGL) - Get Alphabet Inc. Report  all faced questioning from members of Congress in a hearing on Capitol Hill Tuesday, in which lawmakers argued these companies may be inherently anti-competitive. And on Tuesday and Wednesday, Facebook faced questioning over plans for its new cryptocurrency, Libra. 
The stocks have largely shrugged off the regulatory concerns, however. Facebook is trading near all-time highs and up 55% year-to-date. Apple is also trading near all-time highs, up 29% on the year. Amazon is also trading near all-time highs, up 34% in 2019. Google parent company Alphabet has only risen 10.4% this year. Still, Barclays analyst Ross Sandler said in an early July note the FAANG names have more upside, as valuations aren't excessive right now. 
As for the regulatory concerns, Ives noted that Tuesday's hearing likely marks the initial stages of a "multi-year, high-stakes poker game between these tech stalwarts and the U.S. government" over specific issues. The focus for Facebook wasn't just Libra, but also Calibra, a financial services arm the company wants to create. The main Apple concern is with the power of the app store, which charges 30% for in app purchases. Lawmakers are concerned about the fairness Amazon's e-commerce business. And Google, Congress worries, may have a search algorithm that favors its own products over others. 
"The further analysis of the business models from these FAANG names will cause some near-term uncertainty, but ultimately we view it as a positive, potentially acting as a catalyst for more technology innovation/diversification over the coming years for these titans," Ives said.
Ives wrote that he doesn't think any of these companies will be broken into smaller, separate parts solely on the basis of size, and that anti-trust laws would have to change in order for the break-up to happen. Of course, a strong argument demonstrating anti-competitive behavior may also be a catalyst for regulation. "We ultimately expect a 'no harm, no foul' outcome on these FAANG names," Ives noted, adding that "we continue to be bullish on FAANG plays into the rest of 2019/2020." 
Save 76% with our Prime Time Sale. Join Real Money to become a smarter investor! Click here to sign up!
Facebook, Amazon, Apple and Google are holdings in Jim Cramer's Action Alerts PLUS member club. Want to be alerted before Jim Cramer buys or sells those? Learn more now.