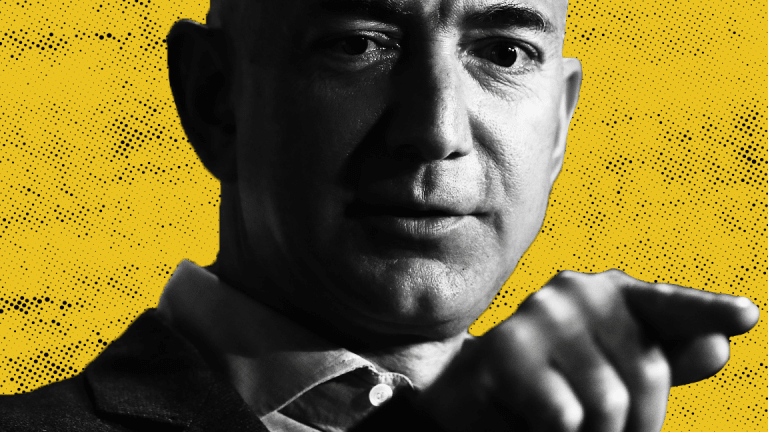 Bezos Accuses National Enquirer of Attempting Blackmail Over Explicit Selfies
Jeff Bezos, CEO of Amazon and owner of The Washington Post, on Thursday accused the CEO of American Media, David Pecker, of attempting to blackmail him.
Jeff Bezos, CEO of Amazon (AMZN) - Get Free Report and owner of The Washington Post, on Thursday accused American Media CEO David Pecker, a close confidante of President Trump, of attempting to blackmail him by threatening to publish explicit selfies of Bezos in the National Enquirer.
In a blog post on the Medium blogging platform titled No thank you, Mr. Pecker, Bezos claims representatives of privately held American Media Inc., the owner of the Enquirer, threatened to publish the photos if he didn't stop an independent investigation into how the tabloid got private text messages it published last month between Bezos and a woman, identified as Lauren Sanchez.
Bezos announced his marriage was ending shortly before the publication of the initial Inquirer story, prompting gleeful tweets from Trump, who has complained bitterly about the Washington Post's coverage of his administration. 
American Media has been linked to the practice of "Catch and Release" stories on behalf of Trump, in which the publication pays for exclusive rights to compromising information and then doesn't publish it.
In his blog post, Bezos included copies of letters allegedly from American Media's chief content officer, Dylan Howard, offering not to publish the photos as long as Bezos and his investigator publicly state that "[we] have no knowledge or basis for suggesting that AMI's coverage was politically motivated or influenced by political forces."
"If we do not agree to affirmatively publicize that specific lie, they say they'll publish the photos, and quickly. And there's an associated threat: They'll keep the photos on hand and publish them in the future if we ever deviate from that lie," Bezos added. 
Calls to Bezos and to AMI, were not returned at the time of publication.
Bezos added that "Any personal embarrassment AMI could cause me takes a back seat because there's a much more important matter involved here. If in my position I can't stand up to this kind of extortion, how many people can? (On that point, numerous people have contacted our investigation team about their similar experiences with AMI, and how they needed to capitulate because, for example, their livelihoods were at stake.)"
"These communications cement AMI's long-earned reputation for weaponizing journalistic privileges, hiding behind important protections, and ignoring the tenets and purpose of true journalism. Of course I don't want personal photos published, but I also won't participate in their well-known practice of blackmail, political favors, political attacks, and corruption. I prefer to stand up, roll this log over, and see what crawls out."