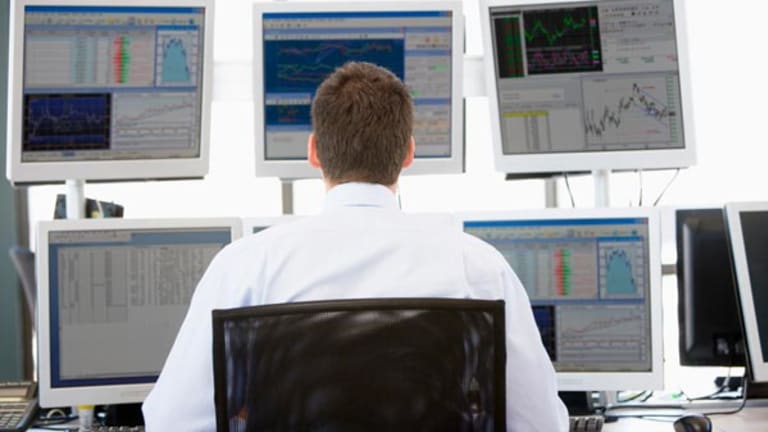 Best of Kass: Subprime Bracketology
The short-seller sorts through the mess.
The short-seller sorts through the mess.
The self-proclaimed "anti-Cramer," Doug Kass, anchors Street Insight's "The Edge," a diary about stocks and investing.
As a dedicated short-seller, Kass seeks out the bear market in any environment.
This week, he discussed
the subprime siren call
,
four to blame for the mess
the Fed's perceived role
and
bracketology
.
Please
click here for information about subscribing to
Street Insight
, where you can read Doug Kass' comments, as well as those from other market pros, in real time.
The Doctor of Subprime Bracketology
Originally published on 3/16/2007 8:03 a.m. ET
To complete my coverage of the subprime mess and in keeping with the time of the year, I wanted to end this week's discussion of mortgage lending through the eyes of the
(yours truly!).
Note: In our bracketology, NCAA stands for "National Committee of Adjustable ARMs."
Subprime's Siren Call
Originally published on 3/12/2007 at 9:12 a.m. EDT
Maybe Jim "El Capitan" Cramer is right when he writes,
Get Over Subprime's Collapse and in his view that the brokerage companies will be relatively immune from the subprime carnage.
But I doubt it.
It is far too easy and convenient to dismiss the subprime woes based on the notion that because it is on the cover of
The New York Times
or on the tongue of many market commentators, it is either discounted or not as bad as it seems. Rather than listen to the comments of others on the Street and in the media, I prefer to deal in facts as opposed to simple and glib sound bites.
Here is
from Page 132 (yes, I do read every page in these filings!) of
Goldman Sachs'
(GS) - Get Report
10-K dated Nov. 24, 2006.
Securitization Activities The firm securitizes commercial and residential mortgages, home equity and auto loans, government and corporate bonds and other types of financial assets. The firm acts as underwriter of the beneficial interests that are sold to investors. The firm derecognizes financial assets transferred in securitizations provided it has relinquished control over such assets. Transferred assets are accounted for at fair value prior to securitization. Net revenues related to these underwriting activities are recognized in connection with the sales of the underlying beneficial interests to investors. The firm may retain interests in securitized financial assets, primarily in the form of senior or subordinated securities, including residual interests. Retained interests are accounted for at fair value and are included in "Total financial instruments owned, at fair value" in the consolidated statements of financial condition. During the years ended November 2006 and November 2005, the firm securitized $103.92 billion and $92.00 billion, respectively, of financial assets, including $67.73 billion and $65.18 billion, respectively, of residential mortgage loans and securities. Cash flows received on retained interests were approximately $801 million and $908 million for the years ended November 2006 and November 2005, respectively. As of November 2006 and November 2005, the firm held $7.08 billion and $6.07 billion of retained interests, respectively, including $5.18 billion and $5.62 billion, respectively, held in QSPEs.
Note to Cramer: El Capitan: I am officially ordering a Code Red!
The Subprime Fungus
"I guess we are a bit surprised at how fast this (subprime) has unraveled." -- Tom Zimmerman, head of Asset-Backed Securities research at UBS, in a recent conference call for institutional investors.
The fungus of subprime credits has grown in scope and in economic consequence over the last three months. We are now beginning to experience a full-blown bursting of the latest asset bubble, which could prove even more devastating than the piercing of the
Nasdaq
stock bubble in 2000. The impact of the subprime collapse on the availability of mortgage credit -- and, in turn, consumer spending -- is the primary reason why I believe the U.S. economy and corporate profits will materially disappoint most observers, and why the equity markets remain vulnerable.
, like Cramer, Larry Kudlow and others, readily dismiss the potential spending consequences of substantially less capacity in the subprime mortgage-lending market and the emerging trend by mainstream originators and lenders to reduce lending in the primary mortgage market and for refinancing cashouts.
Indeed, Jim takes the subprime issue one step further, noting that the mortgage house of pain will have a salutary market and economic result, as it will hasten the
Federal Reserve's
path toward monetary ease. Shockingly (at least to me), many others can't comprehend the link between mortgage availability and consumer spending, claiming that the correlation between the two variables is unclear.
I have not touched on the outlook for considerably higher credit losses at the financial intermediaries that address the housing market, which I will reserve for a future time. However, I will underscore the perfunctory conference calls and the generally disingenuous role of Wall Street rating agencies, which continue to hide the damage for owners of collateralized product paper as it relates to the collapse of the subprime market. It seems that at the end of every cycle's excesses, the investment community rationalizes the indefensible, owing to the enormous profitability of the products that are being peddled. The higher a market surges, the easier the product is to sell, but the less straightforward the pitch becomes.
Time and time again -- whether it be junk bonds, tax shelters, technology stocks, high-priced IPOs, glowing research reports -- Wall Street (despite former New York Attorney General Spitzer's noble initiatives) continues to exist for the purpose of raising capital (i.e., selling stocks and bonds) and not for the purpose of producing objective research and making clients money.
The brokerages' ties (in packaging and trading mortgage products) and earnings exposure to the subprime collapse -- they have 60% of the market share of the mortgage financing market -- were covered in depth in yesterday's
New York Times
by Gretchen Morgenson. (
Editor's note: A subscription is necessary to access this link
.)
Broadly Negative Multiplier Effect
From my perch, the collapse of the subprime markets -- delinquencies now stand at 12.6% for subprime and 4.7% for the overall mortgage market -- within the context of the $6.5 trillion mortgage securities market will have a broad and negative multiplier effect on mortgage activity (housing turnover) and retail spending. It will also serve to further grease the current slide in new residential construction activity and hasten the drop in home prices.
It is important to understand housing's disproportionate role in terms of buoying employment and industrial production from 2000-06 in order to appreciate how violent the reversal's effect might be on aggregate economic growth. As I wrote back in October 2006:
The real estate industry has been responsible for 40% of the job growth since 2001.
The rise in home prices has provided for 70% of the increase in household net worth since 2001.
The increase in consumer spending and real estate construction spending has contributed to 90% of the growth in GDP since 2001.
Not only did new home construction embark on an era of unprecedented growth, but the broad rise in national home prices gave way to the concept of the "Home as an ATM" -- a source of cash, a substitute for savings and an enabler of the consumption binge (which was above and beyond the income means of the average consumer).
During the 1990s, mortgage equity withdrawals averaged between $20 billion to $80 billion per year, or only about 0.50% of GDP. By contrast, average yearly mortgage equity withdrawals climbed to about $230 billion, or 2% of GDP, over the last five years and peaked at nearly 3% of GDP in the second quarter of 2006 -- or at an annualized yearly rate of almost $400 billion!
Several months ago,
Freddie Mac
( FRE) forecast that mortgage equity withdrawals will drop by 20% this year and by another 30% in 2008. These projections were done before the subprime fungus spread, and I think its estimates are too high.
In 2006, subprime mortgage loans trebled (to 36%) as a percentage of all mortgages issued. "Liar loans," or non- and low-documented loans that relied on the candor of homebuyers (never an intelligent loan strategy!) doubled (to 40%) over the same time frame. Creative loans, characterized by teaser rates, negative amortization and interest-only, among others, became the New Big Thing in real estate and dominated the mortgages issued in 2006. Refinancing cashouts proliferated, and, according to BankAmerica Securities, the average loan to a subprime borrower rose from 48% of the property's value in 2000 to 82% last year.
While the media have been focused on the
D.R. Horton
(DHI) - Get Report
CEO's
, every quarterly conference call with leading homebuilders last quarter confirmed the mounting restrictions of credit by mortgage lender. Stated simply, it is growing harder and harder to get mortgages. In the interim interval, the subprime market's health has worsened and so has, on a daily basis, the availability of mortgage credit (the lifeblood of our economy's well being).
In light of the recent adverse loan experience and bad publicity, most originators are avoiding these loans like the plague. Today, no mortgage lending officer at any bank or thrift will dare stretch lending standards to home buyers, as the mandate of tightened loan-to-values and higher FICO scores are, increasingly, the directive from financial companies' management.
Moreover, the fixed income market has a diminished appetite for packaged subprime loans and a diminished appetite for any collateralized product that includes subprime loans. It is unlikely that the institutional investors will hunger for this product for some time to come and originators will be faced with the hard reality that subprime loans will face more limited demand in the primary and secondary markets.
With financial intermediaries turning off the mortgage loan spigot, first-time homebuyers and trade-up buyers -- who already are pressed by the lack of affordability (home prices divided by household incomes) -- will have markedly reduced access to the residential real estate markets. As a result, the cyclical decline in housing will be forced into another down leg, just at a time when inventories of unsold homes remain elevated and the volume of ARM resets peaks (in third-quarter 2007). As a consequence, the gradual decline in home prices seen over the last 12 months runs the risk of becoming a full-fledged waterfall slide.
The mortgage market's new reality will serve to immediately (and adversely) affect housing turnover and reduce the demand for expenditures on many products. Exacerbating the decline in personal consumption expenditures will be the virtual disappearance of mortgage equity withdrawals, which have been the straw that has stirred the drink of consumption since 2000.
Spending on everything from appliances, furniture, flooring, roofing, paint, televisions, telephones and tools will suffer from the lower housing turnover and activity. The cessation of refinancing cashouts could have an even broader effect, constraining discretionary spending on restaurants, apparel, vacations, remodeling projects, automobiles and other durables.
With the demand for a broad array of consumer goods and services moderating, corporate profits are at risk -- and will quickly disappoint relative to expectations. Up until now, the service sector has remained healthy (even while housing and autos weakened), but even the buoyancy in services will be pressured and put to the test in the months to come. In the fullness of time, the rate of job growth will decelerate even more markedly than we have seen over the last several months as construction unemployment accelerates and the contagion permeates the broader job market.
More tepid top-line sales growth will weigh on corporate profit margins (one of the cornerstones to my bearish case for equities and valuations) as operating leverage will be difficult to come by. Unfortunately, all this will occur at the same time cost pressures remain high.
The CRB RIND Index -- an index of spot raw material prices -- just made a multiyear high last week, while unit labor costs have upticked to levels not seen in years.
In summary, the credit contagion that started with the fungus of subprime lending will hit an already weakened housing market and could spread to other securitized markets. Its impact will be felt broadly and should have a pronounced negative effect on personal consumption, corporate profits and stock prices.
It will suck.
Four to Blame for the Subprime Mess
Originally published on 3/14/2007
3/14/2007 9:27 AM EDT
As I mention in my piece below, in time the broad-line money center banks stand to benefit from the carnage in subprime lending.
I will be adding to
JPMorgan Chase
(JPM) - Get Report
),
Bank of America
(BAC) - Get Report
and
Citigroup
(C) - Get Report
longs on any further weakness.
My visceral feel is that we have an up day today based on the magnitude of the blood letting yesterday.
Long JPM, BAC, C
3/14/2007 8:52 AM EDT
There are four main culprits responsible for the expanding subprime debacle that threatens to upset the 'Goldlicks' scenario so many are trumpeting. I've listed them in descending order of importance -- and ranked by school grade!:
Culprit #1:
Former
Federal Reserve
Chairman Alan Greenspan was no smarter than a
fifth grader
.
Greenspan did two big things wrong.
First, the former Fed chairman took interest rates far too low and maintained those levels for far too long a period in the early 2000s, well after the stock market's bubble was pierced. (Stated simply, he panicked).
The Fed's very loose monetary policy served to encourage the new, marginal and non-traditional home buyer -- the speculator and the investor, not the dweller -- to embark on a speculative orgy in home purchases not seen in nearly a century.
Over time, home prices, especially on the coasts, were elevated to levels that stretched affordability well beyond the means of most buyers. Ultimately, despite relatively strong employment and low interest rates, the residential housing market crashed hard.
Second, Greenpsan suggested -- at just the wrong time and at the very bottom of the interest rate cycle -- that homeowners retreat from traditional, fixed rate mortgages and turn to more creative and floating rate mortgages -- interest only, adjustable option ARMs, negative amortization, etc.
He said this in February 2004 at a Credit Union National Association 2004 Governmental Affairs Conference:
"American consumers might benefit if lenders provided greater mortgage product alternatives to the traditional fixed-rate mortgage. To the degree that households are driven by fears of payment shocks but are willing to manage their own interest-rate risks, the traditional fixed-rate mortgage may be an expensive method of financing a home."
One year later Greenspan continued the same mantra and cited the social benefits of the financial industry's innovation as reflected in the proliferation of the subprime mortage market.
A brief look back at the evolution of the consumer finance market reveals that the financial services industry has long been competitive, innovative, and resilient. Innovation has brought about a multitude of new products, such as subprime loans and niche credit programs for immigrants. Such developments are representative of the market responses that have driven the financial services industry throughout the history of our country. With these advances in technology, lenders have taken advantage of credit-scoring models and other techniques for efficiently extending credit to a broader spectrum of consumers. The widespread adoption of these models has reduced the costs of evaluating the creditworthiness of borrowers, and in competitive markets cost reductions tend to be passed through to borrowers. Where once more-marginal applicants would simply have been denied credit, lenders are now able to quite efficiently judge the risk posed by individual applicants and to price that risk appropriately. These improvements have led to rapid growth in subprime mortgage lending; indeed, today subprime mortgages account for roughly 10% of the number of all mortgages outstanding, up from just 1% or 2% in the early 1990s...We must conclude that innovation and structural change in the financial services industry has been critical in providing expanded access to credit for the vast majority of consumers, including those of limited means. Without these forces, it would have been impossible for lower-income consumers to have the degree of access to credit markets that they now have. This fact underscores the importance of our roles as policymakers, researchers, bankers, and consumer advocates in fostering constructive innovation that is both responsive to market demand and beneficial to consumers.
But even as Greenspan was taking interest rates to levels that encouraged the egregious use of mortgage debt and exhorting the opportunities in creative and variable mortgage financing, there were some smart cookies out there who recognized the risks; here are quotes from two of the smartest who warned of the danger in the mortgage market.
When I took economics in World War II, and we were studying the Great Depression, one of the reasons given were all the interest-only loans that came due. They were an indication of an economy getting into unsound lending. Ever since then it's been a rule that when you go into interest-only loans, you're very substantially increasing the risk of default. -- L. William Seidman. Former Chairman of the Federel Deposit Insurance Corporation and Chairman of the Resolution Trust Corporation
Our own Robert Marcin put it even more precisely (and vividly) in his prescient warning back in mid-2005.
If Greenspan had a clue (remember, he didn't have one in the tech bubble, or maybe he did), he would jawbone the banking industry to tighten or even strangle lending standards for residential real estate. He should not kill the entire economy to slow the real estate markets. Now that bag people can buy condos in Phoenix with no down payments, maybe the Fed should get involved. You can't expect mortgage bankers to do anything; they get paid to lend money. But like Greenspan's unwillingness to raise margin rates in 1999, I expect him to do nothing until the market declines. Then, the taxpayers will be on the hook for the stupidities of the real estate speculators. Remember, I expect a sequel to the RTC in the future. -- Robert Marcin, Making Money Before Housing Crumbles.
Greenspan will go untouched and will continue to give speeches at $200,000 a pop.
Culprit #2:
Irrational lenders like
Novastar
,
New Century
,
Fremont General
,
Option One
,
Accredited Home
, OwnIt Mortgage Solutions and others were no smarter than a
sixth grader
.
Many of these mono-line subprime lenders grew from nothing to originating billions of dollars of mortgage loans almost overnight. Their rush to lend and helter skelter growth relied on the candor of the mortgagees and not on common sense, prudent lending or reasonable underwriting standards.
The growth in subprime-only originators was irrational, but the industry will now be rationalized and the marginal lenders will go bankrupt. And, in the fullness of time, the more diversified lenders will benefit from their demise.
Culprit #3:
Wall Street was no smarter than a
seventh grader
.
The role of the brokerage community in the packaging, warehousing and trading of mortgage securities is immense, with about a 60% share of the mortgage financing market. After tax shelter abuses in the early 1980s, junk(y) bonds in the late 1980s, overpriced technology stocks and ludicrous IPOs and disingenuous research reports in the late 1990s, one would think that Wall Street had learned its lesson.
It has not.
Defending the indefensible -- despite the "policing" of the SEC and Gov. Spitzer's initiatives -- remains Wall Street's credo. Time and time again, the major brokerage firms exist for the purpose of selling product (stocks and bonds), not for providing objective research or for the commitment to client's profitability. The higher a market surges, the easier it is for Wall Street to peddle, and package, junk.
The magnitude of the potential gains are always too attractive and tempting particularly as product demand swells into another cycle excess, as it did in subprime. Astonishingly, even the obligatory emergency conference calls intended to persuade investors that all is well were superficial and failed to disclose the inherent conflicts that each and every multiline brokerage has.
The major brokerages will be litigated against -- again. They will pay large fines but will proceed in business until the next bubble -- which they will also capitalize on.
Culprit #4:
The rating agencies were no smarter than an
eighth grader
.
The little-known secret in the subprime market is that the principal ratings agencies have been lax in their downgrades of subprime paper and securitizations. This should not be considered a surprise, because like their Wall Street brethren, they prosper from the rising tide of credit issuances. In doing so, like a teacher who has turned his back on a boisterous and disobedient class, those recalcitrant agencies -- Moody's, Fitch and S&P -- have ignored the erosion in credit quality and abetted the rush and market share taking of subprime lending.
According to Jim Grant's Interest Rate Observer, downgrades at Moody's were even with upgrades in 2005. In 2006, downgrades/upgrades rose slightly to 1.19 to 1; this compares to the historical downgrade/upgrade ratio of 2.5 to 1. Importantly, until downgrades are issued by the agencies, investors routinely carry their investments at cost, or par -- downgrades force investments to mark to market ... and sell.
The rating agencies will likely go unscathed because they always do.
Programming note:
I discussed the "four culprits" and my broader view of the subprime debacle on Aaron Task's
Real Story podcast last night.
Fed Is No Savior in Subprime Slide
Originally published on 3/15/2007 8:17 a.m. ET
Bullish observers have increasingly been making the case that the growing fungus of subprime credit problems will force the
Federal Reserve
into a loosening of monetary conditions sooner rather than later.
These days, the private-equity put doesn't seem to be working, so it appears that the struggling bulls now must hold on to the notion of a Bernanke put to counter the currently troubling and tenuous stock market conditions.
After all, lower interest rates
always
reverse investor sentiment and adverse financial conditions, right?
My view is that with the level of inflation remaining stubbornly high, coming to the aid of a bunch of reckless and overly aggressive mortgage bankers is not necessarily seen by Chairman Ben Bernanke & Co. as an immediate responsibility of the Federal Reserve.
They might deem it too early in the crisis, or think there is no crisis at all.
In fact, consider the cheerleading of Treasury Secretary Henry Paulson in Tokyo last week and remarks made recently by Federal Reserve Governor Susan Bies, both of whom have downplayed the subprime problems:
"Credit issues are there, but they are contained. I don't think it (subprime) has, at this point, implications for the aggregate economy in terms of the ongoing expansion."
-- U.S. Treasury Secretary Henry Paulson"Based on some recent observations, mortgage lending certainly is an area in which we believe financial institutions and supervisors have learned some key lessons about risk management."
-- Federal Reserve Governor Susan Schmidt Bies
Also, consider this quote from another Fed official on what he sees as the Fed's true role.
Ultimately, though, ex ante judgments about leverage, concentrations and liquidity risk will continue to prove elusive. Our principal focus should therefore be not in the search for the capacity to preemptively diffuse conditions of excess leverage or liquidity, but in improving the capacity of the core of the financial system to withstand shocks and on mitigating the impact of those shocks. And, as always, central banks need to stand prepared to make appropriate monetary policy adjustments if changes in financial conditions would otherwise threaten the achievement of the goals of price stability and sustainable economic growth. - Timothy Geithner, president of the New York Federal Reserve Bank, Feb. 28, 2007.
Now even if the Federal Reserve did lower interest rates in March or April, the markets could interpret the move more negatively than the bulls realize by calling attention to the magnitude of the mortgage crisis and by fueling inflationary fears, serving to pull the capital markets into a tailspin.
As we move into the summer or fall (at the latest), there will be better visibility of the subprime problems. By that time, it will be abundantly clear to even the bulls that an inventory-swollen housing market is back on the sick bed as the two most important marginal buyers -- the first time and trade-up buyers -- have lost access to home-financing. And, by then, the multiplier effect of the housing downturn should be in full force, causing the economy to sputter and for corporate profit expectations to fall to more realistic levels.
The upheaval in the subprime mortgage industry is in its middle stages, but the broad impact on the U.S. economy is in its infancy. To paraphrase,
Frankenstein's
, the
credit markets and Wall Street have created a monster
-- subprime -- and it will destroy the economy.
At time of publication, Kass and/or his funds were long JPM, BAC and C, , although holdings can change at any time.
Doug Kass is founder and president of Seabreeze Partners Management, Inc., and the general partner and investment manager of Seabreeze Partners Short LP and Seabreeze Partners Short Offshore Fund, Ltd. Until 1996, he was senior portfolio manager at Omega Advisors, a $4 billion investment partnership. Before that he was executive senior vice president and director of institutional equities of First Albany Corporation and JW Charles/CSG. He also was a General Partner of Glickenhaus & Co., and held various positions with Putnam Management and Kidder, Peabody. Kass received his bachelor's from Alfred University, and received a master's of business administration in finance from the University of Pennsylvania's Wharton School in 1972. He co-authored "Citibank: The Ralph Nader Report" with Nader and the Center for the Study of Responsive Law and currently serves as a guest host on CNBC's "Squawk Box."
Kass appreciates your feedback;
to send him an email.