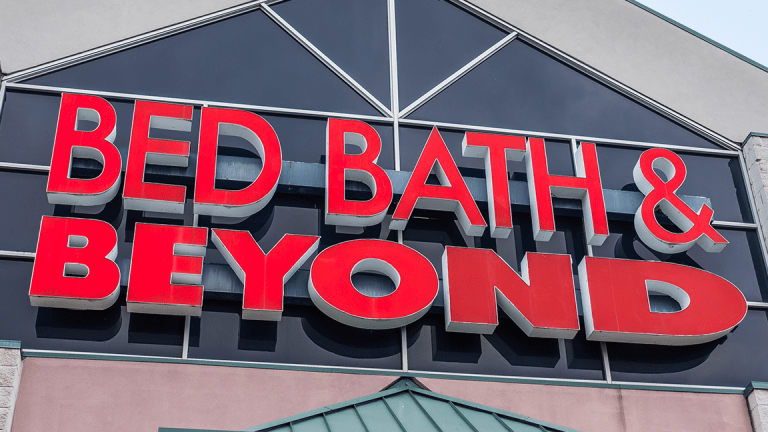 Bed Bath & Beyond (BBBY) - Get Bed Bath & Beyond Inc. Report sank Thursday despite reporting fourth-quarter earnings that topped analysts' expectations.
Adjusted earnings in the quarter were $1.20 a share on revenue of $3.31 billion. The loss for the period was $1.92 a share. Wall Street was expecting the company to earn an adjusted $1.12 a share on revenue of $3.33 billion. For the fiscal year, the company posted a loss of $137.2 million - its first ever annual loss - as sales declined 2.6%.
Comparable-store sales fell 1.4% in the quarter vs. analysts' expectations of a decline around 1.3%.
"During the fourth quarter and throughout fiscal 2018, we have been driving significant foundational change across our business," said CEO Steven Temares. "The pace of our transformation accelerated during fiscal 2018."
"In fiscal 2019, we are modeling our operating profit, even including the investments in initiatives, to stabilize, and earnings per share to grow slightly, and for both to accelerate thereafter, as the impact from many of our key initiatives grows and we take advantage of the significant operating leverage of our business," the CEO added.
The company now expects fiscal 2019 earnings of between $2.11 and $2.20 a share, excluding certain charges. Analysts polled by FactSet had forecast Bed Bath & Beyond to earn $1.80 a share in the fiscal year.
The stock declined 11.1% in trading Thursday to $17.26.
Shares of Bed Bath & Beyond have risen 71.5% in 2019 amid a push from three activist firms -- Legion Partners, Macellum and Acora Advisors -- to improve the company's results. The firms are proposing to nominate 16 candidates to replace the company's current board.
Bed Bath & Beyond announced in its earnings report that its board was undertaking a comprehensive review of its "composition, governance structure and compensation practices." The company also said it was accelerating its board refreshment program, which already has resulted in the addition of three new directors over the past two years.
The company also raised its quarterly dividend to 17 cents a share from 16 cents.