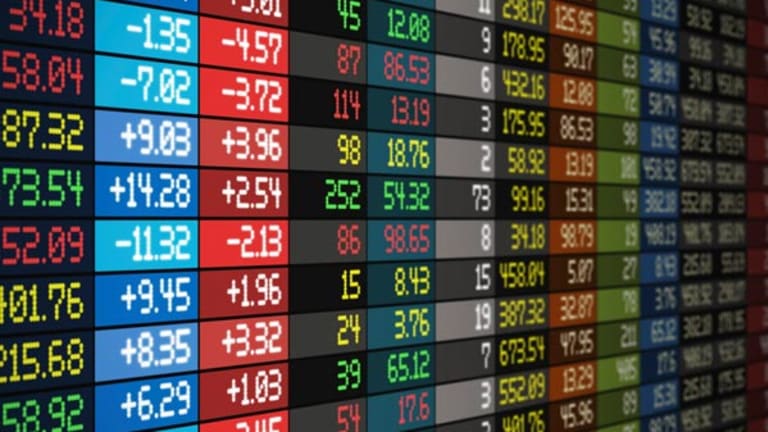 Bears Roar Into Finish; Dow Closes Below 8000
Stocks sold off hard and fast as investors absorbed dismal housing and economic data and automakers again asked Congress for more aid. The Dow sank 5%, while the S&P and Nasdaq plummeted more than 6%.
Updated from 4:08 p.m. EST
Stuck in losing territory for much of Wednesday's trading, U.S. stocks took a late-day plunge to settle with massive losses, as record-setting declines in housing and consumer prices wreaked havoc on the major averages.
The
Dow Jones Industrial Average
sank 427.47 points, or 5.1%, to 7997.28, and the
fell 52.54 points, or 6.1%, to 806.58. The
Nasdaq
tumbled 96.85 points, or 6.5%, to 1386.42. All 30 of the Dow's component stocks finished with losses as the index closed below the 8000 mark for the first time in more than five years.
Investors sold furiously, showing little faith in U.S. companies' ability to weather a worsening economic climate. Several data releases gave credence to traders' trepidation. The Census Bureau said that
declined 4.5% to an annual rate of 791,000 for October, the largest one-month decline on government records dating back to 1959.
"Lowest of all time kind of speaks for itself," said Mike Feroli, U.S. economist for JPMorgan Economics. "If you're looking for a silver lining, the pain now hopefully puts you in a place to clear out inventories down the line." But in exchange for cleared inventories, the U.S. will suffer declines in construction employment and slower growth, he said.
Separately, the Bureau of Labor Statistics reported that its
consumer price index
fell 1% for October thanks in part to falling energy prices. The CPI's decline was its largest on record. Economists were expecting a decline of 0.8%. The core rate dropped 0.1%, following a 0.1% uptick in September.
Even accounting for the index's volatile components, said Feroli, the decline in prices appears to be broad-based. He said that although the decline in consumer prices may not be this sharp every month, he expects prices to continue to flag going forward.
The
Federal Reserve's Open Market Committee
also released minutes from its latest meeting. The minutes indicated the central bank expects GDP to be flat for 2008, down from a previous estimate of 0.3% growth. The FOMC notes also said that additional interest-rate cuts may be necessary and indicated that the Fed would continue to do whatever is needed to aid the economy.
Few stocks remained afloat in the wash of negative sentiment.
Contributing to investor fear was the hobbled automotive sector. After arriving hat in hand on Capitol Hill Tuesday to plead their case for access to federal funding, chief executives of the woebegone
companies
General Motors
(GM) - Get Free Report
,
Ford
(F) - Get Free Report
and
Chrysler
were attempting again Wednesday to exchange a grilling by members of Congress for billions of dollars in government aid. The Big Three have been walloped lately by a combination of flagging sales, troubles in their finance divisions and high labor costs.
GM shares plummeted 9.7% to $2.79, and Ford tanked 25% to $1.26.
"There's been no sign from any of the three auto companies that they are willing to change any significant aspect of their business models or their business plans," said Fred Dickson, director of private client research at DA Davidson. "It's basically, 'Here's what we've done in the past; it should be good enough.'"
Dickson said Senate Republicans will likely need to see signs that the automakers will restructure their business models before they act. "The next step is going to be to see what GM does," he said.
As General Motors continued to scrape for cash, German solar firm
SolarWorld
announced plans to buy assets of GM's German segment,
Adam Opel
.
The U.S. auto companies weren't the only ones coping with a tough market.
Toyota
(TM) - Get Free Report
said it will cut production in North American plants and lay off 250 of its temporary workers. Shares slipped 5.5% to $59.76.
(BA) - Get Free Report
, which along with GM is a Dow component, is resetting its production schedule as it attempts to recover from a strike by its machinists' union, according to a report by
The Wall Street Journal
. Boeing shed 5.3% to $37.48.
Meanwhile, industrial conglomerate and fellow Dow company
General Electric
(GE) - Get Free Report
said it would restructure its GE Capital finance branch to cut costs. Shares tumbled 10% to $14.45.
Elsewhere, government-controlled mortgage firm
undefined
received notice from the
that it faces delisting if it can't keep its share price above $1. The stock dropped 19% to 38 cents.
Staying with the financials,
Citigroup
(C) - Get Free Report
said it would buy $17.4 billion in assets held by structured-investment vehicles, funds that issue short-term debt to make long-term loans at higher debt. Such funds have been significantly hampered by the credit crunch. The stock got crushed, falling 23% to $6.40, falling below $7 for the first time in 13 years.
Among technology stocks,
Microsoft
(MSFT) - Get Free Report
CEO Steve Ballmer said he is no longer considering an acquisition of
Yahoo!
(YHOO)
, although he remains open to a
collaboration on search
. Yahoo! head Jerry Yang, who had been an opponent of a merger between the two companies, said on Tuesday that he would be leaving the CEO spot. Microsoft gave back 6.8% to $18.29, and Yahoo! shares slumped 21% to $9.14.
In earnings news, bulk retailer
BJ's Wholesale
(BJ) - Get Free Report
reported rising third-quarter profit that was aided by gasoline sales. Shares slipped 0.5% to $33.42.
As to
, Goldman Sachs put BlackBerry maker
Research In Motion
(RIMM)
on its conviction buy list. RIM shares dropped 4.1% to $45.33.
In the realm of commodities, crude oil fell 77 cents to settle at $53.62 a barrel. The Energy Department said crude inventories climbed by 1.6 million barrels for the week ended Nov. 14, whereas economists were expecting a rise of 800,000 barrels. Gold added $3.30 to close at $736 an ounce.
Longer-dated U.S. Treasury securities were soaring in price. The 10-year note was up 1-14/32 to yield 3.36%, and the 30-year was rocketing 3-1/32, yielding 3.95%. The dollar was retreating vs. the euro, yen and pound.
Overseas, the FTSE in London and the DAX in Frankfurt were both trading lower. In
, Japan's Nikkei and Hong Kong's Hang Seng closed with losses.