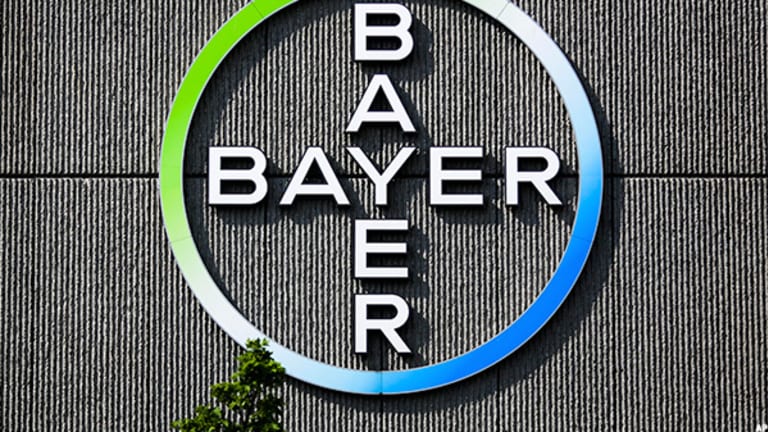 Bayer Shares Slump The Most in Seven Months After Profit Warning
Profit warning arises.
Bayer AG (BAYRY) - Get Report  shares fell the most in seven months Friday after the German drug and pesticides maker, said will adjust its full-year profit forecasts owing to weakness in a key market in Brazil and the recent rise in the European single currency.
The Leverkusen, Germany-based group said the weakness in its crop science market in Brazil would lead to a a €300 million to €400 million hit to its full-year earnings and added that "unfavorable currency developments" and a weaker-than-expected performance in its consumer healthcare division would also trim its bottom line. The euro, Bayer's reported currency, has risen to a 14-month high against the U.S. dollar over the past week, capping its biggest quarterly gain in at least four years.
"Against this background, Bayer will be adjusting its full-year forecasts for sales and earnings in the Crop Science and Consumer Health divisions. This will also result in adjustments to the forecasts for Group sales and earnings indicators," the company said in a statement. "By contrast, the Pharmaceuticals Division and Covestro continue to perform strongly. The Animal Health business unit is performing in line with expectations."
Bayer shares were marked 4.1% lower in Frankfurt and changing hands at €113.09 each by mid-day, trimming their quarter-to-date gain to around 5.7%.
Bayer which is in the midst of completing a $66 billion takeover of Monsanto (MON)  had a solid first quarter, with adjusted operating profit rising 15% from the same period last year to €3.9 billion ($4.2 billion). and group sales rising 11.7% to €13.24 billion, with pharmaceuticals revenue up 7.4% to €4.3 billion.
However, at the same time, Bayer trimmed its Ebitda growth estimate to a "low teens percentage" range despite boosting its full-year sales outlook to around €51 billion.
The company said Friday, June 30 that its new outlook "will be adjusted during preparation of the interim report for the second quarter and announced with its publication."
Visit here for the latest business headlines.