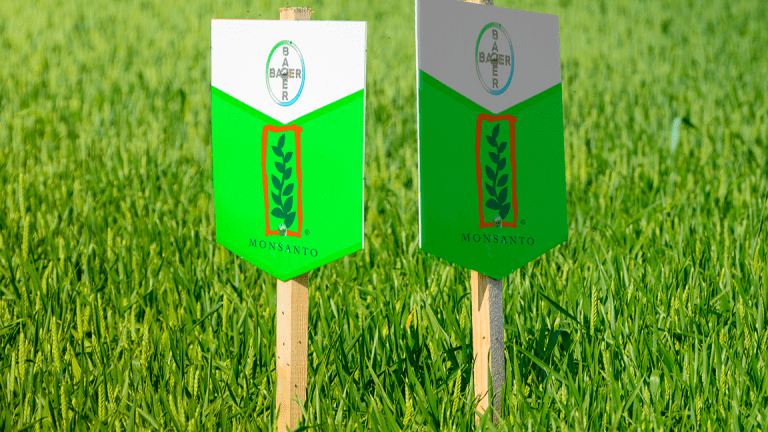 Bayer Shares Plunge Following $289 Million Monsanto Cancer Verdict in California
Bayer fell the most in 15 years Monday after a California jury said its Monsanto subsidiary must pay former school groundskeeper Dewayne Johnson $289 million in damages for the cancer he contracted from the chemical group's 'Roundup' weedkiller.
Bayer AG (BAYRY) - Get Report shares fell the most in 15 years Monday after a California jury said the group must pay $289 million in damages to a man who contracted cancer from a weedkiller manufactured by its Monsanto subsidiary.
Attorneys for Dewayne Johnson, a groundskeeper who worked for the San Francisco school district, argued that Monsanto's 'Roundup' and 'Ranger Pro' weedkillers, as well as its other glyphosate-based products, did not carry sufficient warnings for the risks of cancer that they carried. Jurors at San Francisco's Superior Court of California deliberated for three days before agreeing with the prosecution's case, awarding Johnson $39 million compensatory damages and a further $250 million in punitive in a case that could spark thousands of similar suits and verdicts around the country. 
Monsanto, which is now a wholly-owed subsidiary of Bayer following last year's $63 billion acquisition, said the verdict "does not change the fact that more than 800 scientific studies and reviews ... support the fact that glyphosate does not cause cancer, and did not cause Mr. Johnson's cancer" and vowed to appeal.
Bayer shares were marked 11% lower in the opening hour of trading on the Deutsche Boerse in Frankfurt, the biggest single-day decline in 15 years that extended its year-to-date decline to 8.6% and dragged the stock to its lowest level since July 2013.
Johnson, 46, said he contracted non-Hodgkin's lymphoma from his use of the weedkillers, and filed a case against Monstanto in 2016, alleging internal memos suggested the company knew the dangers its products posed but failed to warn customers.
"We were finally able to show the jury the secret, internal Monsanto documents proving that Monsanto has known for decades that ... Roundup could cause cancer," Johnson's attorney, Brett Wisner, said in a statement Friday.