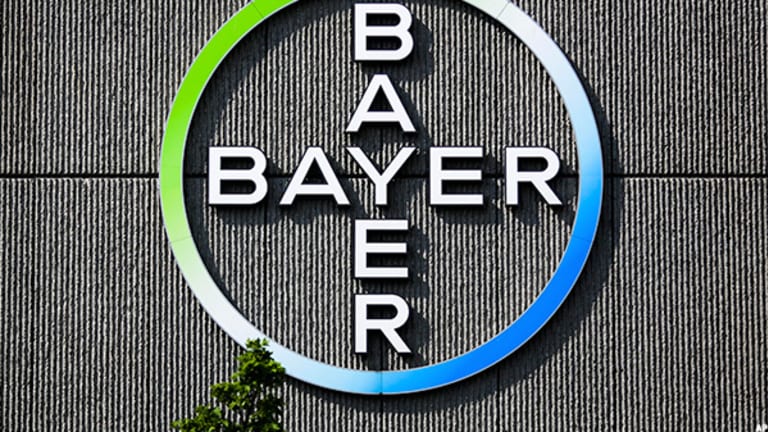 Bayer Shares Dip After Group Pushes Monsanto Closing Date into 'Early 2018'
Bayer is asking the European Commission for a 10-day extension to its probe of the $66 billion Monsanto takeover.
Bayer AG said Tuesday that its takeover of Monsanto likely won't be wrapped up until early next year and asked European regulators for an extension to the deadline on its investigation into the proposed $66 billion deal.
Bayer wants an extra 10 working days, the the German drug and pesticides maker said, in order to facilitate "an appropriate evaluation given the size of the transaction." That would take the deadline to Jan. 22, 2018, if approved, and pushes the deal's completion date into early 2018.
In view of this, an anticipated closing of the deal in early 2018 is now more likely than end of 2017," said Bayer board member and Crop Science division president Liam Condon. "Bayer has  submitted applications for clearance to almost all of the around 30 relevant authorities, and has already received approvals from over one-third of them," the company added.
Bayer shares were marked 0.33% lower in Frankfurt and changing hands at €110.21 each by 10:45 am local time, extending their three-month decline past 10.6%.
The deal has proved something of a thorn in the side of the Monheim, Germany-based group, with the European Commission only last month launching an in-depth investigation into the proposed tie-up amid concerns it could hurt European farmers.
"Seeds and pesticide products are essential for farmers and ultimately consumers," said commissioner Margrethe Vestager in a statement on Tuesday, Aug. 22. "We need to ensure effective competition so that farmers can have access to innovative products, better quality and also purchase products at competitive prices."
Analysts have warned that scrutiny of the combination could be more rigorous than usual as the merger is the third of three agricultural inputs mega deals following Dow Chemical Co.'s $130 billion merger with DuPont Co. and ChemChina's $43 billion takeover of Switzerland's Syngenta AG. Both of those deals were subjected to an EU in-depth probe that resulted in asset sales before they were cleared to conclude.
The EC said it would decide on the transaction's fate on January 8, 2018, and that it was consulting with other competition authorities that are also reviewing the deal, including the Department of Justice in the U.S. and the antitrust authorities of Australia, Brazil, Canada and South Africa.
Bayer's shares were hit hard earlier this year when it lowered its full-year sales and earnings estimates thanks in part to a surging euro and challenging business conditions.
Bayer said it expects full-year sales to rise to €49 billion ($58.7 billion), down 4% from its previous guidance and forecasts adjusted operating profit to grow "by a high-single-digit percentage" compared to its prior aim of a growth rate in the "low teens". The group said its planned acquisition of Monsanto remains on track and that its "making progress in our discussions with regulatory authorities"
The outlook changes followed the company's June profit warning, which it said was based on weakness in a key market in Brazil and the recent rise in the European single currency.
The Leverkusen, Germany-based group said at the time that weakness in its crop science market in Brazil would lead to a a €300 million to €400 million hit to its full-year earnings and added that "unfavorable currency developments" and a weaker-than-expected performance in its consumer healthcare division would also trim its bottom line.
The euro, Bayer's reported currency, has risen to a January 2015 high of 1.1980 against the U.S. dollar this month, capping a year-to-date advance of nearly 14%.
Don't miss these top stories on TheStreet: