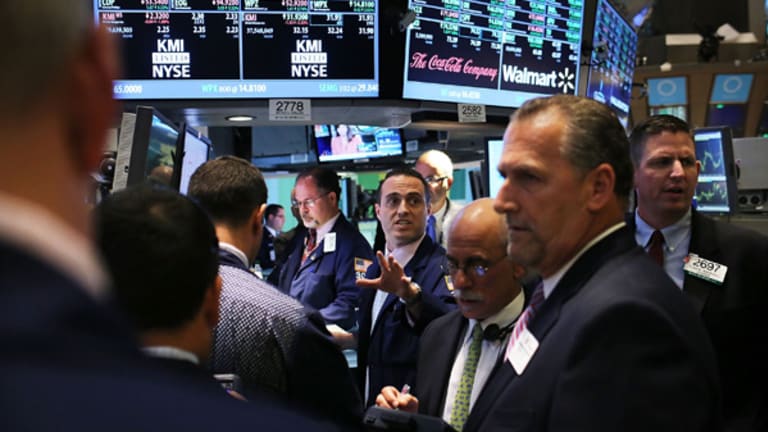 Bargain-Hunting Boosts Stocks
The Dow ends 1.2% higher, while the Nasdaq jumps 1.7%.
Updated from 4:08 p.m. EST
Stocks ended higher Tuesday, boosted by bargain-hunting following the previous session's steep losses, as traders paid little attention to the
Fed's
decision to keep interest rates unchanged.
The
Dow Jones Industrial Average closed up 101 points, or 1.2%, at 8574. The
Nasdaq gained 24 points, or 1.7%, to 1390, while the
S&P 500 added 12 points, or 1.4%, to 904.
"I'd characterize
today's activity as a bounce from yesterday's oversold condition," said Scott Reamer, head of Union Tree Capital, and a
RealMoney.com
contributor. On Monday, the Nasdaq lost 4% to end at 1367, and the Dow fell 2% to 8473. "Given the low volume, it seems the negative price action from the last week is more a function of buyers stepping away than aggressive selling."
Among individual sectors, semiconductor and networking shares were showing the most strength, erasing more than half of Monday's losses. The Philadelphia Semiconductor Index rose 5%, and the AMEX Networking Index added 4.5%. Meanwhile, housing and software issues faced some pressure. Overall, market breadth was positive. Advancers outpaced decliners nearly 2 to 1 on the
New York Stock Exchange, where 1.26 billion shares changed hands. On the Nasdaq, winners beat losers 10 to 7 on volume of 1.47 billion shares.
"I think last week's selloff was an important shift in psychology for the bulls who are buying stocks ahead of any real economic data that suggests a sustainable turn in the economy," Reamer said. "With that shift, I think you see hedge funds get more aggressive in shorting stocks on any end-of-year rally that gets us back to or near the highs we saw last week." Reamer also pointed out that mutual funds might sell if they see evidence that the economy is not on track to achieve 5% quarterly growth sometime in 2003.
Following a surprise move to cut interest rates by a half-percentage point at its last meeting, the Fed unanimously voted to keep rates unchanged at its meeting in Washington Tuesday, and maintained a neutral outlook on the economy. "The limited number of incoming economic indicators since the November meeting, taken together, are not inconsistent with the economy working its way through its current soft spot," the Fed said in a statement. The federal funds rate target currently stands at 1.25%, its lowest level in 40 years.
Another announcement making headlines Tuesday came from President Bush, who nominated veteran Wall Street executive William Donaldson to become the new chairman of the Securities and Exchange Commission. Donaldson will replace SEC Chairman Harvey Pitt, who announced his resignation Nov. 5 amid a slew of corporate scandals.
In corporate news, cell-phone giant
Nokia
(NOK) - Get Free Report
offered sales guidance at the low end of a previous range but said it was gaining market share. The company said in a regularly scheduled update that per-share earnings would also be roughly in line with estimates. The shares traded down 3.3% to $17.43 on the Big Board.
RF Micro
(RFMD)
was down 6.9% in sympathy.
Amazon.com's
(AMZN) - Get Free Report
chief executive, Jeff Bezos, offered a more rosy forecast in an interview with French newspaper
Les Echos
Tuesday. Bezos told reporters that the company's free shipping promotion for orders of $25 or more during the holiday season was generating solid results. He reaffirmed the online bookseller's fourth-quarter sales forecast of $1.3 billion to $1.4 billion, or 19% to 28% growth from year-ago levels. Shares of Amazon traded up 13 cents, or 0.6%, to $21.86.
Defense contractor
Northrop Grumman
(NOC) - Get Free Report
announced it has reached an agreement with the U.S. Justice Department regarding the key terms of its proposed $6.7 billion merger with
TRW
(TRW)
, paving the way for a shareholder vote Wednesday. Grumman traded up 1.3% at $96.62 on the news, while TRW tacked on 1.8% to $51.81.
In other merger-related news,
EchoStar Communications
(DISH) - Get Free Report
and
Hughes Electronics
undefined
said they have agreed to call off their $19 billion merger. Under the terms of the settlement, EchoStar has paid Hughes $600 million, the companies said. But EchoStar will not have to buy
PanAmSat
(SPOT) - Get Free Report
, and Hughes will retain its 81% ownership stake in the company. EchoStar jumped 9.1%, while shares of Hughes slipped 2.2%.
Among analyst actions, Merrill raised its rating on
Instinet
(INET)
to neutral from sell and doubled its 2003 earnings forecast to 12 cents from 6 cents a share. The brokerage cited market share gains. The stock climbed 24 cents, or 7.4%, to $3.50.
Meanwhile, Goldman Sachs cut its 2003 earnings estimate on
Delphi Automotive
undefined
, based on a weaker production forecast at
General Motors
(GM) - Get Free Report
.
Treasuries were lower, with the 10-year note losing 3/32 to yield 4.05%. The 30-year bond was down 6/32, yielding 4.92%.
Overseas markets were mixed, with London's FTSE 100 gaining 0.2% to 3925 Germany's Xetra DAX adding 3.1% to 3161. In Asia, Japan's Nikkei fell 0.3% to 8805, while Hong Kong's Hang Seng dropped 0.1% to 9858.