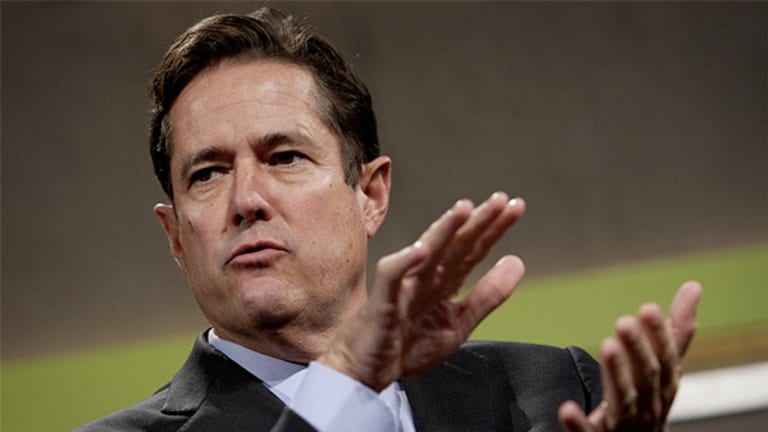 Barclays CEO Staley Gets Rough Ride at AGM, but Survives Shareholder Vote
Jes Staley faced a rough ride from Barclays shareholders at the bank's AGM but survived an attempt to oust him over his handling of a whistleblower incident late last year.
Barclays plc (BCS) - Get Barclays Plc Report CEO Jes Staley faced a rough ride from shareholders at the bank's annual general meeting Wednesday but survived an attempt to oust him amid criticism of his handling of a whistleblower incident late last year.
Staley apologised for the incident, in which he attempt to discover the identity of an employee who wrote a letter to the bank's Board of Directors that questioned the hiring of a banker that had, at one point, worked with Staley. The Barclays board concluded that Staley had "honestly, but mistakenly" believed he could identify the whistleblower.
"Before I update shareholders on the performance of your company, I wanted to take a moment to talk about the Board's recent announcement regarding whistleblowing," Staley said in a statment. "As you know, this matter is currently subject to regulatory investigation, and that means I am necessarily limited in what I can say about it."
"However, I feel it is important that I acknowledge to you - our shareholders - that I made a mistake in becoming involved in an issue which I should have left to the business to deal with," he said. "I have apologised to the Board, and I would today like to apologise to you as well, for that error."
Barclays said more than 97% of votes cast at the meeting favored Staley's reappointment as company director, with only 2.82% voting against. 
However, despite being supported by the bank's Board and it's chairman, John McFarlane, Staley nonetheless faced the wrath of both small and institutional shareholders alike at the London AGM, with some calling for his resignation and others questioning his level of knowledge of whistleblowing protections.
The Pensions & Investment Research Consultants, Europe's biggest corporate governance advisor, said Staley's £4.2 million in compensation last year was "inappropriate" and urged shareholders to vote against the Board's pay plans. ISS, the world's biggest proxy advisory firm, asked shareholders to abstain from voting against Staley's reappointment.
Staley's support, in terms of issued share capital casting votes, was significantly lower than the tallies recorded the 11 other Board colleagues facing reappointment.
Last month, both the U.K. Financial Conduct Authority and the Prudential Regulation Authority launched investigations into the matter, while Staley himself was formally reprimanded and told that a  "very significant compensation adjustment" will be made to his variable compensation award. The precise amount will be determined after the investigation by the FCA and PRA is complete.
"Taking into account both the circumstances of this matter and his otherwise exemplary record since joining Barclays, including contributing significantly to improvements in Barclays culture and controls, Jes continues to have the Board's unanimous confidence and it will support his re-appointment at Barclays Annual General Meeting on 10 May 2017," Chairman John McFarlane said in a statement last month.
Barclays shares were marked 1.86% higher at 2085.84 pence each in late afternoon trading in London, outpacing the 0.62% gain for the benchmark FTSE 100 and the 0.27% advance for the Stoxx Europe 600 Banks Index.