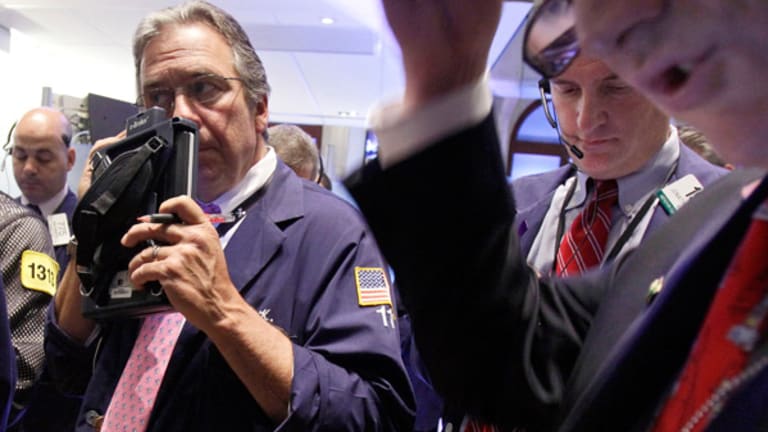 Banks Will Keep Rolling Along
Goldman Sachs and Bear Stearns are enjoying intact uptrends. Plus, handling disaster gaps.
Thursday, a reader asked me an interesting question about managing "disaster gaps," those unexpected gaps that occur as a result of a negative, stock-specific story or a more pervasive disaster that impacts the entire market. G.S. writes:
I always decide on a predetermined Stop Loss point for every position that I enter. So that I don't second-guess myself, I'll place a Stop Limit Order ("SLO") to exit the position if my Stop Loss price is hit. As my position becomes more profitable, I'll move the SLO higher as a trailing stop. This exit strategy works well if the stock makes an orderly move through my Stop Loss level. The stop is triggered, and my limit order (i.e., an order to sell at a specific price or better) is automatically placed. But this type of stop does not work well for wide gaps because the stock triggers the SLO as it gaps down, but the limit order is never executed because the stock gapped right through it with no transaction occurring. Would it be better to use a Stop Market Order to ensure that I get out of the position -- even if the exit is below my desired stop loss point, or should I keep a SLO and just try to exit on the next advance?
Unfortunately, there is no easy or right answer to this question. It simply depends on the stock, the exchange on which it trades and the catalyst for the decline. Often, a so-called "disaster gap" will open at the low point of the day. Setting a market order will guarantee that you exit the position, but you would have been better off to hold the stock through the initial flurry of selling and instead wait to sell on the retracement.
This scenario plays out every day at the open on listed stocks as specialists seek to match the panicked sell orders with enough buy orders at a particular price. Once the stock opens, all the market sell orders are filled. Then, all who wish to buy the stock will have to pay up. Why? Because only limit sell orders remain after all the market sell orders are filled. Those limit orders will necessarily be higher. So a market sell order on a listed stock typically will be a bad idea to protect against this type of disaster gap.
Happily, these types of gaps will become apparent prior to the market open. If a significant catalyst occurs during market hours, the affected stock's exchange often will halt trading in the stock. Either way, you should have some time to assess the damage and develop your game plan.
But the best method of dealing with the danger associated with "disaster gaps" is diversification. If you hold various positions from different sectors, the chances are rare that a single negative catalyst will deliver a fatal blow to your portfolio.
Let's look at
F5
(FFIV) - Get Free Report
and
A.O. Smith
(AOS) - Get Free Report
, a couple of stocks that illustrate the different outcomes of disaster gaps.
F5 fell off a cliff last week. Had you sold on the open, you'd have played right into the hands of the bargain hunters. Trading volume was more than four times higher than average. So a significant number of shares are held with a basis between $56 and $57.50. That left some room for further advances. The better tactic was to accept the fact that you had a real steamer on your hands and to simply wait to get a better sense of direction.
It appears as if FFIV is destined to fall below its April low of $56. After all, the last four trading days have failed to soak up all the excess supply at $60. This establishes another lower high, firmly establishing the downtrend. The next level of support is down around $52.50 -- about 10% from the current price.
Let's look at a different scenario in AOS.
Last week, A.O. Smith got crushed as the stock dropped below the support trend line on extremely heavy volume. Let's say that the subsequent gap triggered your stop loss. If your stop loss had a market sell component, you'd have exited the position with an acceptable loss. However, a limit sell order probably would not have been filled, thereby subjecting you to further losses. Note that this chart illustrates the basis for that old Wall Street adage, "Your first loss is your best loss." If you know you're wrong, don't substitute hope for action. That's always a bad trade.
I think AOS will fall to $42.50, which will be a test of support derived from the sizeable trading volume at that level in January and February. If that level fails to hold the stock, look for the next level of support down at around $36 -- if you are currently long, that's a lot of pain to deal with.
A reader asked for my take on the financial sector, so next let's check out
Bank of America
(BAC) - Get Free Report
,
Bear Stearns
( BSC) and
Goldman Sachs
(GS) - Get Free Report
.
On Wednesday, Bank of America broke above established resistance on strong volume. Thursday, the stock really jumped. Now, a pullback to test the breakout level generally provides the most opportune entry. But given BAC's sharp rise, a 5% pullback would also raise the caution flag. After all, Thursday's buying frenzy was on very heavy volume, so a pullback to around $47 would create a lot of losers. Those losers would be anxious to sell on the next advance. As such, the entry shown above might not be as good as you might think. Better to use a scaled entry if the stock continues to act well.
Bear Stearns presents a nice setup off the middle Bollinger Band. I wrote
recently about the use of the middle Band within an uptrending stock. Those who bought the stock on pullbacks to the middle Band throughout the past six months have been rewarded. From the looks of the last several days of trading, the dip buyers will continue to reap profits. Thursday's decisive advance reversed a four-day decline and the uptrend looks like it is still intact.
Goldman Sachs also bounced off the middle Bollinger Band Thursday as it tested the mid-April breakout. This uptrend is in no danger of ending, unless the stock marks a lower low by falling below the April low. Unless that happens, I'd stay long.
Be careful out there.
Dan Fitzpatrick is a freelance writer and trading consultant who trades for his own account in Encinitas, Calif. He is a former co-manager of a hedge fund and teaches seminars on technical analysis, options trading and asset-protection strategies for traders and business owners. Fitzpatrick graduated from the McGeorge School of Law and was a fellow at the Pacific Legal Foundation, a nonprofit public interest firm specializing in constitutional law. He also practiced law in the private sector before pursuing trading as a full-time career. At the time of publication, Fitzpatrick held no position in any stocks mentioned, though positions may change at any time. Under no circumstances does the information in this column represent a recommendation to buy or sell stocks. While Fitzpatrick cannot provide investment advice or recommendations, he appreciates your feedback;
to send him an email.