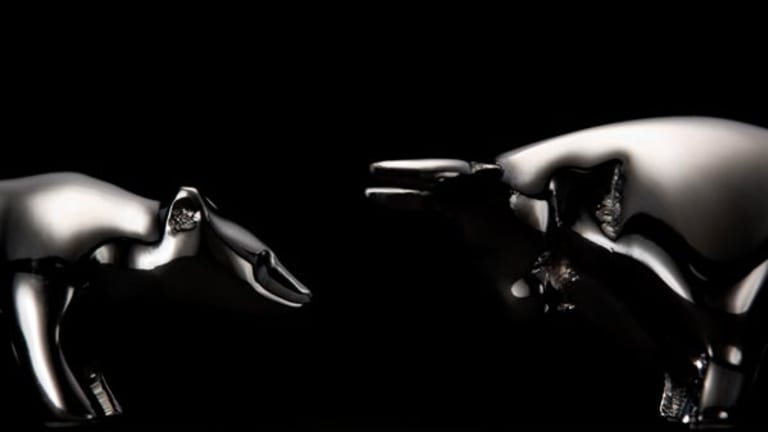 Banks Tank, Take Market Along
It was an ugly end to an ugly week, as the financial sector managed another down day, as did the overall market. Frank Curzio fills you in with the Real Story video (above).
Updated from 3:08 p.m. EST
Stocks in New York closed on a dim note after a volatile trading session Friday, wrapping up an ugly holiday-shortened week.
The
Dow Jones Industrial Average
fell 100.28 points, or -1.34%, to 7365.67, after having been down as much as 200 points in earlier trading. The
S&P 500
dropped 8.89 points, or -1.14%, to 770.05. The
Nasdaq
finished lower by 1.59 points, or -0.11%, at 1441.23, after flirting with positive territory.
Financials were again the point of impact, with losses snowballing as Bloomberg reported that Senate Banking Committee Chairman Christopher Dodd said it may be necessary to nationalize some banks for a short time. They found temporary relief, however, after White House press secretary Robert Gibbs assuaged those fears, saying the administration continues to "strongly believe that a privately held banking system is the correct way to go."
Citigroup
(C) - Get Citigroup Inc. Report
led the decliners on the Dow, falling 18%.
Bank of America
(BAC) - Get Bank of America Corp Report
, down more than 33% earlier in the day, pared its losses to a 4%.
"The market wants to see these financials start to show some sort of strength somewhere, and signs that the writeoffs are behind them and they won't have to borrow more money," said Anu Sharma, managing director of the Nasdaq OMX market intelligence desk. "There are a lot of scared investors out there right now and money is going into gold -- it's a flight to quality, and people are nervous and looking for a safe haven."
Indeed, gold futures settled above $1,000 an ounce Friday afternoon. A factor that may be driving this nervousness is that a lot of people had predicted that November lows were the bottom of the market, and now we know they weren't, says Sharma. "It's a technical breakdown and it sets off a sell signal." Moreover, he says, it confirms what a lot of 13F filings, although retrospective, have been showing -- "a huge shift out of equities from institutions."
The problem: "A lot of people are using the term 'Bailout America' and there's a lot of concern about throwing out money and trying to fix the market," says Sharma.
The week was jam-packed with economic policy, data, and, of course, debate, as President Barack Obama signed the $787 billion stimulus bill into law and proposed a housing plan to stymie foreclosures through refinancing availability and further investment in mortgage giants Fannie Mae and Freddie Mac.
"The bottom line is the market place has determined that what is coming out of Washington is not the fix that everybody wanted," says Sharma. "There's a tremendous amount of concern as to the way the federal government is trying to step in and fix issues: first, because it's going to affect the fundamentals of the current economic situation, and also because 'you can't borrow your way into prosperity'."
The market is acutely focused on what's happening in the economy right now, agrees Michael Strauss, Chief Economist at Commonfund. But it's not looking forward six to nine months or beyond, he says. One of the most interesting things to come out this week was in the minutes from the most recent meeting of the Federal Open Market Committee, says Strauss. "Many people focused on the committee's downward adjustment for GDP in 2009, but longer-term they dramatically raised their estimates for 2010/2011," he points out.
"It seems shocking to lower the projection further for this year and dramatically raise it for 2011," he says, "but maybe the Fed is putting together the aspects of massive amounts of monetary and fiscal policy actions, hence if the Fed is right maybe there is a glimmer of light."
The U.S. government continued to offer read outs on the economy Friday, as the Department of Labor reported that the consumer price index, a widely used inflation indicator, rose 0.3%, in line with expectations, after an 0.8% decline in December. Factoring out food and energy, it increased 0.2% in January, after no change in December. Of note was the fact that year over year, the inflation rate has been exactly zero, the lowest reading since 1955.
The energy index climbed 1.7% in January, its first increase in six months, although that is still 31.4% below its July 2008 peak level.
A relatively lonely bright spot Friday was telecoms
AT&T
(ATT)
and
Verizon
(VZ) - Get Verizon Communications Inc. Report
, managed to stay in positive territory with the latter up 1.6%.
Bank of America
Chairman and CEO Kenneth Lewis was
issued a subpoena late last week by New York State Attorney General Andrew Cuomo, according to the
Wall Street Journal
. Cuomo's office is trying to determine if investors were misled about the depth of Merrill Lynch's losses in late 2008 and whether details of the bonuses to Merrill employees, contained in a nonpublic document, should have been disclosed to investors, according to the report.
In earnings, the world's second-largest home-improvement retailer,
Lowe's
(LOW) - Get Lowe's Companies, Inc. (LOW) Report
, said earnings in the fourth quarter
declined 60% from a year earlier to $162 million, or 11 cents a share. Shares were off by more than 4% in the premarket.
In other news, Saab, the Swedish-based unit of
General Motors
(GM) - Get General Motors Company (GM) Report
filed for protection from its creditors Friday so it can be spun off or sold by its struggling U.S. parent.
The dollar was weakening against the pound, euro, and yen Friday. Longer-dated Treasuries were on the uptick. The 10-year note was recently rising 31/32, yielding 2.7%, while the 30-year was adding 2 13/32, yielding 3.5%.
In commodities, oil rose 54 cents to settle at $38.94 a barrel, while gold rose $25.70 to settle at $1002.20 an ounce.
Stocks overseas were broadly lower. In Europe, the FTSE in London and DAX in Frankfurt gave up 3.2% and 4.8%, respectively. In Asia, Japan's Nikkei and Hong Kong's Hang Seng were both lowered as well.