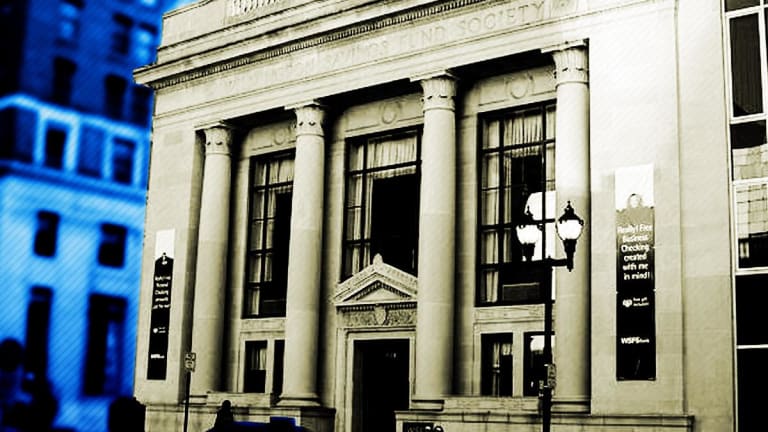 Banks Must Innovate With Technology or Risk Getting Left Behind: Morgan Stanley
Banks with scale can invest in tech.
It's about technology. 
"Pressure is mounting for banks to innovate and disrupt themselves fast, before someone else 'eats their lunch,'" a team of Morgan Stanley analysts wrote in a note this week.
Sure, digital banking services offer higher speed and greater ease for customers but they also offer cheaper services. "Differentiation on quantum and quality of IT spending will be increasingly relevant for banks going forward as fintechs, unburdened by legacy IT costs, can offer financial services up to 50% cheaper," the note said. 
In fact, the total amount invested in fintech companies in the first half of 2018 was $58 billion. "This signals that the banking industry may be set for a material wave of change and, potentially, disruption," Morgan Stanley said. There are now 295 fintech companies in Germany alone that are "combining innovative business models and technology to enable, enhance and disrupt financial services," according to Morgan Stanley. 
"Being too slow to change could present significant risks in the future," Morgan Stanley said. 
Investors should assess which banks will be able to capture the right technology, and there are several factors to consider when making that assessment. Perhaps the most important factor is scale. Investors usually look at a bank's balance sheet when assessing scale, and it is the banks with the larger balance sheets that can more easily invest in the right technology. "(One hundred billion dollars) seems to be the balance sheet size above which scale enables enough IT investment for innovation," Morgan Stanley said. "This could help speed up consolidation in regional banks in the U.S., in our view." 
Many have been expecting M&A among smaller banks this year amid an arms race to build out digital banking services. But that consolidation hasn't happened yet. "People have been really disappointed in M&A" among small banks, Mike Skillman, CEO of Cadence Capital, told TheStreet in August. "There are a lot of regional banks that grow by acquisition," Bob Fitzpatrick, said senior portfolio manager at Cadence Capital. When the Trump administration rolled back some provisions of Dodd-Frank in May, which increased the amount of assets a bank needs to have to be subject to stringent regulation, many on Wall Street anticipated that regional banks would be freed up to transact. 
Start, and end, your trading day right with TheStreet's 'Daily Snapshot' on your favorite smart-speaker. Learn more about TheStreet's market coverage for your trusted smart-speaker here.
Those smaller banks that haven't transacted, and therefore reached immediate scale, may be missing out. "Banks in the $100 billion to $1 trillion assets spend the most to 'change the bank,'" Morgan Stanley said. Banks with between $100 billion and $1 trillion in assets spend 44% of their information technology dollars on "change the bank" technology, while banks with less than $100 billion spend 37% of their IT dollars on the same. 
Investors should also compare return on equity for traditional banks and digital-minded banks. Return on equity for traditional banks tends to be around 19%, according to Morgan Stanley, while ROE for digital-focused banks tends to be around 27%. 
Banking has been an interesting sector for investors to consider of late. The Federal Reserve is on track to increase interest rates twice more this year, which means higher net interest margins for banks. That, however, doesn't necessarily mean loan volumes will shoot up, which may be holding back bank stocks, John Traynor, chief investment officer of People's United Advisors, recently told TheStreet. And in the midst of what looks to be a trade war between the U.S. and China, dividend stocks, which many banks are, could be a good way to mitigate broader market risk, Mike Loewengart, E*Trade vice president of investment strategy told TheStreet. 
To be a profitable investor and build long-term wealth, you need the right information and techniques. Join TheStreet in New York City on Saturday, Oct. 13, for a special investing event for sophisticated and active traders. Register for "Invest Like the Pros: Jim Cramer's Boot Camp for Investors" here.