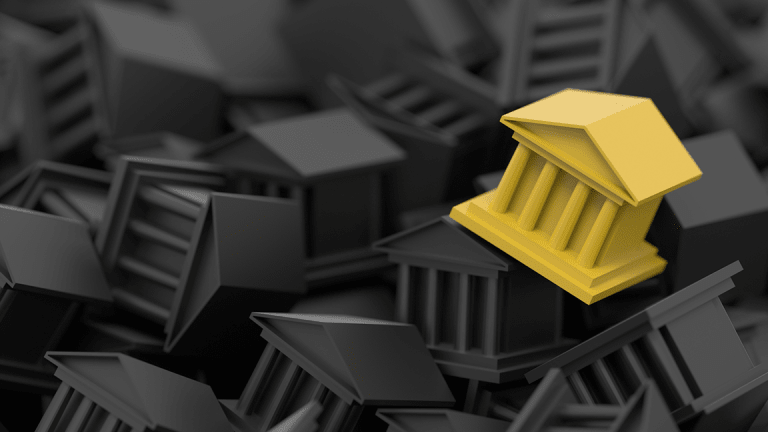 Banks Charge Stiffer Penalties to Trap Savers in Low-Interest CDs
DepositAccounts.com, which tracks the savings industry, says in a new report that banks are increasing early withdrawal penalties on certificates of deposit, making it harder for savers to exit and reinvest in higher-paying products as interest rates rise.
As if it weren't bad enough for savers that big banks like JPMorgan Chase  (JPM) - Get JP Morgan Chase & Co. Report and Bank of America  (BAC) - Get Bank of America Corporation Report are paying near-zero interest rates on basic deposit accounts. 
Now, a growing number of banks are increasing penalties for early redemptions of certificates of deposit, known as CDs, to keep savers from quickly jumping to higher-paying products as interest rates rise.
DepositAccounts.com, which tracks the savings industry, said in a report this week that the average penalty for early withdrawal from a five-year CD has climbed to the equivalent of 255 days of daily interest payments, from 242 as recently as 2016. The study covered more than 7,500 CDs from 1,019 banks and credit unions. 
"You can have a really large rate, but if you have a really large withdrawal penalty, it minimizes the benefit of the higher rate," said Ken Tumin, founder of DepositAccounts.com, in a phone interview. "You have less flexibility."
Since CDs offer higher interest rates to customers in exchange for a longer-term deposit -- contrasted with regular savings accounts that allow immediate withdrawals -- banks typically charge penalties for early redemptions.
One problem, according to Tumin, is that the penalties are often buried in the details of the offering, so customers might not realize how expensive it can be to get out of a low-paying CD when interest rates rise. 
"I wouldn't call it sneaky, but some of these banks don't make it easy to find this information," Tumin said. The penalties "could be a lot bigger than you anticipate." 
The Federal Reserve has raised official U.S. interest rates by more than two percentage points since 2015, and banks have been quick to increase charges on credit cards, mortgages and business loans. But they've been stingier when it comes to passing along those higher rates to regular depositors -- who provide the very money lenders use to make loans.
The Fed has recently paused its cycle of rate increases while monitoring a slowdown in the economy, which could further ease pressure on banks to raise their deposit rates. 
The largest U.S. bank, JPMorgan, currently pays just 0.01% on regular savings accounts, and there's a monthly $5 service fee if certain conditions aren't met, such as a minimum daily balance of $300, according to the lender's website.
Meanwhile, the bank's financial statements show that its lending margins climbed to about 2.55% in the fourth quarter from 2.06% a year earlier -- an indication of the push to charge higher rates on loans.  
Online lenders, which have tried to lure new customers away from bricks-and-mortar banks with top-of-the-market offers, have proven to be among the most aggressive in raising early withdrawal penalties, according to Tumin.
That may be a reflection of the ease of online transactions, since customers can easily see when they're receiving an unusually low interest rate; redemption involves just a few points and clicks.
"Consumers who open these accounts are pretty savvy," Tumin said. "With being able to move money in and out electronically, that makes it easy to do an early withdrawal."
According to Tumin, some of the steepest penalties are at American Express  (AXP) - Get American Express Company Report .
A one-year CD at American Express's online bank comes with a 270-day penalty, more than double the average of 120 days, the report showed. The New York-based company tripled the penalty from just 90 days over the course of last year, Tumin said in the interview.  
American Express press officials didn't immediately respond to a request for comment. 
How Much Money Will I Need to Retire?
Want to learn about retirement planning from some of the nation's top experts? Join TheStreet's Robert "Mr. Retirement" Powell live in New York on April 6 for our Retirement Strategies Symposium. For a limited time, tickets are available for $99 for this full-day event. Check out the agenda, learn about the speakers and sign up here.