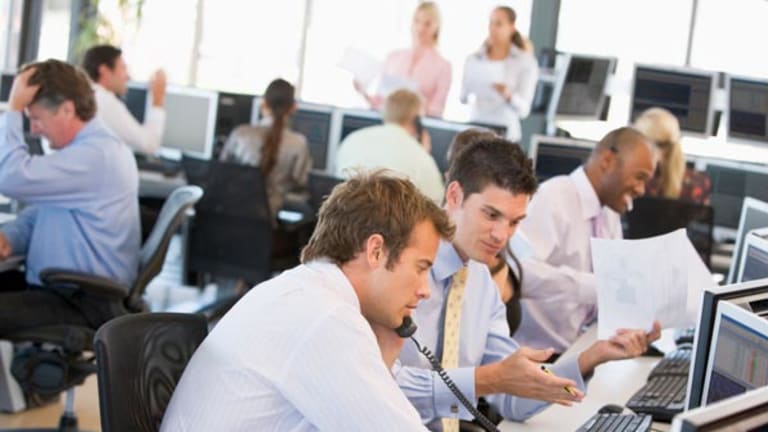 Banks Bring Stocks Down
Stocks lose ground Tuesday as Wall Street frets over discouraging bank headlines and the Fed's policy-making meeting. Gregg Greenberg reviews the action in The Real Story video (above).
Stocks lose ground Tuesday as Wall Street frets over discouraging bank headlines and the Fed's policy-making meeting. Gregg Greenberg reviews the action in The Real Story video (above).
Updated with closing prices
NEW YORK (
) -- Stocks lost ground Tuesday as Wall Street fretted over discouraging bank headlines and the
Fed's
policy-making meeting.
The
Dow Jones Industrial Average
closed down 96.5 points, or 1.03%, to 9241.45, while the
S&P 500
gave up 12.75 points, or 1.3%, to 994.35. The
Nasdaq Composite
edged down 22.51 points, or 1.1% to 1969.73.
The Federal Open Market Committee began its two-day meeting Tuesday and will release a highly anticipated statement Wednesday afternoon. Investors will be looking for more insight into the Fed's plan to unwind measures taken to heal the financial system, as well as any changes in its view of the recovery.
In the meantime, financials were leading the descent, with the KBW Bank Index down 4.4% after an assortment of headlines. Among them, Rochdale Securities analyst Richard Bove wrote in a research note that although his long-term view that the financial sector is attractive hasn't changed, he expects a short-term pullback in prices.
"The recent rise in the stocks does not appear to be driven by a change in the near-term earnings outlook," he wrote. "It has been driven by a change in psychology. Thus, it is our belief that these stocks are trading on 'fumes' and not reality."
Meanwhile, JPMorgan Chase lowered its rating for financial guarantor
MBIA
(MBI) - Get Report
to underweight, sending shares down 12.6% to $5.39.
Not helping,
CIT Group
(CIT) - Get Report
cautioned it may be forced to seek bankruptcy protection if it can't complete a cash tender offer for $1 billion of debt, and the Congressional Oversight Panel said in a monthly report that smaller U.S. banks could need $12 billion to $14 billion in additional capital in light of troubled loans. Its shares fell 18.9%, to $1.20.
Among the big banks,
Bank of America
(BAC) - Get Report
fell 5%,
Citigroup
(C) - Get Report
shed 6.4%, and
JPMorgan Chase
(JPM) - Get Report
gave up 3.4%.
A federal judge asked for
more information
before he will decide whether to approve BofA's $33 million settlement with the
Securities and Exchange Commission
related to its behavior surrounding executive bonuses paid to Merrill Lynch executives.
A Treasury auction, in which the government sold $37 billion in three-year notes, also wrapped up Tuesday afternoon. The offering had a bid-to-cover ratio, an indication of demand, of 2.89, topping the recent average of 2.54. But those results were largely overshadowed by financial news and economic data.
Early in the day, the Labor Department said preliminary data showed a 6.4% increase in productivity in the nonfarm business sector in the second quarter, the largest since 2003, as hours worked declined faster than output. At the same time, unit labor costs decreased at an annual rate of 5.8% vs. expectations for a 2.5% decline.
In other data, the Commerce Department said wholesale inventories fell 1.7% in June, from a 1.2% decline the month before and vs. expectations for an 0.9% drop.
"Right now we're in the transition stage," says Marc Pado, U.S. strategist for Cantor Fitzgerald. The data build the case for an inventory rebuild in the third quarter, preparing for sales in the fourth quarter, which would ultimately help GDP, he says. Moreover, because inventories are low and companies have reduced the workforce and cut costs, we'll see improved gross margins and profits in the fourth quarter, he says.
Click below to hear Pado discuss what the day's economic data mean to the recovery and what investors are looking for out of the Fed's policy meeting.
Data abroad showed July exports in China fell 23% from a year earlier, while industrial production increased 10.9% and new loans fell to 355.9 billion yuan ($52 billion), less than a quarter of June's level,
Bloomberg
reports.
Elsewhere, the Federal Statistics Service said Russia's gross domestic product contracted at an annual 10.9% last quarter, more than analysts expected and the most on record in the second quarter.
In other news,
The Wall Street Journal
reported that
China National Petroleum
and
Cnooc
(CEO) - Get Report
paying at least $17 billion for all of
Repsol YPF's
stake in its Argentine unit
YPF
(YPF) - Get Report
.
Stocks abroad were mixed with Frankfurt's DAX and London's FTSE 100 down 2.4% and 1.1%, respectively. In Asia, Hong Kong's Hang Seng and Japan's Nikkei rose 0.7% and 0.6%, respectively, during their session.
Crude oil futures fell $1.15 to $69.45 a barrel, while the dollar weakened vs. the pound, euro and yen.
Longer-dated Treasuries were rising in price, falling in yield. The 10-year was up 26/32 to yield 3.7%, while the 30-year gained 1-16/32, yielding 4.45%.
-- Reported by Elizabeth Trotta in New York
.