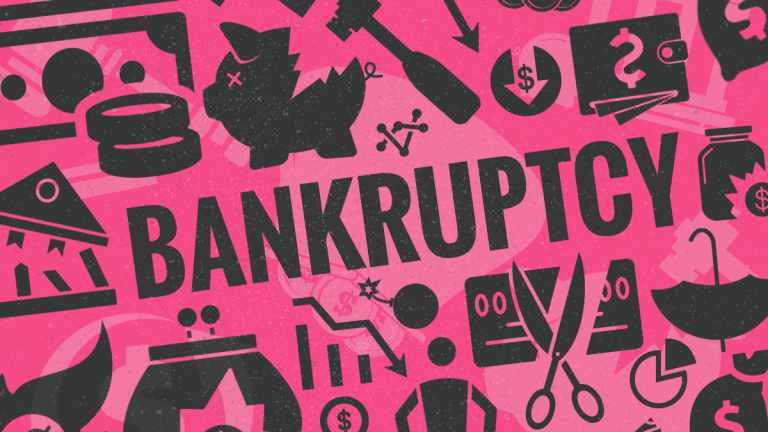 What Is Bankruptcy? Different Types and Why People File
The debts and income an individual or company has will determine what type of bankruptcy they are eligible to file for. Here's what you need to know.
Bankruptcy is usually seen as such an extreme situation, mostly associated with a failing business being forced to close down than anything else.
But as the amount of debt individuals and families are forced to accrue in order to survive increases, bankruptcy has become more common. A recent study showed a large increase of older Americans filing for bankruptcy, as different combinations of loans continue to put the average household in tens of thousands of dollars of debt.
It's important to consider before filing: What is bankruptcy, what different types are there, and what could cause someone to file for it?
What Is Bankruptcy?
Bankruptcy is a legal process, an option for an individual, family, or corporation who finds themselves unable to pay off their debts.
The bankruptcy courts will go over your debts and liabilities, and will track your assets as well. Some of your assets may be used as repayment. These debts can be reduced or done away with altogether.
The ideal goal behind this system is to give people a second chance and a fresh start. Debt hangs over your head, and interest means it just continues to grow. It makes it harder to pay off, increases the number of predatory phone calls and voicemails you hear and can bring unmanageable stress into your daily life. Should the bankruptcy process work as it's intended, you may have a chance at life without this.
How to File for Bankruptcy
The first part of filing for bankruptcy is determining whether it is the right call for you. It's a huge undertaking, so ask yourself the important questions. How long will you likely have to repay these debts for? Are you legitimately unable to make the necessary payments? Can you compile the necessary information and documents? And are you prepared to deal with any fallout that comes with filing for bankruptcy? It can do significant damage to your credit score. Does your existing debt outweigh that consequence?
Filers will also want to look into a bankruptcy lawyer. It's possible to file for certain bankruptcy types without one, but at a time when you're at your most vulnerable financially, find someone who understands how to guide you through the various intricacies of filing.
Before one can file for bankruptcy, United States Courts require you to take credit counseling, and after you file, it requires debtor education courses. Certificates of completion are required before debts are discharged.
With credit counseling courses completed, the next step is to fill out the petition to file for bankruptcy. This and other bankruptcy forms are available on the U.S. Courts website. A bankruptcy attorney can help determine which other relevant forms will need to be filled out, based on what type of bankruptcy the filer is filing for, and how the specific local laws affect the case.
If the petition gets accepted, the case is usually given to a trustee, a party not employed by the courts who can help oversee the case. The trustee will comb through documents to make sure all assets have been accurately collected and that no fraud has been committed. They will also set up a meeting with the creditors wherein the party who filed for bankruptcy must testify under oath.
Bankruptcy Types
With bankruptcy being such a complicated issue that can affect so many different parties, there is much more to it than just "declaring bankruptcy." Are you an individual or a business filing for bankruptcy, and how do your income and assets impact the plan for repaying debts? The U.S. has an entire court system dedicated entirely to bankruptcy cases, so it's not afraid to get very intricate with the details.
There are several different types of bankruptcy. The most common ones, though, are likely Chapter 7, Chapter 11, and Chapter 13 bankruptcy.
Chapter 7 Bankruptcy
The most common form of bankruptcy is likely Chapter 7. This is also often known as liquidation bankruptcy. Unable to pay off debts with money, the party must, with the help of the trustee, liquidate their non-exempt assets and divide the money to give to creditors.
Much of the aforementioned process comes into play for Chapter 7 bankruptcy. Anyone who files for it will need to take the credit counseling courses within six months of filing. The relevant forms relating to Chapter 7 will need to be completed providing key information on your situation.
There will be means testing to determine whether someone has a way to pay off a significant portion of that debt with the provided information, including income. If it is determined they cannot, it continues as Chapter 7. If it is determined that they have enough means to pay off most of the debt, they likely won't be able to file for it and will need to instead look into Chapter 13 bankruptcy (more on that later).
The trustee will set up the meeting the debtor has with creditors, and is able to sell non-exempt assets to pay creditors. The assets that are exempt from this may vary from state-to-state. The equity in your home, as an example, varies in how much is and isn't exempt.
Debtors will likely need to take debtor education courses prior to successfully being discharged. It is important to note, especially before beginning the process, that not every debt can be discharged. Debt stemming from child support payments cannot be discharged.
Chapter 11 Bankruptcy
Individuals can file for Chapter 11 bankruptcy, but it is primarily known as a bankruptcy option for businesses. With Chapter 11, businesses can restructure their debts and potentially save themselves from going out of business. Huge companies like General Motors have used it to their advantage.
Once a person or company files for Chapter 11 bankruptcy, they become a debtor-in-possession. This means they still have many of the same responsibilities for operating the businesses, and will then work with the trustee for a plan to reorganize their debts. If the creditors and a bankruptcy judge approve, the trustee puts the plan into action.
Though the debtor-in-possession still maintains various responsibilities in running the business, they are also unable to make other decisions independently, such as making expansions to the business.
How can an individual qualify for Chapter 11 bankruptcy? They need to have more debt than would qualify them for Chapter 13 bankruptcy.
Chapter 13 Bankruptcy
Chapter 13 bankruptcy is a bit different for individuals compared to Chapter 7. It is an option for individuals and families whose income makes them ineligible for Chapter 7, and is a bankruptcy plan that does not involve liquidating their non-exempt assets.
Like Chapter 11, it is a way to try and restructure and reorganize debt, but more geared toward people and families as opposed to corporations. Restructuring debts instead of liquidating assets lets people avoid having their houses foreclosed on.
It does, however, last much longer than Chapter 7. Having a trustee liquidate assets can get a debtor discharged in 6 months; in Chapter 13, in addition to providing crucial financial information in their forms the debtor creates a plan to use any disposable income they have left to make monthly payments toward their debt. Depending on the dollar amount going toward those payments, the process to getting discharged could take upward of 3 to 5 years. In that time, debtors are also not allowed to take on any additional debt.
The trustee in a Chapter 13 bankruptcy case will review the debtor's proposed plan, as well as the information they provided about finances to make sure everything is accurate. If they and the creditors find the plan to be fair and trustworthy, the plan goes into action, and the trustee will divvy the monthly payments up to the creditors.
Why Do People File for Bankruptcy?
The amount of debt the average American has continues to rise exponentially each year. There's now over $1.5 trillion in outstanding student loan debt alone in the country. With such astronomical debt hanging over so many American households, people look to drastic measures.
Emergency medical situations have put many Americans in tens of thousands, if not hundreds of thousands of dollars in medical debt. Medical debt and student loan debt can be a toxic combination for someone's bank account, especially if they are also dealing with a loss of their job.
A combo of these three is an extreme, but many feel bankruptcy is still the "extreme" option, a last resort. Filing for bankruptcy can wreck a person's credit score and take years to recover; for someone to declare bankruptcy, taking the time to build their credit score back up would have to outweigh the difficulties of living under their existing financial struggles and debt.
Bankruptcy and Lehman Brothers
Because bankruptcy among individuals is still seen as a last resort, the term is still thought of more for when businesses run out of money and are forced to shut down. As the anniversary of its bankruptcy declaration approaches, let's look at the most notable bankruptcy event of the 21st century: The collapse of Lehman Brothers.
Lehman Brothers was an investment bank and global financial services firm who spent the first several years of the 2000s riding high. This can be attributed to what was, at the time, a booming housing market.
More and more Americans were buying houses, thanks to a major increase in subprime mortgages being given out by institutions like Lehman Brothers. Subprime mortgages were the loans offered to prospective homeowners with poor credit, and financial institutions were happy to give them out in the early 2000s when interest rates were historically low. But when the housing bubble burst, the U.S. Federal Reserve raised interest rates several times. People suddenly could not make their monthly mortgage payments; they defaulted and homes went into foreclosure. What was a thriving market turned into a subprime mortgage crisis.
Mortgages were not getting paid, and real estate prices kept falling. This was bad news for lenders, banks and investors who had put quite a bit of time and money into the market. Lehman Brothers began to fail. Mortgage lenders they had purchased were shut down. Their financial leverage of assets to equity was unsustainably high. They liquidated assets, they issued stock, but nothing was able to stop the bleeding. Lehman Brothers filed for bankruptcy on Sept. 15, 2008. Their assets and various businesses were sold off, and the financial services giant was no more.