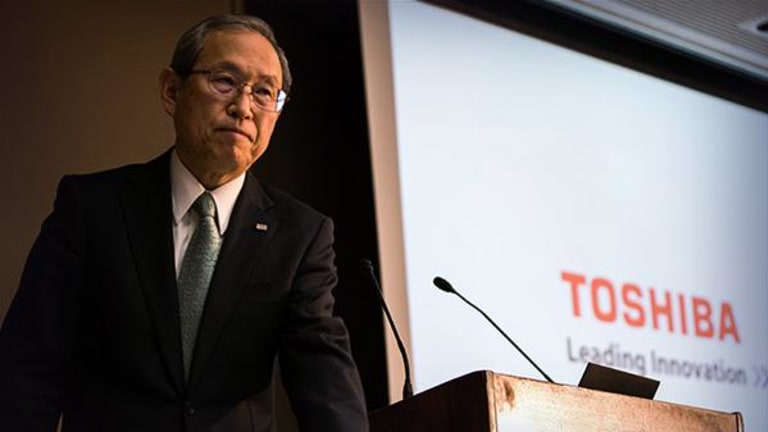 Westinghouse Bankruptcy May Put U.S. on Hook for Part of $9.8 Billion in Debt
Westinghouse's nuclear power plant projects are at risk of being terminated, putting pressure on the companies holding majority stakes in them and on the U.S. government.
The Chapter 11 case of Toshiba's U.S. nuclear unit, Westinghouse Electric Co., puts its power plant projects in jeopardy, pressuring three of the public power issuers involved in them, Fitch Ratings said.
Westinghouse filed for bankruptcy on Wednesday, listing $9.81 billion in debt, after months of pressure from parent Toshiba.
The company requested in court papers a 30-day relief period to continue operations and negotiate the contracts on its nuclear power plant projects. The debtor hopes to sell its business, but there are serious doubts that it will be able to do so.
Previously, Japan's Mitsubishi Heavy Industries and Hitachi said they have no intention of buying Westinghouse's assets. Korea Electric Power Corp. is the only viable buyer left standing. The Korean-based group, known as Kepco, said it would consider a deal if invited but that it had no plans to tender an offer on its own.
Bankruptcy attorney Mickey Etkin of Lowenstein Sandler told TheStreet that if Westinghouse fails to find a buyer for its assets, the U.S. government may have to step in and "help to some extent as the costs of the overruns are enormous."
"They will have to find an alternative," Etkin said. "But I think the parties anticipate there will be a solution."
The bankruptcy ends Toshiba's brutal 11-year venture into nuclear energy, which began when it acquired a 77% stake in Westinghouse for $4.5 billion in October 2006. The Japanese company sought to tap the boom in nuclear energy but its prospects dimmed as demand declined due to heightened competition and after the 2011 Fukushima nuclear disaster in Japan. Westinghouse, in turn, suffered massive cost overruns and delays on the construction of its AP1000 nuclear plants in Georgia and South Carolina.
The U.S. government provided $8.3 billion of loan guarantees to one of the stakeholders involved in the South Carolina plant.
The U.S. Department of Energy "continues to monitor the situation through conversations with relevant stakeholders," spokeswoman Lindsey Geisler said.
"Our position with all parties has been consistent and clear," she said. "We expect the parties to honor their commitments and reach an agreement that protects taxpayers, promotes economic growth and strengthens our energy and national security."
In a recent note, Fitch Ratings put the majority stakeholders of Westinghouse's Georgia and South Carolina projects on "negative watch." Those stakeholders are Municipal Electric Authority of Georgia, Oglethorpe Power Corp. (Ga.) and South Carolina Public Service Authority."
If the projects are terminated, Fitch said these entities will be forced to draw on letters of credit, and, now that Westinghouse entered bankruptcy, "the co-owners' abilities to recover additional costs and damages from the project guarantor [Westinghouse] could be limited."
As for the effect on Toshiba itself, Etkin said it "remains to be seen."
"The immediate impact is clear in terms of their public announcements about selling off assets to raise cash," Etkin said. "When you have $9 billion in liabilities, that tends to sting."
Toshiba was pressured to place its nuclear reactor business under protection of Chapter 11 as investors became increasingly concerned about the company's decision to delay its release of its third-quarter financial results.
The company said on Wednesday that it expects its net income to fall by about ¥620 billion ($5.6 billion) for the 2016 year, likely to result in a loss of ¥1 trillion.
Etkin said it is too early to make the prediction whether or not Toshiba will be forced to file for bankruptcy itself but that the company is definitely looking to avoid it at all costs.
Cranberry Township, Pa.-based Westinghouse, and its U.K. sister company Toshiba Nuclear Energy Holdings (UK), filed for Chapter 11 protection in the U.S. Bankruptcy Court for the Southern District of New York in Manhattan.
Westinghouse is requesting to tap $800 million in debtor-possession financing with Apollo Global Management. The financing includes up to $225 million of cash collateral provided by an affiliate of Citibank, the administrative agent on the DIP loan, according to court papers.
Editor's Pick: This story was originally published on March 30 at 3:40 p.m.