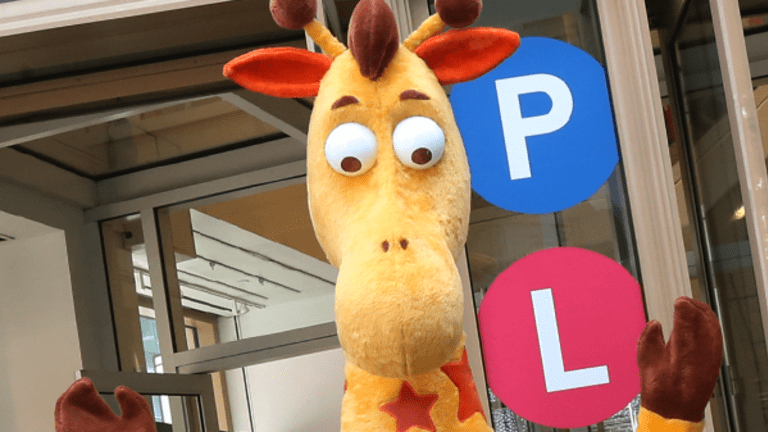 Toys 'R' Us Store Employees Set for Higher Wages Despite Bankruptcy
'Better employees make for happier customers,' the retailer said of the decision to increase wages as it looks to restructure its business to be more competitive with Wal-Mart and Amazon.
The massive Chapter 11 filing of Toys 'R' Us Inc. late on Monday, Sept. 18, is likely making rank-and-file store workers uneasy, but buried in the company's restructuring documents there's a nugget of good news for some of its 60,000 employees: bigger paychecks.
Toys 'R' Us said it plans to invest $72.4 million between 2018 and 2021 into "raising starting wages to market-competitive levels for store employees," in addition to ensuring that "employees who take on greater levels of responsibility will be compensated appropriately."
The reason: "Better employees make for happier customers," the private equity-backed retailer said in documents filed with the U.S. Bankruptcy Court for the Eastern District of Virginia in Richmond.
The decision comes as Toys 'R' Us looks to bankruptcy to restructure its business so that the Wayne, N.J., company can compete with the likes of Wal-Mart Stores Inc. (WMT) - Get Free Report and Target Corp. (TGT) - Get Free Report , which have eroded its brick-and-mortar business, and Amazon.com Inc. (AMZN) - Get Free Report , which has taken many of its customers online.
The wage increase is part of a bigger plan to remake Toys' business, a plan that will also include renegotiating store leases and bringing some Babies 'R' Us locations under the same roof as Toys 'R' Us.
Michael P. Niemira, chief economist at Retail Economist LLC, said the decision by Toys 'R' Us is part of a trend in retail toward higher wages, the result of needing to incentivize workers to take jobs in an unstable industry when unemployment is very low. He added the move is also good for a retailer's public perception, combating the industry reputation of paying low wages.
Wal-Mart announced in January 2016, for example, that it would pay all its current employees at least $10 an hour and was raising its minimum wage for new employees to $9 an hour. The company said it pays employees $13.38 an hour on average, which comes out to $27,800 a year for full-time employees.
Toys 'R' Us didn't respond to request for more specific information regarding what its new wage program will look like. It did, however, note that "across all levels of the company, salary ranges vary and are based on factors including role, years of experience, job requirements and local market. Toys 'R' Us is committed to offering a competitive rate that attracts the talent we need as the champions of play and a resource for parents."
According to information from Glassdoor.com, a company that gathers information about salaries, benefits and approval ratings from current and former employees, hourly employees at Toys 'R' Us earn $9 per hour, on average.
Glassdoor community expert Sarah Stoddard noted that higher wages "might help Toys 'R' Us recruit talent, as we know salary is the No. 1 factor job seekers consider when determining where to work."
She added, however, that other factors are important when it comes to keeping those employees, including "company culture, career opportunities and trust in senior leadership."
Broadly, hourly wages for retail salespeople vary somewhat by industry, according to the most recently available data from March 2016 from the U.S. Bureau of Labor Statistics.
Department store workers make an average of $11.16 an hour, or $23,220 per year, while building material store workers make $14.14 an hour on average, or $29,410 per year. For the industry as a whole, the median salary is $10.90 an hour, while the average is $13.07.
Bain Capital LLC, Kohlberg Kravis Roberts & Co. LP (KKR) - Get Free Report and Vornado Realty Trust (VNO) - Get Free Report took Toys 'R' Us private in 2005 in a $6.6 billion leveraged buyout.
Court documents show the company has its roots in Children's Bargain Town, a baby furniture store opened by Charles Lazarus in Washington in 1948. He subsequently opened the first Toys 'R' Us in 1957 after adding toys and baby products to his original store. "Spokesanimal" Geoffrey the Giraffe followed in 1965, and the company went public in 1978.
More of What's Trending on TheStreet: