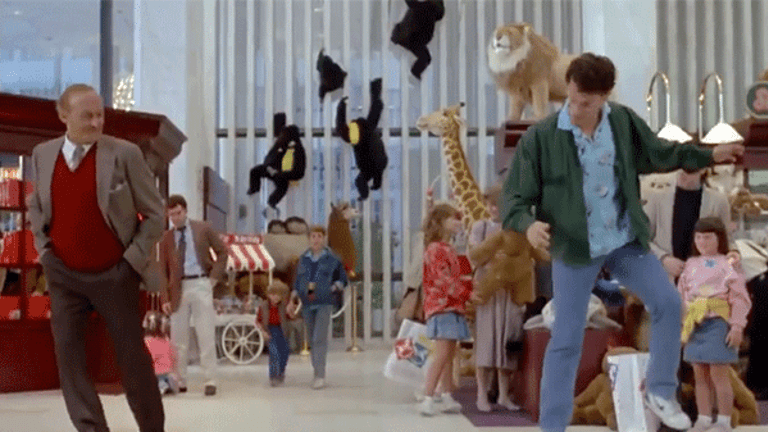 Toys 'R' Us Sells FAO Schwarz as it Reveals Further Debt Refinancing Plans
Private equity-backed consumer products designer and distributor ThreeSixty Group will acquire the iconic toy brand. Meanwhile, Toys 'R' Us has a plan for $722 million in high-priority near-term bonds.
Just over a year after FAO Schwarz's legendary New York toy store closed, blaming increasing rent costs, Toys 'R' Us Inc. has found a new home for the brand as it continues to revamp its debt.
Irvine, Calif., consumer products company ThreeSixty Group Inc. said Tuesday, Oct. 4, that it would acquire the toy brand. It plans to design a new FAO Schwarz toy collection and in-store experience that will be available at certain retailers in fall 2017. Until then, FAO Schwarz toys will continue to be sold online and at Toys 'R' Us stores.
Financial terms of the deal were not disclosed.
ThreeSixty Group, backed by private equity firm AEA Investors LP, intends to make further acquisitions to differentiate the products it offers to its retail partners, according to Tuesday's statement. The company designs, sources and distributes consumer products under brands that it owns and licenses, reaching more than 70,000 U.S. retail stores.
Toys 'R' Us acquired FAO Schwarz from D.E. Shaw & Co. LP in 2009 for an undisclosed price. The target has been through Chapter 11 bankruptcy twice, filing on Jan. 13, 2003, and again on Dec. 4 of the same year.
FAO Schwarz's New York flagship was immortalized in the 1988 comedy "Big," in which Tom Hanks and Robert Loggia danced on the store's jumbo-sized toy piano.
The divestiture comes as Toys 'R' Us is making significant progress in managing its debt maturities.
The Wayne, N.J., company said in a Tuesday Securities and Exchange Commission filing that it has notified holders of its $722 million in 8.5% secured notes due Dec. 1, 2017, that it intends to redeem the notes on Nov. 3, or if there are delays, by Dec. 2. The retailer said it would pay 100% of the notes' principal and unpaid interest up to the redemption date.
The company said the redemption is conditional on closing new financing, namely $88 million of mezzanine financing and up to $512 million of commercial mortgage-backed securities financing, which is expected to include an amended master lease with its Toys 'R' Us Delaware Inc. unit that would provide about $67 million of master lease rent per year.
The retailer had revealed in August that it was working with Bank of America Corp., Goldman Sachs Group Inc. and Lazard Ltd. on plans to refinance the 8.5% notes and had hired Cushman & Wakefield Inc. to determine the value of the property that serves as collateral on the bonds. Credit analysts had pointed to the bonds as a near-term debt maturity that the retailer needs to address sooner rather than later.
CreditSights Inc. analyst James Goldstein said that as long as Toys 'R' Us succeeds with its plan for the 8.5% notes, which seems likely, "The scramble for them to push out that big maturity wall is pretty much over."
Toys 'R' Us closed a refinancing effort for its 10.375% bonds due 2017 and 7.375% bonds due 2018 in August, pushing out maturities on the portions of debt from participating holders into 2021. The company redeemed the remaining 10.375% notes, about $105 million, from holders that didn't participate last month. Toys 'R' Us said Sept. 13 that it also intends to redeem $192 million of the $208 million in 7.375% notes that remains outstanding.
Besides taking out the remainder of the 2018 notes, Goldstein said Toys 'R' Us may want to refinance the new 12% secured notes due 2021 that it just issued in August. He noted that 12% is a high interest rate for secured bonds but said the bonds are largely not callable for 18 months from their issuance, which means the retailer may wait a while before addressing that debt.
Overall, Goldstein said, "I think [Toys 'R' Us has] exceeded expectations to an extent in terms of driving comp sales in a competitive retail environment." He said, however, some in the market believe Toys 'R' Us should have reported more U.S. growth this year since it has been a strong year for toys, with good releases including products related to the "Star Wars" franchise.
A Toys 'R' Us spokeswoman and a ThreeSixty Group spokeswoman didn't respond to requests for comment, while an AEA spokeswoman declined to comment.
EDITORS' NOTE: This article was originally published by The Deal, a sister publication of TheStreet that offers sophisticated insight and analysis on all types of deals, from inception to integration. Click here for a free trial.