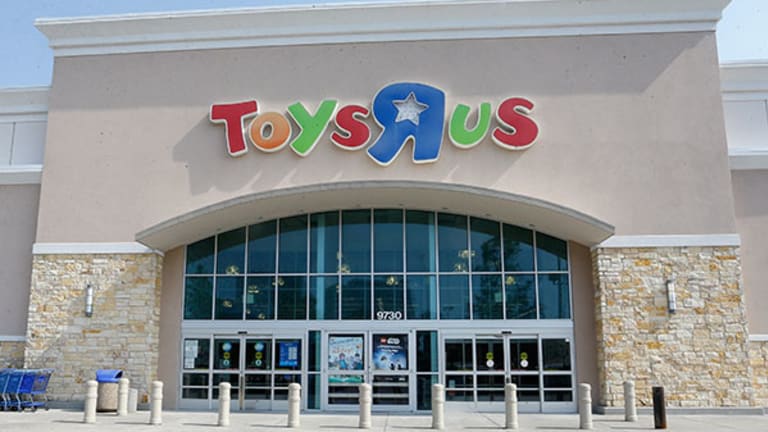 Toys 'R' Us Debt Load Tips It Into Chapter 11
The bankruptcy filing, one of the largest ever for a retailer, comes as it struggled to deal with competitors such as Amazon, Wal-Mart and Target, and ahead of the holiday season.
Toys 'R' Us Inc. filed for Chapter 11 bankruptcy protection late on Monday, Sept. 18, as the U.S.'s largest toy retailer couldn't deal with its rising debt load.
The Chapter 11 filing, one of the largest ever for a retailer, comes as it struggled to deal with competitors such as Amazon.com Inc. (AMZN) , Wal-Mart Stores Inc. (WMT) and Target Corp. (TGT) , and ahead of the holiday season.
The company said it expected its approximately 1,600 Toy 'R' Us and Babies 'R' Us stores and online stores to operate as normal while the proceedings are taking place in the U.S. Bankruptcy Court for the Eastern District of Virginia in Richmond. The company's Canadian subsidiary also sought protection under the Companies' Creditors Arrangement Act in the Ontario Superior Court of Justice.
Judge Keith L. Phillips of the Richmond court was set on Tuesday morning to consider first-day motions.
The company said it intended to use these court-supervised proceedings to restructure its outstanding debt and establish a sustainable capital structure, adding that bankruptcy protection will enable it to invest in long-term growth.
"Together with our investors, our objective is to work with our debtholders and other creditors to restructure the $5 billion of long-term debt on our balance sheet," chairman and CEO Dave Brandon said in a statement Monday.
The restructuring will allow the company to invest in the business, and "continue to improve the customer experience in our physical stores and online, and strengthen our competitive position in an increasingly challenging and rapidly changing retail marketplace worldwide," Brandon said.
The company has received a commitment for $3.13 billion in debtor-in-possession financing from various lenders, including a JPMorgan-led bank syndicate and certain existing lenders, which, subject to court approval, is expected to immediately improve the company's financial health and support its ongoing operations during the court-supervised process.
Toys 'R' Us in its bankruptcy petition listed $6.57 billion in assets and $7.89 billion in liabilities as of April 29. The company had $5.27 billion in funded debt as of the petition date.
It was reported on Friday that a number of suppliers had cut back their shipments to the retailer as it grappled with debt refinancing. The suppliers were said to be scaling back shipments because the cost to insure their shipments to the struggling toy retailer has become too expensive.
In court papers, Brandon said a Sept. 6 story on a potential Chapter 11 filing "started a dangerous game of dominos" that led vendors to tighten their credit terms.
Bain Capital LLC, Kohlberg Kravis Roberts & Co. LP (KKR) and Vornado Realty Trust (VNO) took Toys 'R' Us private in 2005 in a $6.6 billion leveraged buyout.
Court documents show the company has its roots in Children's Bargain Town, a baby furniture store opened by Charles Lazarus in Washington in 1948. He subsequently opened the first Toys 'R' Us in 1957 after adding toys and baby products to his original store. "Spokesanimal" Geoffrey the Giraffe followed in 1965, and the company went public in 1978.
More of What's Trending on TheStreet: