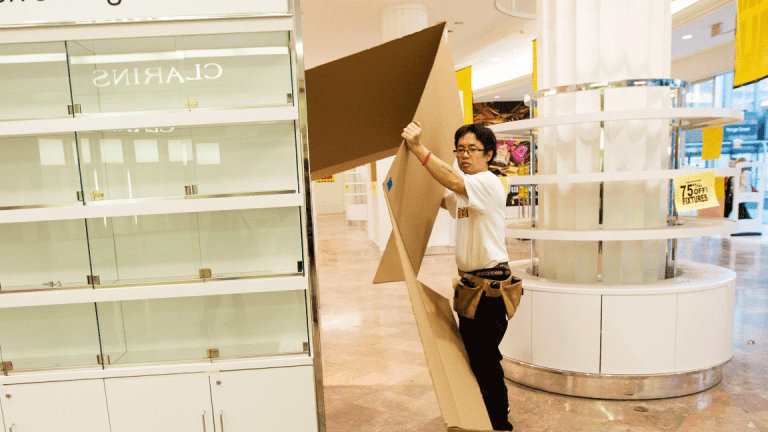 Sears to Cut Extra $200 Million to Focus on Little-Known E-Commerce Platform
The struggling chain also announced a new $100 million term loan and negative comparable-store sales of 15% for the first two months of the fourth quarter.
Taking its frantic fight against bankruptcy into 2018, Sears Holdings Corp. (SHLD) will cut costs beyond store closures to focus on a digital initiative as well as its home repair program, it announced Wednesday, Jan. 10.
In addition to the cost-cutting measures, the distressed department store chain also has acquired a new $100 million term loan, secured by ground leases and intellectual property, and is seeking an additional $200 million from other lenders using the same collateral. Sears also has amended its second-lien notes due Oct. 15 and is in talks with lenders to change the terms on more than $1 billion in non-first-lien debt to reduce interest expenses and extend certain maturities. Finally, the Hoffman Estates, Ill., company is pursuing a secured credit facility, previously mentioned in December, that would be backed by 138 properties.
Sears shares were up 2.6% Wednesday morning, trading at $3.21 per share.
"The financial transactions we are pursuing and incremental cost actions are designed to accelerate our return to profitability and enable Sears Holdings to increase our investment in the most promising opportunities in our enterprise, including our Shop Your Way network and our Sears Home Services business," said Eddie Lampert, Sears' CEO, chairman and de facto financier, in Wednesday's statement.
The statement noted that should Sears fail to complete the financing transactions, "the board will consider all other options to maximize the value of its assets."
Shop Your Way is a point-based program that grants users cash toward online Sears purchases through partnerships with Uber Technologies Inc. and MasterCard Inc. (MA) - Get Mastercard Incorporated Class A Report . An Uber customer, for instance, can link her or his Uber account with Shop Your Way and gain two points -- or $2 -- toward Sears online products for every ride.
The online platform gained at least 10 million new members this past year, Sears said in its third-quarter earnings call Nov. 30, but it's unclear how much sales it has generated.
For brick-and-mortar, however, things are looking grim. Sears also reported Wednesday an adjusted comparable-store sales decline of 14% to 15% for Sears and Kmart locations during the first two months of the fourth quarter, unlike the slew of major retailers that have announced positive salesand traffic during the holiday season.
Christina Boni, a vice president at Moody's Investors Service Inc., noted the significant underperformance via email, adding, "Sears is taking additional steps to address its upcoming maturities in fiscal 2018 and improve its liquidity as its unencumbered asset base continues to decline and its business turnaround remains elusive."
Along those lines, Sears had one more zinger: It updated its fourth-quarter Ebitda guidance to between negative $10 million and negative $70 million -- a surprisingly large range, even for Sears, according to David Tawil, president of distress-focused hedge fund Maglan Capital.
Sears previously had hoped for achieving neutral Ebitda in 2018. Looking at these numbers, "we all know that's not going to happen," Tawil said. "But you've got to give [Lampert] credit for putting his money where his mouth is. Lampert definitely gets the prize for pulling off the greatest liquidation in history."
Last week, Sears Holdings said it will be closing 103 Sears and Kmart stores by April.
Sears could not be reached for immediate comment.
More of What's Trending on TheStreet: