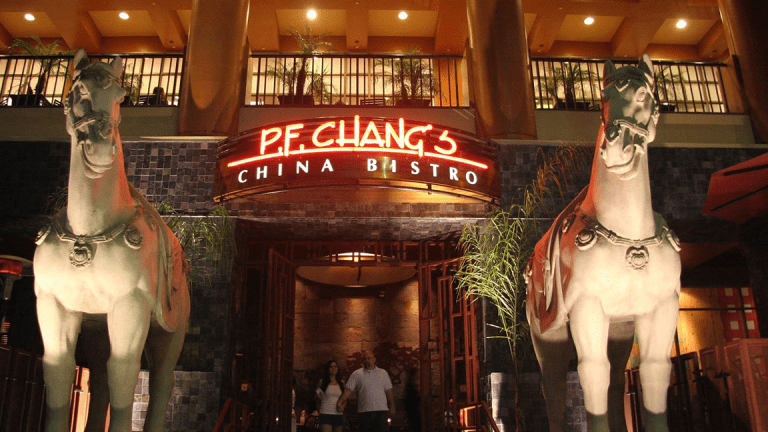 Credit Rating Agencies Cast Doubt on P.F. Chang's Outlook
Moody's and S&P have recently cut their ratings on the Centerbridge Capital-backed restaurant chain, citing the uncertainty of its ability to refinance $300 million in notes due June 2020.
Weak operating results and refinancing concerns have led to recent downgrades for P.F. Chang's China Bistro Inc., as the company joins a number of other casual dining chains on the outs with major ratings agencies.
Moody's Investors Service Inc. on Wednesday, April 4, downgraded P.F. Chang's corporate family rating to Caa1 from B3. Like S&P Global Ratings, which in mid-March lowered its corporate credit rating for the Scottsdale, Ariz., company to CCC+ from B-, Moody's has a negative outlook on the Centerbridge Capital Partners II LP portfolio company.
Both ratings agencies pointed to P.F. Chang's uncertain ability to refinance its $300 million in 10.25% notes due June 30, 2020. If at least $60 million in notes remained outstanding, the maturity of the company's credit facility could spring forward to April and May 2020, Moody's said.
P.F. Chang's also has a $320 million term loan and $60 million revolver due Sept. 1, 2022, from Barclays Bank plc, Bloomberg data shows.
Moody's faulted the chain's high leverage (more than 8 times debt-to-Ebitda), weak liquidity and modest interest coverage, adding that rising industry costs and flat or negative sales trends at its restaurants would make it difficult for P.F. Chang's to strengthen liquidity and credit metrics in the near term. S&P projected negative free operating cash flow over the next 12 to 24 months.
P.F. Chang's operates or franchises more than 400 P.F. Chang's and Pei Wei restaurants, S&P said. The company has about $1.3 billion in revenue, according to Moody's.
Centerbridge took the company private in July 2012 for $51.50 a share, or $1.1 billion. P.F. Chang's and Centerbridge could not be reached for immediate comment.
P.F. Chang's is the lowest-rated restaurant owner in Moody's universe, sharing the designation with Restaurant Holding Co. LLC, a Castle Harlan Inc.-backed franchisee of Burger King and Firehouse Subs restaurants in Puerto Rico, and Wendy's International LLC, a unit of Wendy's Co. that operates and franchises nearly 6,500 quick-service hamburger restaurants. The latter two, however, have stable outlooks. (Wendy's Co. itself carries a B2 rating.)
Some 15 companies and restaurant chains have a credit rating one rung higher, at B3, including California Pizza Kitchen Inc., Checkers Holdings Inc., Chuck E. Cheese, Landry's Inc., Nathan's Famous Inc., Red Lobster Management LLC, Qdoba and Steak n Shake Inc.
In late March, Casual restaurant chain Kona Grill Inc. (KONA) , based in Scottsdale, Ariz., raised concerns about its financial stability, noting the company on Dec. 31 violated covenants of its $40 million credit facility with KeyBank NA and Zions First National Bank, since it was not in compliance with the facility's fixed charge coverage ratio and leverage ratio. Kona obtained a covenant waiver on March 9 for the quarter ended Dec. 31 and believes it will be in compliance at future covenant compliance dates.
Editor's note: This article was published by The Deal, a sister publication of TheStreet that offers sophisticated insight and analysis on all types of deals, from inception to integration. Click here for a free trial.
Holders of the P.F. Chang's credit facility could anticipate a recovery of 50% to 70% on default or a bankruptcy, S&P said on March 19, with noteholders recovering less than 10%.
The ratings agency projected P.F. Chang's would have adequate covenant cushion of 15% to 30% over the next 12 months. The company can have maximum net first-lien secured leverage of 3.75 times on its credit facility, with the covenant stepping down to 3.5 times in June 2020.
Join conference host Jim Cramer and a stellar lineup of speakers at the Corporate Governance conference on June 7 in New York. DOJ Antitrust Assistant Attorney General Makan Delrahim, Paul Singer, Nelson Peltz and Macy's Inc. chairman and CEO Jeff Gennette will be on hand to discuss methods for managing companies to maximize shareholder value.Register today. Deal clients have special pricing; for more details contact your account manager.