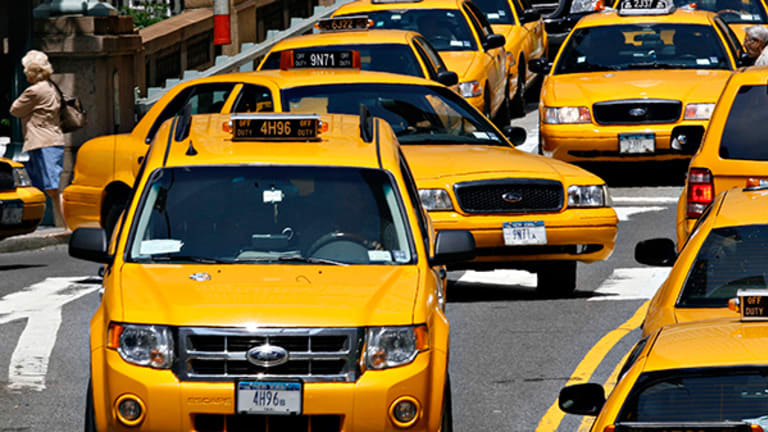 New York Taxi Mogul Must Surrender 46 Cabs
Evgeny Freidman, who owns some 830 taxi medallions in New York, would be arrested if he failed to properly surrender a portion of his taxis to a Chapter 7 trustee.
Embattled New York taxi king Evgeny "Gene" Freidman would earn a ride to jail if he failed to comply with an order compelling him to surrender 46 of his taxicabs and medallions.
Judge Carla E. Craig of the U.S. Bankruptcy Court in Brooklyn, N.Y., on Wednesday ruled that Freidman must turn the assets over to a Chapter 7 trustee or face arrest.
Freidman owns more medallions than any other individual in the city: 830 of the 13,000-plus in circulation. His empire has proved to be anything but invincible in recent years, though, as Uber, Lyft and other ride-sharing startups have shaken New York's yellow cab industry. (His rather upbeat take in the video above dates to June 2015.)
Freidman put holding companies possessing 46 of those medallions into Chapter 11 in July 2015, placing the blame for their collapse squarely on Uber and Lyft. The cases were converted to a Chapter 7 liquidation on Sept. 22 after Freidman failed to produce a realistic reorganization plan and then attempted to publicly abandon the cabs outside the Queens office of creditor Citibank.
On Wednesday, the court-appointed trustee that now administers the holding companies' bankruptcy estates, Gregory Messer, asked to seize the vehicles and medallions after Freidman failed to make a $92,000 monthly payment on the medallions.
Freidman wanted to turn the cabs and medallions over to the city's Taxi & Limousine Commission instead of to the Chapter 7 trustee, a proposal that earned his counsel a sharp rebuke from Craig.
"I am ordering him to turn them over. He cannot decide that he ought to turn them over to the TLC. He has to turn them over," Craig said from the bench. "If he does not, he will be incarcerated. I am not kidding about this."
Freidman's counsel, David M. Bass of Cole Schotz, told the court that his client was concerned about remaining liable for the taxis and medallions once they were transferred out of his possession: first to the Chapter 7 trustee and then to a taxi management company that has agreed to operate the cabs as they are sold off piecemeal.
"We're not opposed to the motion, per se," Bass said.
Under the terms of the turnover, Freidman must deliver the cabs to the Chapter 7 trustee for safekeeping over the next week. They then will be turned over to NYC Taxi Group, which owns about 300 medallions in its own right.
"It is really not for Mr. Freidman to dictate how his collateral is liquidated," Craig said. Since the cabs are the property of the bankruptcy estates, they are controlled by Messer.
Freidman is wading through a morass of litigation as his taxi business crumbles. Facing imminent eviction, the holding company that maintains the Queens base station for many of Freidman's taxis filed for bankruptcy on Friday. He also has been hit with a lawsuit that alleges he siphoned more than $11 million from his taxi operating companies through fake loans.
In September, Freidman's taxi management company was evicted from its Chelsea office in Manhattan for falling behind on rent, five months after he was ordered by the New York attorney general's office to pay out $250,000 in fines and damages for failing to pay his drivers' their credit card fares in a timely fashion.
This article was originally published by The Deal, a sister publication of TheStreet that offers sophisticated insight and analysis on all types of deals, from inception to integration. Click here for a free trial.