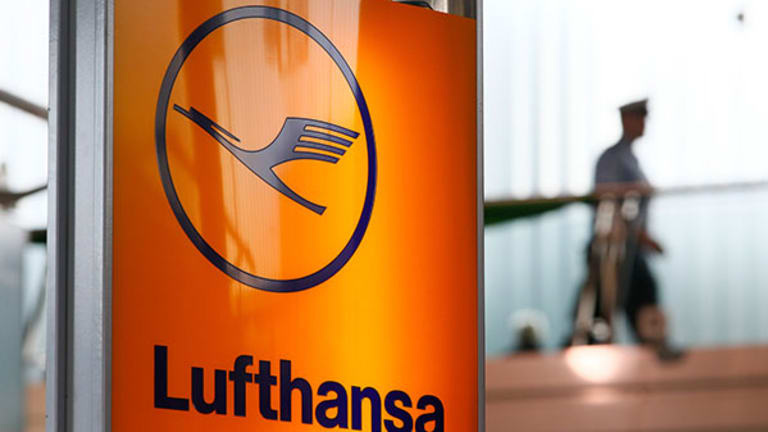 Lufthansa (DLAKF) and Ryanair   (RYAAY) - Get Ryanair Holdings Plc Sponsored ADR Report could be the big winners following the collapse of Air Berlin, one of Europe's biggest carriers, with both airlines poised to pick up short-haul market share into and out of Germany.
Air Berlin declared bankruptcy on Tuesday, August 15, after Middle Eastern backer Etihad Aviation Group pulled finance guarantees. Germany's No.2 Airline will keep flying for the time being after its larger domestic rival Lufthansa and the German government stepped in to prevent a complete collapse.
Air Berlin plc shares traded in the early afternoon Wednesday at €0.414 ($0.48), down 18% on the day and 46% since news of the bankruptcy broke on Tuesday. Lufthansa shares were back to Tuesday's closing price of €20.66 after an initial surge of almost 1%. Ryanair was up 1.2% on Wednesday to €19.44 and has climbed 4.7% over two days.
"We see Lufthansa and Ryanair as the biggest potential beneficiaries from possible reduced supply in the medium term...with other European airlines also benefiting from better short-haul supply and demand," wrote Goldman Sachs analysts including Daniil Federov and Patrick Creuset. "In the long term, we believe that legacy exits in Europe should support market share gains for LCCs (low cost carriers) and for Ryanair in particular."
Air Berlin has about 3.4% of Europe's short-haul market and 13% of the German market. Its collapse means that about 5% of Europe's short-haul capacity is now operated by bankrupt carriers, after Italy's Alitalia tumbled into administration in May when its employees rejected a restructuring plan. Alitalia is 49% owned by Etihad.
Lufthansa fills about 39% of its seats in Germany, while German passengers account for about 7% of Ryanair's traffic, making them the most exposed airlines to the German market.
Ryanair has targeted the German market for expansion, opening operations in Frankfurt earlier this year as part of plans to ramp up capacity.
Low cost carriers like Ryanair and EasyJet Plc (EJTTF) control 27% of the German market, compared to the European average of 44%, suggesting that there is room for them to expand in Europe's biggest economy.
Cologne-based Lufthansa had previously expressed interested in buying routes and some assets from Air Berlin and its role as Germany's proxy-flag carrier, and the assistance it is providing Air Berlin, means it is in pole position to pick up assets.
"Lufthansa is already in negotiations with Air Berlin to take-over parts of the Air Berlin Group and is exploring the possibility of hiring additional staff," the company said on Tuesday. "Lufthansa intends to conclude these negotiations successfully in due time."
Ryanair on Tuesday attacked Lufthansa's involvement in the rescue claiming a deal "was clearly being set up for Lufthansa to take over Air Berlin."
The Irish-based carrier called the apparent cooperation between Lufthansa and the German government a "conspiracy," and said it had filed a complaint with the European Commission, arguing the deal excluded major competitors and ignored both EU competition and State Aid rules.
The German government seemed to confirm its support for a Lufthansa deal for Air Berlin, claiming that its own intervention was designed to support the failed carrier as it negotiated with "Lufthansa and another, unnamed airline."
That second airline could be London-based EasyJet, which is in talks to buy some of Air Berlin's assets according to an unconfirmed Reuters report that cited unnamed sources. Easyjet declined to comment.
More of What's Trending on TheStreet:
Amazon Is a 'Dark Star,' Says Retired Home Depot CEO Frank Blake