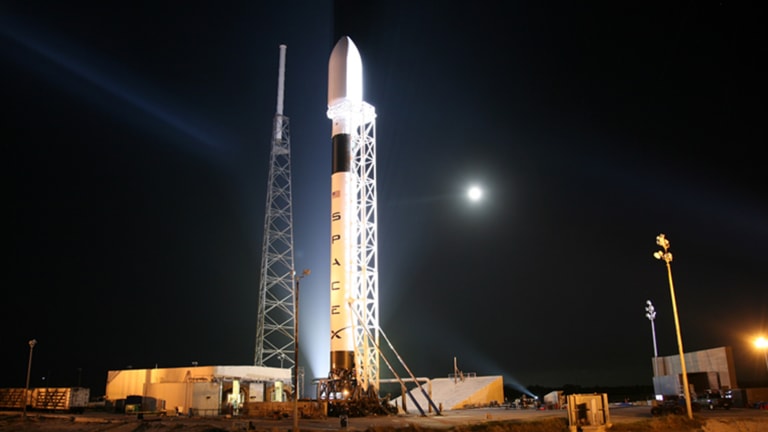 Intelsat Debt Swap Offer Yields Yawns as OneWeb Acquisition Founders
The debt swap offer takes place against the backdrop of Intelsat's plan to acquire OneWeb.
Intelsat (I) - Get Intelsat S.A. Reportcontinues to amend and extend a debt swap offer simultaneously with its acquisition of WorldVu Satellites, also known as OneWeb. If completed, the exchange could take $3.6 billion of Intelsat's $14.2 billion in debt off the books. SoftBank Group will support the exchange by raising $1.79 billion in a preferred stock offering.
Debt involved includes notes issued by Intelsat subsidiaries Intelsat Jackson, ICF and Intelsat Luxembourg.
The original April 20 deadline has been extended repeatedly to May 15, May 17 and most recently to May 31. The exchange is conditioned on participation by 85% of each class of noteholders, and as of May 17 less than 1% of each class had shown interest.
Luxembourg-based Intelsat is a fixed satellite operator offering services in the areas of media, telecommunications, data transfer and government communications. The company's new Epic platform is designed to complement its legacy services through the use of C-, Ku- and Ka-bands, wide beams, spot beams and frequency reuse technology.
OneWeb is putting together a network of small, low-cost, low earth orbit (LEO) satellites scheduled for initial launch next year and a full launch in 2019.
Intelsat is pushing the combination as a way to create global, pole-to-pole, high-throughput satellite broadband network and reduce leverage.
At the end of the March quarter, funds advised by BC Partners and Silver Lake held about 65% of the company's equity.
The acquisition has already seen some bumps in the road. When SoftBank revealed plans to buy Intelsat stock for $5 per share, the share price lost over 30% in one day in February. The current plan calls for SoftBank to invest at $4.75 per share.
In March, Intelsat disclosed and exchange offer that would give investors owning Jackson notes due 2019, 2020 and 2021 about 76 cents to 94 cents on the dollar, while holders of Luxembourg notes due 2021 and 2023 would get 46 cents on the dollar in the form of cash and stock in the post-merger company.
The most recent amendment, announced May 17, would give Jackson noteholders cash and new Recovery would be the same for holders of 2021 and 2023 Luxembourg notes, except they would swap for cash and new debt.
OneWeb shareholders will also receive slightly more Intelsat stock now -- 69.474 shares instead of 66 -- for each OneWeb share.
SoftBank told Bloomberg that it is getting impatient with the pace of the acquisition and could take its capital elsewhere.
Moody's Investors Service considers the swap likely to be a distressed exchange or limited default.
The ratings agency is concerned with Intelsat's leverage and negative cash flow, though the company does have over $650 million in cash on the books according to a March 1 comment.
We see the potential benefits of the business merger as uncertain and inestimable. OneWeb is not a fully funded project, its underlying assumptions are not in the public domain, and commercial viability is unproven. Additionally, as communications increasingly migrate to the internet and television transitions to on-demand data streaming, we also see several actual and potential competitors whose LEO, MEO (medium earth orbit) and GEO (geostationary earth orbit) satellites deliver similar services.
As of the end of the March quarter, Intelsat's annual interest payments were approximately $990.4 million, and a successful exchange would reduce that cost to $735.6 million according to regulatory filings for the exchange.
By Moody's reckoning, a complete exchange of all $3.6 billion in debt covered by the exchange would reduce Intelsat's leverage, but not by enough. Moody's expects the business combination to reduce Intelsat's debt to Ebitda ratio by 2.2x to 6.9x.
"Additionally, the free cash flow benefits of the company's liability management activities are not proportionate: we estimate the combination of weak performance and debt-exchange activity has increased Intelsat's weighted average interest rate by 50 basis points to about 6.5%," Moody's said in another comment on March 6.