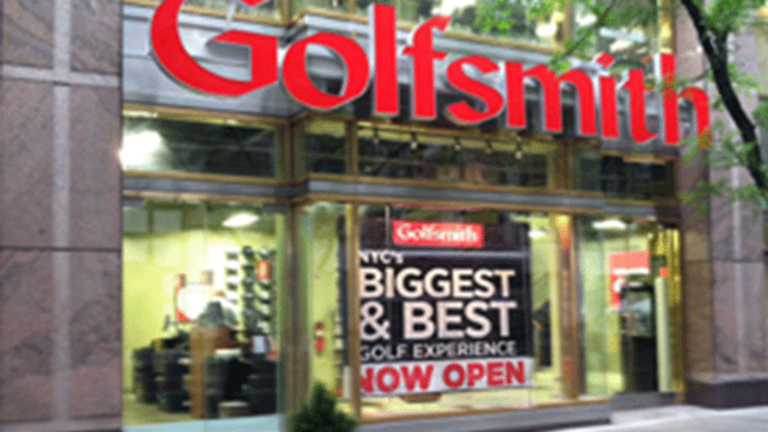 Private equity-backed Golfsmith International has taken the next steps in its case as the specialty golf retailer pursues a dual-track reorganization process that could end in either a reorganization or a sale.
On Wednesday, Judge Laurie Selber Silverstein of the U.S. Bankruptcy Court for the District of Delaware in Wilmington approved Golfsmith's bidding procedures for its assets, fixing the timetable for the auction process. A day earlier, it filed a restructuring support agreement with two of its senior noteholders.
Bids for the debtor's assets are due on Oct. 17 ahead of an auction two days later. If the winning bid envisioned a liquidation of the debtor's assets, a sale hearing would be held on Oct. 24. If the winning bid called for purchasing Golfsmith as a going concern, the sale hearing would follow on Oct. 31. A final order approving the bidding procedures has not been entered into the court docket as of Thursday morning.
Golfsmith said Wednesday that it already has two going-concern bidders, according to Thomas S. Onder of Stark & Stark, who was present at the hearing. Onder represents Ramco-Gershenson Properties Trust (RPT) - Get RPT Realty Report , landlord of two Golfsmith locations. The debtor has not designated a lead bidder for its assets.
A Golfsmith spokesman did not respond to a request for comment.
Other retailers to pursue dual-track reorganizations recently have had varying degrees of success. Sporting goods retailer Sports Authority wound up liquidating its assets entirely, while teen clothing retailer Aéropostale averted a full-chain liquidation by completing a going-concern sale to a consortium of two REITs, two liquidators and licensing company Authentic Brands.
Time is of the essence in Golfsmith's bankruptcy proceedings. Provisions in the debtor's $135 million debtor-in-possession loan from Antares Capital require the debtor to consummate a sale by Oct. 31.
A fast-approaching prime selling season adds another layer of urgency.
"Executing a going concern sale with alacrity will restore the confidence of Golfsmith's vendors," the debtor said in its bidding procedures motion. "This, in turn, will allow a reorganized Golfsmith to acquire 'new generation' golf equipment and other mainstay merchandise on more relaxed trade terms leading up to and during the upcoming holiday season."
A sale may not be necessary in the end, however. The debtor's restructuring support agreement with second-lien noteholders Fairfax Financial and CI Investments calls for senior secured noteholders to receive a 100% equity interest in the reorganized debtor and swap roughly $95 million in second-lien notes for $35 million of new 12% second-lien notes.
Fairfax and CI Investments already are set to purchase Golfsmith's Canadian business, Golf Town Canada. A Canadian court approved the transaction on Sept. 30; terms of the deal have not been made public.
Silverstein, meanwhile, rejected Golfsmith's request to hold a hearing on its restructuring support agreement on Oct. 13, according to Onder. A date for the hearing has not been finalized, but it is a virtual certainty that the agreement will come up for approval by Oct. 31, given the expedited auction process.
A portfolio company of Omers Private Equity, Golfsmith's struggles trace back to plummeting interest in its namesake sport. Data from the National Golf Foundation shows a steady decline in the total number of people who played at least one round of the sport in the previous year (roughly 24 million in 2016 compared with 25.7 million in 2011 and roughly 30 million in 2005). Nike (NKE) - Get NIKE, Inc. (NKE) Report announced in August that it would stop selling golf clubs, balls and bags.
Founded in 1967, Golfsmith sold a majority stake in October 2002 to First Atlantic Capital. The retailer went public on June 15, 2006, and on July 24, 2012, merged with Omers' Golf Town, which the Canadian firm had taken private for C$240 million ($183 million) in September 2007.
The Austin, Texas, debtor listed $100 million to $500 million in assets and liabilities in its Sept. 14 petition.
Michael F. Walsh, David N. Griffiths, Danielle D. Donovan and Charles M. Persons of Weil, Gotshal & Manges and Mark D. Collins, Andrew Dean, Zachary I. Shapiro and Brett M. Haywood of Richards, Layton & Finger are debtor counsel.
Brian Cejka of Alvarez & Marsal is chief restructuring officer. Robert J. White of Jefferies is Golfsmith's investment banker.