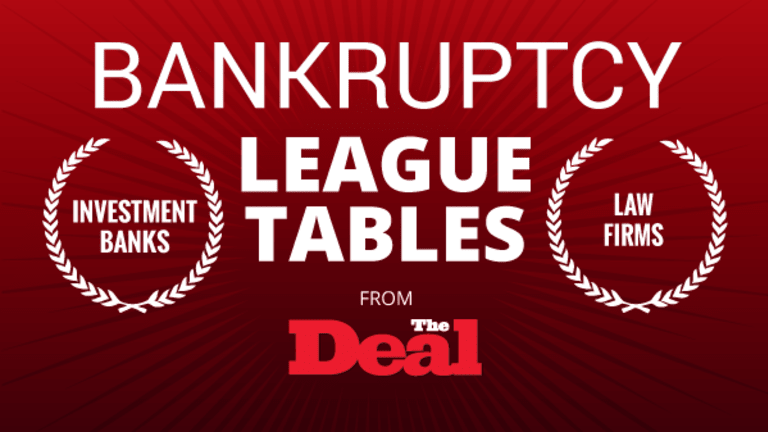 Chapter 11 bankruptcy filings have increased by about 22% in 2016 compared with the previous year, led by energy companies, showing that in an economy with only sluggish growth, there are industry specific issues that need to be addressed.
Joseph M. Esmont of Baker & Hostetler LLP in Cleveland, a commercial attorney with experience in distressed oil and gas assets and troubled financial institutions, said the increased number of filings may actually signal a strengthening economy. (BakerHostetler ranks No. 29, with 50 active cases, in The Deal's bankruptcy league tables for the quarter ended Sept. 30.)
"In a bad economy, companies are more likely to not pay their bills, but bankruptcy is not always an easy process, especially under Chapter 11," Esmont said. "In a good economy, or right out of a good economy, companies may be in a better position to go through the process of bankruptcy."
When the economy is getting worse, a company may not have enough money to finance months, and in some cases years, of Chapter 11 litigation to protect itself from having to foreclose operations, Esmont said.
The U.S. economy is forecast to grow by 1.8% in 2016, compared with last year's GDP growth of 2.1%, according to the Federal Open Market Committee. The U.S. unemployment rate fell to 5% in September, down from 5.7% in September 2015, according to the Bureau of Labor Statistics.
From Jan. 1 to Oct. 15, there were a total of 133 Chapter 11 filings from companies holding $25 million in assets or more, and 53 of those petitions came from companies in the energy and environmental services industries, according to The Deal's bankruptcy database.
The companies that petitioned for the 133 Chapter 11 filings held a total of $177.6 billion in assets, with those in the energy and environmental services sector holding nearly $87 billion in total assets, the database shows.
From Jan. 1, 2015, to Oct. 15, 2015, there were 109 Chapter 11 filings, and 25 of those came from companies in the energy and environmental services sector, tied with the sector that includes finance, insurance, real estate, publicity and professional services firms. In 2015, companies filing for Chapter 11 held a total of almost $87 billion in assets, with those in the energy and environmental services sector totaling $58.9 billion in assets.
This year, 31 companies in the defense, industrial and transportation industries have filed for Chapter 11 protection, marking the sector as the second largest for bankruptcy cases. Those companies held almost $17 billion in assets, according to the database.
John Talbot Sant Jr. of Armstrong, Teasdale LLP, an attorney representing the creditors' committee of Peabody Energy Corp., a St. Louis coal producer that filed for Chapter 11 protection in Missouri on April 13 with $11.02 billion in assets, agreed with Esmont that Chapter 11 filings could be viewed as positive, as it means fewer companies are succumbing to foreclosure.
"Even when the economy was really bad, we didn't have too many bankruptcy cases," Sant said. "It depends on the financing available for those companies. You have to have something worth saving."
The 2016 bankruptcy filings could be tied in part to the economy, but oil and gas producers specifically have been struggling since 2014, Esmont said. The price of crude oil dropped to about $50 per barrel in the fourth quarter and has not come anywhere near its June 2014 peak of $112 a barrel.
"I think we're likely to see energy filings continue at a heightened level, off the base," Esmont said. "I don't think we'll necessarily see 70 filings next year, but until something is figured out to raise oil prices, we will see filings at a higher level."
The price of U.S. West Texas Intermediate crude oil climbed as much as $1.45 to $51.74 a barrel on Wednesday, a one-year high, as government data was released showing that stockpiles decreased again for the sixth time in seven weeks as U.S. refiners continue to cut back on production and imports.
The Organization of the Petroleum Exporting Countries, or OPEC, instilled additional hope for higher oil prices after reporting plans for November to reduce production to about 32 million barrels per day, compared with September's output of 33.6 million bpd, which boosted pressure on oil prices.
Esmont said offshore and production companies are the most at risk from lower oil prices.
He also highlighted retail as another sector likely to see a number of Chapter 11 filings.
Esmont said as consumers turn more to online shopping, boosting sales for giants such as Amazon.com Inc. (AMZN) - Get Amazon.com, Inc. Report , retailers such as Nordstrom Inc. (JWN) - Get Nordstrom, Inc. (JWN) Report , Macy's Inc. (M) - Get Macy's Inc Report , Sears Holdings Corp. (SHLD)  and Kohl's Corp. (KSS) - Get Kohl's Corporation (KSS) Report  may be falling behind.
Here is the complete breakdown of the law firm, lawyer, investment bank and investment banker rankings from The Deal for the third quarter:
For more on The Deal's quarterly league tables, click here.