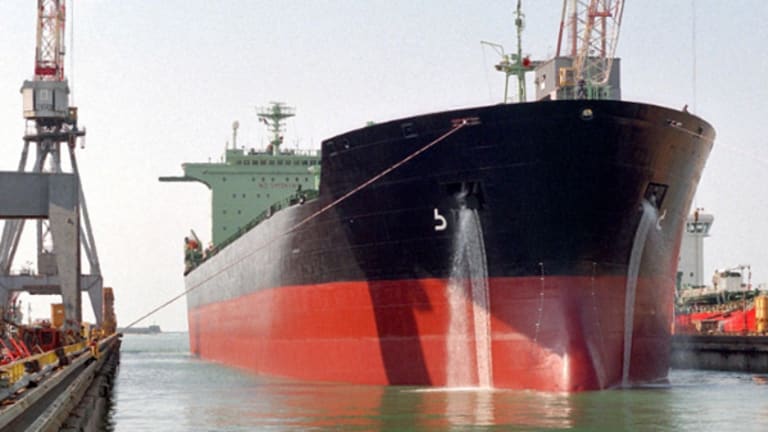 DryShips Shares Float Higher Again With New Loan
A new $200 million loan package arranged by George Economou will pay off $35 million in old debt for the Athens dry bulk shipper.
DryShips (DRYS) - Get DryShips Inc. Report shares rallied Thursday on news of a restructuring supported by Sifnos Shareholders, a vehicle controlled by founder and Chairman George Economou. The arrangement calls for Sifnos to provide a $200 million senior secured revolving loan to the Athens dry bulk shipper, according to the Thursday announcement.
DryShips shares closed at $5.40 on Thursday, up 52.1%, although they were off 5% on Friday morning to $5.13. Nevertheless, the stock remains down 98% in what has been a roller-coaster 2016.
The company has been whipsawed along with the shipping industry in general in recent years as a global economic slowdown and a glut of new ships gutted the economics of marine transport.
Even good news turned into bad news -- cheaper fuel prices allowed ships to crank up their engines and steam along faster so that more craft crowded ports to bid more aggressively than ever on cargo.
Likewise, the company's efforts to recapitalize via the private-investment-in-public-equity market backfired in November, when the company sought to capitalize on a run-up in its stock price -- shares jumped more than 1,300% in four days to $73 from $5.10 -- with a $20 million PIPE deal. The market reacted to the deeply discounted deal by sending the stock on a Nov. 16 anvil ride that left the shares down almost 85% from the previous close.
The company's board obtained a fairness opinion for the new revolver from an unspecified party. DryShips did not immediately respond to a request for comment.
The loan will provide the company with approximately $119 million to $129 million in liquidity, consisting of $79 million available under the revolver and $40 million to $50 million in cash.
In contrast, the September quarter left DryShips with $5.6 million in cash, all of which was restricted. The company also was underwater on several loans.
"As of September 30, 2016, we were in breach of certain financial covenants contained in our loan agreements, while five bank facilities have matured and we have not made the final balloon installments nor any other payments to date," the quarterly report said. "Accordingly the respective lenders have declared an event of default. For the remaining bank facilities, we have elected to suspend principal repayments and interest payments."
As a result of the defaults, some $200 million in loans was reclassified as current liabilities, and lenders could have demanded accelerated payment.
The company lost $121.17 million in the nine months ended Sept. 30. Revenue fell from $946.1 million in the same period last year to $42.3 million this year.
With the new revolver lined up -- the deal still must be finalized -- the company now is looking to acquire additional vessels after selling two Panamax bulkers and its equity in two others in October to pay down loans.
Economou, the son of an Athenian paper product seller, obtained a master's in naval architecture from the Massachusetts Institute of Technology and went on to become a billionaire ship builder, shipping magnate and art lover, with a collection of works by the likes of Pablo Picasso, Diego Rivera and Andy Warhol.
He also is chairman and CEO of offshore drilling contractor Ocean Rig UDW (ORIG) - Get Ocean Rig UDW Inc Class A Report and sits on the boards of Danaos (DAC) - Get Danaos Corporation Report , TMS Tankers and AllShips, according to BoardEx, the relationship mapping service of The Deal.