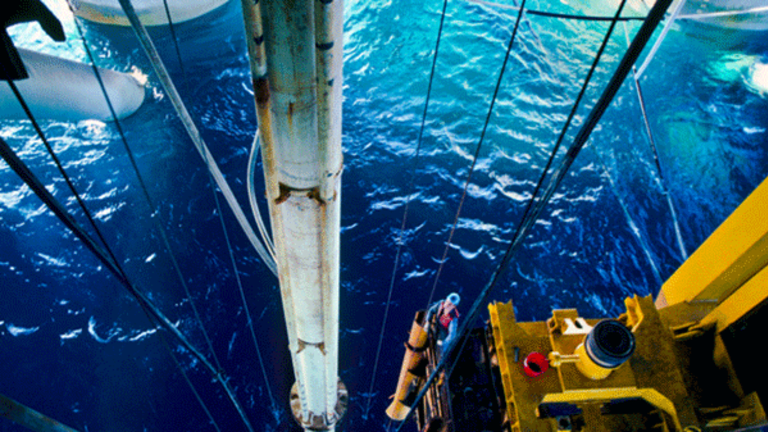 Cobalt International Energy Noteholders Take a Little for a Lot in Debt Exchange
The exchange takes over $120 million in debt off the table, while noteholders are getting about 50 cents on the dollar for their old notes.
While debt exchanges frequently put off the payment of debt, Cobalt International Energyundefined  is issuing nearer term debt securities in order to significantly reduce its overall debt burden.
Houston-based Cobalt provides offshore oil location and drilling services. The company operates in the areas of sub-salt and pre-salt exploration, deepwater drilling and subsea engineering for ocean floor infrastructure. Salt exploration involves identifying oil deposits among various types of seafloor salt formations.
The restructuring was announced before the open on April 25, and Cobalt stock later closed up 12.5% at 45 cents. The shares are trading down from a $3.50 52-week high.
Cobalt's balance sheet carries $2.48 billion in debt, according to FactSet. The debt breaks down into approximately $465 million in first lien notes, $530 million in 7.75% second lien notes due 2023, $654 million in 2.625% convertible notes due 2019 and $830 million in 3.125% convertible notes due 2024.
In its fiscal year in December the company recorded a $2.34 billion loss on revenues of $16.81 million. A big piece of the loss derived from $1.97 billion in dry hole costs and impairments. The company has also suffered from volatility in oil and gas prices.
Losses were up from $694.43 million in 2015, when the company had no revenues.
The company has been having liquidity problems since at least last summer, when it tried - and failed - to offload $1.75 billion in energy assets to Sociedade Nacional de Combustiveis de Angola-Empresa Publica (Sonangol). Cobalt had to return a $250 million fee after the Angolan government did not approve the deal within the specified timeline.
Earlier this year the U.S. Department of Justice was the last of several federal agencies that ended Foreign Corrupt Practices Act investigations into Cobalt's activity in Angola. None of the agencies took action against the company.
Cobalt went public in a lackluster IPO that likely disappointed private equity backers including a Goldman Sachs & Co. PE fund and funds managed by Riverstone Holdings, The Carlyle Group and First Reserve.
Cobalt now has entered into an agreement with noteholders that calls for the company to issue $178.62 million in new 7.75% second lien senior secured notes due 2023.
The old debt that will be swapped out consists of $296.31 million of the 2024 notes and $6.44 million of the 2019 notes.
The exchange reduces Cobalt's debt by $124 million. The company has exchanged a lot of 2024 debt for 2023 debt in the process.
"In addition, after giving effect to the transaction and the company's other debt exchanges in December 2016 and January 2017, the principal face amount outstanding under the 2019 Notes and the 2024 Notes has been reduced by $310.4 million in the aggregate," Cobalt said in an April 24 regulatory filing.
In December the company issued $500 million in new first lien notes in return for $616 million in 2019 notes and $96 million in 2024 notes.
The January swap involved issuing $139 million in second lien notes due 2023 in exchange for the return of $$138 million in 2019 notes and $60 million in 2024 notes.