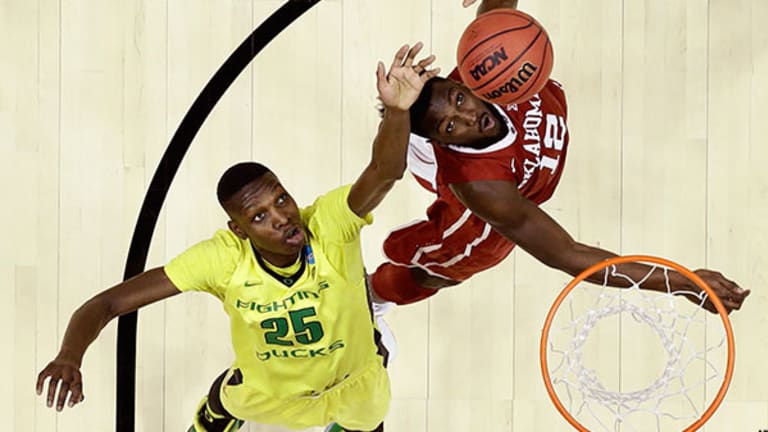 Publish date:
CBS' 247Sports.com Will Buy Sports Website Scout Media's Assets
The "vast majority" of the bankrupt college sports website network's publisher contracts are headed to one of its main competitors, a source told TheStreet.
The "vast majority" of the bankrupt college sports website network's publisher contracts are headed to one of its main competitors, a source told TheStreet.
The assets of college sports website network Scout Media are headed to one of its biggest rivals. Scout cancelled its bankruptcy auction Wednesday after no other company formally challenged CBS's (CBS) - Get CBS Corporation Class B Report $9.5 million stalking-horse bid.
Judge Michael E. Wiles of the U.S. Bankruptcy Court for the Southern District of New York in Manhattan approved the sale at a hearing later that afternoon. Terms of the debtor's bankruptcy loan require the sale to close by Monday.
CBS owns 247Sports.com, which, like Scout, aggressively covers college football and basketball recruiting and operates subscription-based websites dedicated to individual schools. Annual membership fees for Scout sites are about $100, while 247 charges its users $150 per year.
Scout's most valuable assets are its contracts with the publishers who operate those team sites and its analysts that track recruits. The "vast majority" of Scout's contracts will be assumed by 247, a person familiar with the matter told TheStreet.
Of the few contracts that aren't immediately assigned to 247, most will be renegotiated, according to the source, who declined to be named because 247 and Scout have not yet finalized which contracts will be assigned. Any publisher contracts that remain with Scout's bankruptcy estate could be sold at a later date.
Scout's websites will operate on the debtor's web platform for six months as they get transferred over to 247, the debtor said in court.
The bankruptcy auction for Scout's assets was postponed to Wednesday from Friday after multiple potential bidders expressed interest in the company and requested more time to put offers together. However, no concrete challenge to 247's bid materialized. What 247 will do with Scout's brand has not been determined, the source said.
TheMaven Network, a new website founded by ex-Scout CEO Jim Heckman, said at the hearing that it was interested in preparing an offer for Scout's assets and asked for time to solidify a bid, a request Wiles rejected.
"I have nothing in front of me that suggests that any delay [in the sale process] will result in a bid," Wiles said from the bench.
Heckman's overtures came just weeks after he said in a court filing that he was not interested in bidding on Scout's assets, a claim his lawyer repeated in court. Scout successfully petitioned Wiles to pursue document discovery against Heckman in January after it alleged that the ex-CEO had been contacting publishers and bad-mouthing the company to purchase it himself at auction.
"He did not show up this morning at 11:00 AM for the auction," Scout counsel Matthew P. Ward said. "We think he is trying to interfere [in the sale process]."
Scout fired Heckman in July and the ugly breakup brought the company's financial struggles to light.
Scout maintains that Heckman was fired for cause and that he misused corporate funds for personal expenses. Heckman claims he was forced out by a cabal of Russian investors that executed a hostile takeover of the company and has denied any wrongdoing.
The debtor's digital engineers resigned en masse in protest of Heckman's firing. The engineers claimed in an internal email first reported on by AwfulAnnouncing.com and subsequently obtained by TheStreet that they had been receiving paychecks late and got locked out of Scout's Seattle office after they petitioned the board of directors to be paid on time. Heckman has since brought the digital engineers on board theMaven, as well as Scout's former chief technical officer and chief operating officer.
Multiple current and former publishers have told TheStreet that their monthly payments from Scout had been arriving late well before the company entered bankruptcy. A trio of vendors alleging nonpayment filed an involuntary Chapter 11 petition against Scout on Dec. 1; the company voluntarily commenced Chapter 11 proceedings a week later, listing assets and liabilities between $10 million and $50 million.
The exact reason for Scout's inability to pay its publishers and vendors on time remains in dispute. A source familiar with the debtor's prepetition operations previously told TheStreet that Heckman had concealed Scout's poor financial performance, while a source close to Heckman said that the Russians had been deliberately funding the company's payroll late.
247's purchase of Scout turns the triumvirate of major college recruiting sites into a duopoly, as only Yahoo-owned Rivals.com remains as a serious competitor. Scout and Rivals were founded by Heckman, while 247 was founded by Shannon Terry, who had taken over as CEO of Rivals in 2001 and sold it to Yahoo in 2007 for a reported $100 million.
"Our robust team-focused model, featuring a deep roster of national and regional insiders and analysts, will now be even stronger with the addition of Scout," Terry said in a statement.
Heckman sold Scout to News Corp.'s Fox Sports in 2005 for $60 million. Pilot Group-backed North American Membership Group bought Scout in 2013 for an undisclosed price, rebranded itself as Scout Media and installed Heckman as CEO.