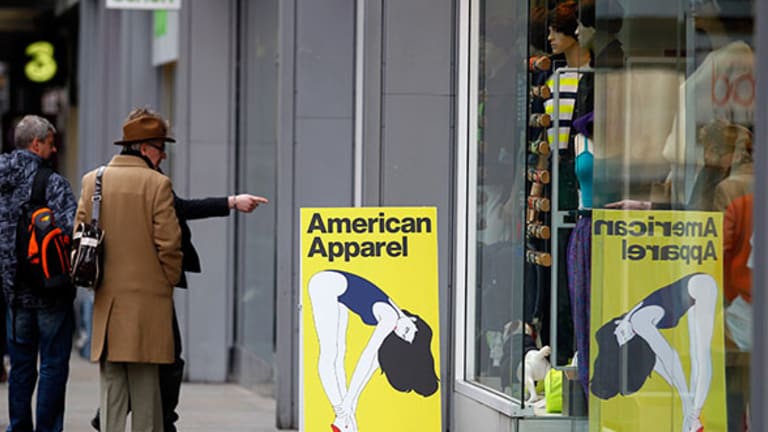 American Apparel Swoons Into Chapter 11
The troubled retailer, which plans to sell its intellectual property to Gildan Activewear, emerged from a previous bankruptcy only in February and pushed its U.K. business into administration last week.
Clothing retailer American Apparel has filed for bankruptcy protection in Delaware for the second time in little over a year.
Canada's Gildan Activewear (GIL) on Monday disclosed the bankruptcy filing alongside an agreement to buy the worldwide intellectual property rights of the American Apparel brand for roughly $66 million in cash.
Gildan's offer would serve as a stalking-horse bid in a Section 363 auction of American Apparel's assets.
"Gildan will be entitled to a breakup fee and certain expense reimbursements if it does not prevail as the successful bidder at any such auction," the company said.
American Apparel had not filed a bidding procedures motion with the U.S. Bankruptcy Court for the District of Delaware in Wilmington as of Monday morning, so details of the proposed bid protections were unclear. Court papers show, however, that American Apparel looks to hold an auction on Dec. 21 and a sale hearing on Dec. 30.
Gildan manufacturers cotton wear, including T-shirts, underwear, socks and sport shirts, for its own brands and also has license agreements with New Balance and Under Armour (UA) .
The Montreal company said it would separately purchase inventory from American Apparel "to ensure seamless supply of goods in the printwear channel while the company integrates the brand."
Gildan will not buy any retail stores.
It anticipated the transaction would close in the first quarter of 2017.
American Apparel plans to fund operations through a sale with a $30 million revolving debtor-in-possession loan from lenders led by Encina Business Credit.
A hearing on first-day motions including interim use of the DIP and scheduling a bid procedures hearing has not been set before Chief Judge Brendan Linehan Shannon of the Delaware court.
The beleaguered Los Angeles company has been weighed down by a contentious relationship with ousted CEO and founder Dov Charney. The company first filed for bankruptcy on Oct. 5, 2015, after a drop in sales and a legal battle with Charney.
It emerged from bankruptcy on Feb. 5 under the ownership of a group of former bondholders led by Monarch Alternative Capital.
Court papers show, however, that the turnaround plan underlying its reorganization proposal failed in the face of "unfavorable market conditions that were more persistent and widespread than the debtors anticipated." Many operational moves also proved unsuccessful, and sales were down 32.7% year over year as of Sept. 30.
With the company borrowing more than $2 million a week to stay afloat, American Apparel retained Houlihan Lokey in July, and it began to solicit offers for the retailer's assets a month later.
American Apparel last week said it was winding down its U.K. business as it was not part of the U.S. sale, administrators KPMG said.
"The American Apparel group has been experiencing strong retail headwinds, which has culminated in the U.S. parent deciding to stop inventory shipments to the U.K.," Jim Tucker, joint administrator and restructuring partner at KPMG, said in a statement. "The 13 U.K. stores are well stocked and will continue to trade as usual in the lead up to the peak Christmas trading period."
In its Chapter 11 petition, American Apparel listed assets and liabilities of $100 million to $500 million.
The debtor owes $130.51 million on its exit financing from lenders led by Wilmington Trust. Certain secured lenders also are owed $59.73 million on additional loans and $25.32 million on loans backed by intellectual property.
Its largest unsecured creditors include Standard General (owed $15.19 million on a loan guarantee), FTI Consulting ($2.03 million), the litigation trustee for its earlier Chapter 11 case ($1.25 million), E&C Fashion ($1.14 million) and Moelis & Co. ($644,998).
Erin N. Brady, Scott J. Greenberg and Michael J. Cohen of Jones Day and Laura Davis Jones, James E. O'Neill and Joseph M. Mulvihill of Pachulski Stang Ziehl & Jones are debtor counsel.