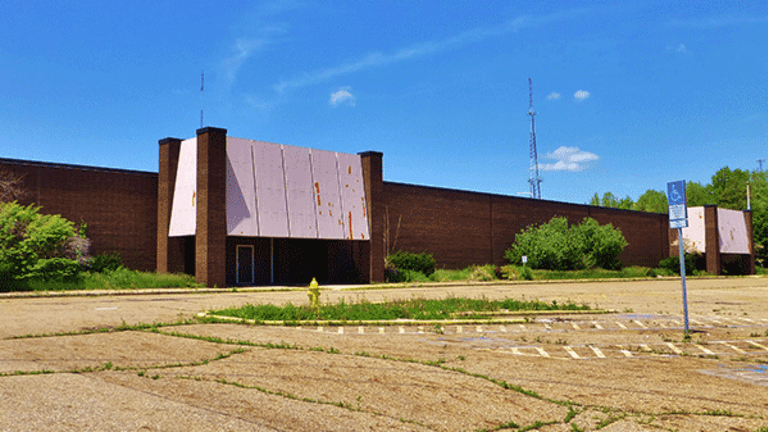 Amazon Could Kill 400 of the 1,200 Malls in the United States -- Here's How
Revenues would fall by $60 billion at apparel-based brick and mortars, if Amazon was responsible for 25% of apparel sales, according to Fitch.
Think things are bad for retailers in 2017? It won't take much for things to get a lot worse.
In a world where Amazon.com Inc. (AMZN) - Get Free Report was responsible for 25% of apparel sales, rather than its current 7%, revenue for apparel-focused, brick-and-mortar retailers, would fall by $60 billion, Fitch Ratings Inc. projected in a new report. Retailers like J.C. Penney (JCP) - Get Free Report , Kohl's (KSS) - Get Free Report and Dillard's (DDS) - Get Free Report would come under intense competitive pressure and could see Ebitda fall by 50% or more, the report said.
To put this in perspective, retailers have been filing for Chapter 11 bankruptcy this year at an unrelenting pace. A short list of 2017's bankrupt or insolvent retailers, only in the apparel market, includes Gymboree, The Limited, Wet Seal, BCBG Max Azria, Bebe and rue21. Virtually all of them blame online shopping for their troubles, and this while Amazon has just a 7% market share.
Were Amazon to seize 25% of apparel sales, it could mean the closing of about a third of the malls in the U.S., Fitch says. That's 400 of the 1,200 malls in the U.S.
This kind of change would drive as much as $40 billion in investment-grade mall REITs into junk territory. Mortgage backed securities that are composed of at least 50% retail and rated AAA would move to junk. The ones rated BBB could fall lower than CCC.
The downgrades of mortgage-backed securities also would limit new issuance to mall REITs, Fitch added, which is "an important source of financing for capital-starved REITs."
The report from Fitch is careful to note that this is a "shock scenario" forecast, not what Fitch is actually projecting will happen. However, even Fitch's baseline forecast shows department store sales falling to $11.6 billion by 2020, compared to $10.3 billion in the shock-scenario. The current number is around $13 billion.
Competition from "fast fashion" retailers like Zara and H&M, as well as off-price retailers like TJMaxx and Ross Stores, has been building for a decade, Fitch said. Additionally, fashion has become less compelling to consumers, meaning they're not updating their wardrobe every season.
With this backdrop, growth in Amazon's apparel sales would lead to a scenario "seen in areas such as electronics, music and book retailing over the last two decades." To put retail names on these sectors -- Borders, Circuit City, RadioShack and Tower Records have all filed for bankruptcy and most no longer exist.
Fitch cites Amazon's recent acquisition of Whole Foods Market Inc. as the kind of event that, if it was replicated in their sector, could have a major effect on apparel retailers, adding that Amazon has the ability to invest heavily in gaining market share in apparel.
The report concludes by saying that Amazon could accomplish a significant market share growth by adding private label clothing and adding vendors that focus on basics. However, the successful migration of department stores to online is not anticipated.
Watch: After Buying Whole Foods, Here Are Two Other Big Brands Amazon Could Buy Next
More of What's Trending on TheStreet:
Editors' pick: Originally published Sept. 14.