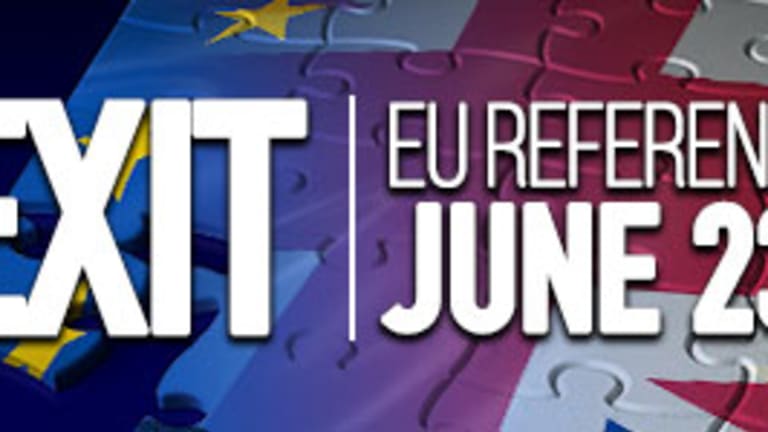 Bankers Gear up for Long Shift Before 'Brexit' Result
The pound recently hit a seven-month high against the dollar.
The pound recently hit a seven-month high against the dollar.
City bankers are gearing up for a long day - and night - as they await the outcome of the referendum on the U.K.'s European Union membership.
An Ipsos Mori poll conducted for The Evening Standard put the "remain" camp ahead by four percentage points, at 52%.  However, the poll included the caveat that 12% of those surveyed said they may change their minds. The pound rose sharply in the course of the U.K. morning, hitting a seven-month high against the dollar. It was recently up 1.46% at $1.4921. The euro sank 0.65% against the U.K. currency and was recently worth 76.33 pence.  The FTSE 100 was recently up 1.51% at 6,355.72.
Data from bookmaker Betfair recently assigned an 84% probability to a "remain" victory.  Around 46.5 million have registered to vote - the highest for any U.K. election.
Barclays (BCS) - Get Report   is among those banks to have called in extra traders, sales and research staff. Banks and brokerages are expecting higher foreign currency trading volume and increased volatility in the British currency, which will put pressure on staff as well as electronic trading systems.
"Essentially we will have sales and trading teams here in London throughout the night and in early in Asia and NYC so clients will be able to trade whenever they want - the point is that clients get 24hr coverage," said a spokesman. " On the research side, our European economists, as well as our FX strategists, rates strategists and commodities strategists, will come in to the London office at 10 pm and be available to give insight to clients at any stage during the evening."
Deutsche Bank (DBS) - Get Report has also upped staffing levels to cope with increased client demand for advice and trading services.
Stock traders are also drafting in extra staff given the expected higher volumes.
A Hargeaves Lansdown spokesman said it has trebled the number of trading staff for Friday and Monday "as a contingency plan."
"We're all gearing up for a possible few busy days because we know that there are lots of people sitting on the sidelines waiting for the results," he said.
Amid concerns about a rush of currency transfers before the holiday season, money transfer service Transferwise said it's suspended transfers to and from the pound in the U.K. until the referendum results are announced Friday morning. It is halting transfers from the U.K. into other currencies from 6 p.m., London time, on Thursday.
Lisa Botter contributed to this report.