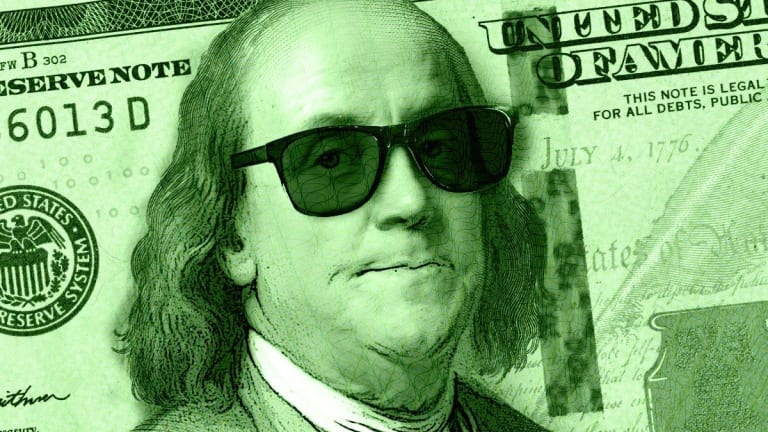 Bank Stocks Jump as Stress Test Pass May Unleash $80 Billion in Capital Returns
Banks stocks posted solid pre-market gains Friday after nearly all passed the second phase of Federal Reserve stress tests, potentially unleashing $80 billion in new capital returns to shareholders.
School's Out for Summer
U.S. bank stocks were higher across the board in pre-market trading Friday after nearly all of the 35 lenders that underwent the Federal Reserve's stress tests were given the nod to potentially pass on higher dividend payments and buybacks to their investors.
The second stage of the Fed's tests, which looked at both the quality of the capital held on lenders' balance sheets and probed the management and systems in place to whether a sharp global recession and surge in domestic unemployment, declared that all but four of the 35 banks tests were cleared to go ahead with planned capital returns. Analysts at KBW estimate the biggest six banks could increase returns by around $80 billion as a result of the Fed's approval.
"Even with one-time challenges posed by changes to the tax law, the CCAR results demonstrate that the largest banks have strong capital levels, and after making their approved capital distributions, would retain their ability to lend even in a severe recession," said Fed Vice Chairman Randal Quarles.
Citigroup (C) , which said its planned capital returns will hit $22 billion over the next four quarters, was marked 1.82% higher in pre-market trading changing hands at $68.10 each while rival Bank of America Corp. (BAC) was seen 1.46% to the upside at $29.09.
Warren Buffett-backed Wells Fargo & Co (WFC)  surged 3.6% higher to $55.56 while JPMorgan Chase & Co. (JPM) shares were seen 1.52% higher at $106.53.
Morgan Stanley (MS) and Goldman Sachs (GS) , however, were told they can't move on capital plans and State Street Corp. (STT) was asked to improve its counter-party risks. Goldman Sachs was seen 0.48% to the good at $224.50 while Morgan Stanley rose 0.48% lower to $48.50. 
The tests, devised by the Fed in the wake of the global financial crisis, are designed to both asses the ability of the country's 35 biggest banks to withstand a sharp economic slowdown and to gauge their broader earnings potential by approving or deny capital deployment and business plans submitted by management.
Last week the Fed said that all 35 of the banks it monitors passed the first phase of the test, which showed that the $800 billion in capital they've collectively added to their balance sheets would be more than enough to absorb the estimated $578 billion in losses that would stem from a global recession and a spike in unemployment that would take the U.S. jobless rate to 10%.
Deutsche Bank's  (DB)  US division, however, was the only bank to fail the test outright after the Fed said it had concerns with the way it forecast future revenues and said there were "material weaknesses" its data capabilities and capital planning processes. The result, however, was widely expected by investors, who had taken the stock to a record low earlier this week, and thus didn't extend declines for the lender in early Frankfurt trading.
"DB USA has made significant investments to improve its capital planning capabilities as well as controls and infrastructure," Deutsche Bank said in a statement late Thursday. "DBUSA continues to make progress across a range of programs and will continue to build on these efforts and to engage constructively with regulators to meet both internal and regulatory expectations."
Deutsche Bank shares, which rose as much as 4% in early trading, pared gains to around a 1.05% and were changing hands at €9.15 each by mid-day in Fankfurt, a move that leaves it down nearly 43% for the year.
 Bank stocks could be caught in the broader global equity market concern of slowing economic growth and, by extension, a looser approach to monetary policy from the world's major central banks, both of which would blunt the ability for banks to improve lending margins and increase profitability.
U.S. Treasury bond markets have reflected a portion of that concern as the so-called yield curve 'flattens' in the face of weaker economic growth prospects. That flattening, which describes the difference between short and longer-term government borrowing costs, has narrowed the gap between 2-year and 10-year note yields to just 32 basis points, the smallest since 2007.