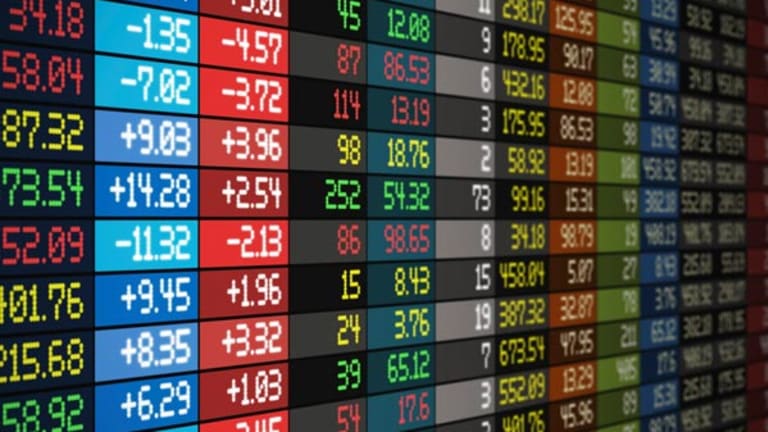 Bank Shares Pace Gains
Stocks jump after a report shows core inflation under control.
Updated from 4:08 p.m. EST
Stocks rose Wednesday, erasing the previous session's losses, as a tame reading on core inflation sent buyers into the bond market and drove broad strength in financial shares.
The
Dow Jones Industrial Average
rose 68.11 points, or 0.62%, to 11,137.17, its highest level since early June 2001. The
rose 9.63 points, or 0.75%, to 1292.67, and the
Nasdaq Composite
added 20.21 points, or 0.89%, to 2283.17.
The Dow was paced by advances of 1.8% or more in
Boeing
(BA) - Get Free Report
,
American Express
(AXP) - Get Free Report
and
Pfizer
(PFE) - Get Free Report
.
"Investors have already calculated another rate hike, which helped the market move forward today," said Robert Pavlik, chief investment officer with Oaktree Asset Management. "The fact that oil closed dramatically lower certainly helped as well. We'll be turning our attention to other economic reports from here until the end of the week in hopes of seeing continuing growth of the economy."
The advance-decline line was solidly positive. About 1.62 billion shares traded on the
, with advancers beating decliners by a 2-to-1 margin. Trading volume on the Nasdaq was 1.85 billion shares, and three stocks rose for every two that fell.
Treasuries were higher in price. The 10-year note was up 10/32 to yield 4.53%, and is 14 basis points below the two-year note. The dollar rose against the yen and euro. That paced a strong session for bank stocks, with the Philadelphia/KBW Bank Index rising 2.3%.
The Labor Department said its consumer price index rose 0.7% in January, while the core index, which excludes food and energy, rose 0.2%. Economists had been expecting a 0.5% rise in the main index and 0.2% in the core number.
"If you look at the difference between
the producer price index and CPI, the numbers have been in favor of PPI," said Paul Nolte, director of investments with Hinsdale Associates. "What that means is that corporations are still struggling to pass through price hikes. We should see margin pressures on corporations through the rest of the year."
Last week, the government said the producer price index was up 0.3% in January, while the core PPI rose 0.4%.
To view Gregg Greenberg's video take on today's market, click here
.
Nolte also said that judging from
Chairman Ben Bernanke's recent comments before Congress, "we may see a 5% fed funds rate by June."
Ian Shepherdson, chief economist with High Frequency Economics, said a 0.2% increase in the core rate each month could be the trend, enough for the Fed to hike rates again at its meetings in March and May.
On Tuesday, the minutes of the Fed's Jan. 31 meeting provided another generally upbeat assessment of the economy, but noted that at least some Federal Open Market Committee members still think inflation is higher than it should be. Financial markets, as measured by fed funds futures, currently expect the Fed to raise interest rates twice more, to 5%, by June.
"That Nasdaq stocks remain the market's weakest link was highlighted yesterday when the Nasdaq fell twice as much as the Dow and S&P 500," said Ken Tower, chief market strategist with CyberTrader. "This is a fragmented market with industrials leading the way higher and big Nasdaq stocks pulling lower."
Oil dropped after adding 2% Tuesday on concerns about renewed militant activity in Nigeria. The newly benchmarked April contract dropped $1.73 to close at $61.01 a barrel. March crude expired Tuesday at just above $61 a barrel.
Among the day's corporate news,
Sprint Nextel
(S) - Get Free Report
reported a 55% decline in fourth-quarter earnings, reflecting merger expenses. Adjusted earnings of 33 cents a share were a penny shy of estimates. Revenue of $11.3 billion was in line. The stock dropped $1.13, or 4.5%, to $23.80.
Shares of
Baidu.com
(BIDU) - Get Free Report
surged a day after the Chinese search engine company reported a near-tripling in fourth-quarter earnings on sharply higher sales. The company earned 13 cents a share in the quarter, about 6 cents ahead of estimates. Baidu.com was up $3.04, or 5.9%, to finish at $54.73.
Homebuilder
Hovnanian
(HOV) - Get Free Report
backed its first-quarter earnings guidance Wednesday, saying it expects to report a profit within or slightly above its previous range of $1.10 to $1.25 a share. Hovnanian said contracts rose 22% on a dollar-value basis and 11.8% on a unit basis in the first quarter. Hovnanian shares rose $2.78, or 6%, to $48.83.
The gain in Hovnanian boosted the Philadelphia Housing Sector index by 2.8%. Elsewhere, the Philadelphia/KBW Bank Sector index was up 2.2%, the Philadelphia Oil Service Sector index was lower by 2.4%, and the Amex Oil index was down 1.5%.
In other earnings,
Medtronic's
(MDT) - Get Free Report
third-quarter earnings rose 22% from a year ago to $669.6 million, or 55 cents a share, on a 9% rise in sales to $2.77 billion. Both numbers were in line with analyst estimates. Medtronic lost $1.27, or 2.3%, to $54.30.
Martha Stewart Living
(MSO)
swung to a fourth-quarter profit, aided by a 57% rise in publishing revenue. While net income of 6 cents a share missed estimates, the company guided 2006 revenue in line with forecasts. The stock added $2.26, or 13.7%, to $18.75.
Taser
undefined
said it had fourth-quarter earnings of just under $93,000, or less than a penny a share, compared with a profit of $4.7 million, or 7 cents a share, a year ago. Sales were $12.6 million, down from $19.2 million. On average, analysts were expecting a profit of 1 cent a share on sales of $12.5 million. Taser was down 20 cents, or 1.9%, to close at $10.20.
Retailer
OfficeMax
(OMX)
swung to a fourth-quarter loss of $43 million, or 62 cents a share, compared with a year-ago profit of $700,000, or 2 cents a share. Excluding items, the office-supplies seller had a profit of 7 cents a share, matching the consensus forecast. Shares were jumping $2.64, or 9.4%, to $30.66.
Overseas markets were mostly higher, with London's FTSE 100 rising 0.3% to 5872 and Germany's Xetra DAX adding 1.1% to 5862. In Asia, Japan's Nikkei shed 0.7% overnight to 15,782, while Hong Kong's Hang Seng added 0.1% to 15,636.