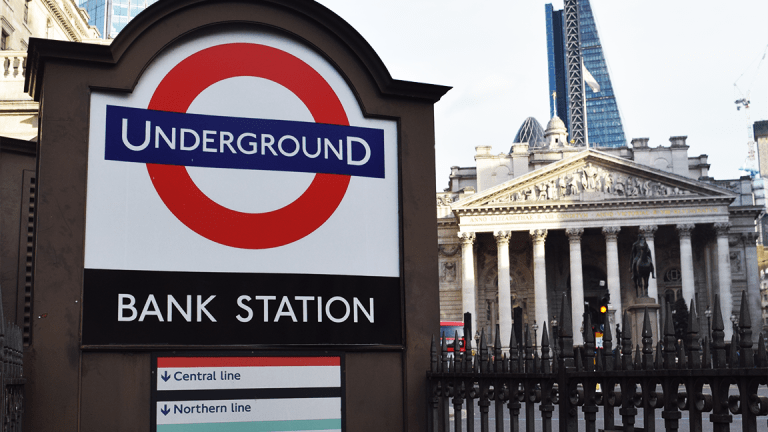 Bank of England Says U.K. Lenders Could Weather 'Disorderly' Brexit
The Bank of England said U.K. lenders could weather a disorderly exit from the European Union and said none will need to raise fresh capital following its fourth year of stress tests.
Britain's banks should be able to weather a Brexit-related slowdown without having to raise new capital, the Bank of England said Tuesday after its regular stress tests of the country's biggest lenders, but cautioned that a longer transition period will be needed to safely navigate an exit from the European Union.
The Bank's Financial Policy Committee said none of the lenders tested would need to add to their capital buffers -- although Barclays Plc (BCS) and Royal Bank of Scotland plc (RBS) would have failed had they not raised fresh cash earlier this year -- but also noted that a multitude of events could stress the financial system's resilience as Britain prepares to fully withdraw from the EU in March of 2019 without a definite trade agreement. 
"The combination of a disorderly Brexit and a severe global recession and stressed misconduct costs could result in more severe conditions than in the stress test," the Bank of England said. "In such circumstances, capital buffers would be drawn down substantially more than in the stress test and, as a result, banks would be more likely to restrict lending to the real economy."
Last week, Britain's finance ministry slashed the government's economic growth forecasts and said he would set aside another £3 billion ($$ billion) to cushion the impact of its decision to leave the European Union.
Chancellor of the Exchequer Philip Hammond said the cash would sit alongside a previously committed £700 million, putting the reserve in the region of around 0.4% of annual UK GDP. Hammond, however, admitted that uncertainty surrounding Brexit negotiations, as well as a still-mysterious fall in productivity, will notably trim growth forecasts for the next three years.
The economy is now forecast to grow 1.5% this year, far shy of the 2% estimate put forth earlier this year, and 1.4% in 2018. By 2019, however, growth is expected to slow again to 1.3% and won't rebound notably until 2022, according to the Chancellor's figures.
"The stress-test scenario and the resulting setting of capital buffers reflect the FPC's assessment that, apart from those related to Brexit, domestic risks are at a standard level overall, and that risks from global debt levels, asset valuations and misconduct costs remain material," the Bank of England noted. "There are also potential risks arising from the macroeconomic consequences of some possible Brexit outcomes."
More of What's Trending on TheStreet: