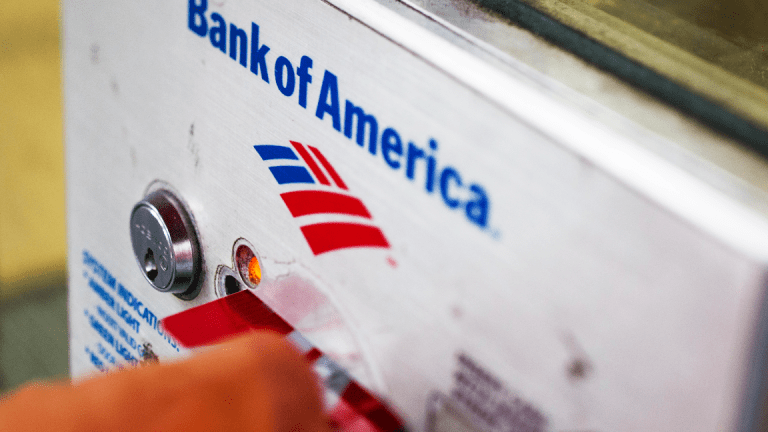 Bank of America's Push Into Ohio Sets Up New Test of Big-Bank Power
The expansion by Bank of America, the second-biggest U.S. lender, in Ohio aims squarely at territory that's currently dominated by large regional banks like Fifth Third, Huntington and Key.
For a real-time test of how powerful the four biggest U.S. banks have become in the decade since the 2008 financial crisis, keep an eye on the industry's newest battleground: Ohio.
The state has long been dominated by large regional lenders including U.S. Bancorp (USB) - Get Report , Huntington Bancshares  (HBAN) - Get Report , Fifth Third Bancorp (FITB) - Get Report , PNC Financial Services Group  (PNC) - Get Report  and KeyCorp (KEY) - Get Report . The biggest U.S. bank, New York-based JPMorgan Chase  (JPM) - Get Report , ranks just fifth in Ohio with $29.3 billion of deposits, or 8.6% of the state's market. 
But the announcement last week that the giant lender Bank of America  (BAC) - Get Report plans to open branches in Cleveland, Cincinnati and Columbus could set up a proving ground of whether the largest U.S. lenders can use their superior economies of scale in marketing and technology to muscle their way into new markets, said Mike Mayo, who covers the lending industry as an analyst for Wells Fargo (WFC) - Get Report  , another banking behemoth.   
"Alarm bells should be going off at the Ohio banks, because a big competitor is getting more aggressive in their backyards," Mayo said Monday in a telephone interview. 
U.S. Bancorp, a midsize lender based in Minneapolis, has the most deposits in Ohio, at $59.7 billion, for a 17% market share as of June 2018, according to Federal Deposit Insurance Corp. data. Columbus-based Huntington is second with a 16% share, followed by Cincinnati-based Fifth Third with 14% and Pittsburgh-based PNC with 8.9%. Cleveland-based KeyCorp ranks sixth with 7%.
The biggest U.S. banks got even bigger during the 2008 crisis with the acquisitions of subprime-mortgage-plagued lenders like Washington Mutual (bought by JPMorgan), Countrywide (Bank of America) and Wachovia (Wells Fargo).
Since then the giant lenders have faced tougher regulations from the Federal Reserve after being designated "globally systemically significant financial institutions," meaning their failure could trigger another financial crisis -- similar to that of Lehman Brothers in 2008.  
But even with the more added regulatory burden, the biggest banks have used their immense economies of scale to spread costs for marketing and technology across a much broader base of customers, Mayo said. (The analyst doesn't cover his own firm, but Wells Fargo, based in San Francisco, has a 0.8% share of deposits in Ohio). 
For comparison, Bank of America spent $3.2 billion nationwide last year on data processing and $1.7 billion on marketing, while Huntington spent $294 million on data processing and $53 million on marketing, according to the companies' annual reports.  
The biggest banks already have proven that their vast branch networks allow them to collect and retain deposits while paying less than 0.1% on regular savings accounts, even as online-only banks like Marcus by Goldman Sachs Group  (GS) - Get Report  peddle savings rates above 2%, with no minimum deposit.  
If Bank of America's push is successful, the state's smaller lenders might have to merge with competitors in order to survive, Mayo predicted. 
"The story is less about Ohio, and whether it's the best or worst market, and more more about the ability of Bank of America to leverage its technology and existing clients and big data to gain customers in an adjacent market," Mayo said.  
JPMorgan and Goldman Sachs are holdings in Jim Cramer's Action Alerts PLUS member club. Want to be alerted before Jim Cramer buys or sells the stocks? Learn more now.