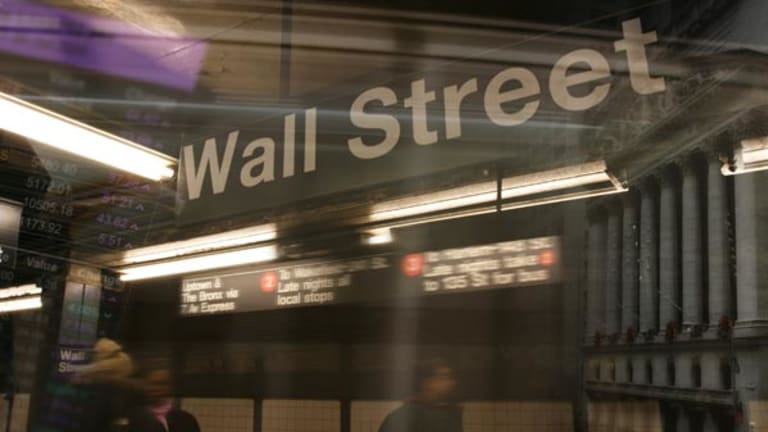 Publish date:
Bank Earnings Boost Stocks
The Dow ends 1.8% higher after some solid earnings in the financial sector.
The Dow ends 1.8% higher after some solid earnings in the financial sector.
Updated from 4:05 p.m. EDT
Stocks rose steadily Monday to end at session highs, amid encouraging results from some financial heavyweights.
The
Dow Jones Industrial Average
gained 144 points, or 1.8%, to 8348, while the
Nasdaq
jumped 26 points, or 1.9%, to 1384. The
S&P 500
climbed 17 points, or 1.9%, to 885.
"With
earnings reports due out in the next few days, we may be somewhat prisoners to that flow of news. And since the week will be shorter than usual, there's no way around the low volume," said Ronald Hill, investment strategist at Brown Brothers Harriman. Markets are closed Friday for Good Friday.
On the NYSE, 900 million shares traded hands, with winners outpacing losers by almost three to one. Some 960 million shares changed hands on the Nasdaq, with advancers ahead of decliners by less than a two-to-one margin.
Citigroup
(C) - Get Report
reported first-quarter earnings of 79 cents a share, which was 2 cents above analysts' expectations, according to Thomson First Call. Shares of Citigroup were up 2.5% at $38.25.
Fannie Mae
said earnings were $1.94 billion, up from $1.2 billion in the year-ago quarter, due to higher net interest income. The company raised its earnings forecast for 2003. Fannie Mae shares were up 2.3% at $70.40.
Bank of America
(BAC) - Get Report
also reported a good first quarter, saying earnings rose to $2.42 billion from $2.18 billion in the year-earlier period. Bank of America shares were down 0.5% at $71.66.
In Iraq, U.S. troops reportedly are battling forces loyal to Saddam Hussein in the dictator's hometown of Tikrit. The rest of the country seems to be securely under the control of coalition forces. Elsewhere, seven prisoners of war were on their way back to the U.S. after being rescued by Marines.
Meanwhile, the U.S. army said it believed it had found 11 mobile chemical and biological labs, as well as documents, buried in a site near Karbala,
CNN
reported. Such a find would help the U.S. government justify the war to critics.
In economic news, the government said business inventories rose 0.6% in February, up from a 0.3% increase the prior month and above the 0.2% rise economists had expected. This is the highest level since Sept. 2001, and could be a sign that firms are beginning to look more positively at the business environment.
Computer giant
IBM
(IBM) - Get Report
reports earnings after the close. The company is expected to post a 7% rise in earnings from the previous year. In all, about one-third of the companies in the S&P 500 are expected to report earnings this week. IBM's shares were 1.4% higher at $79.89.
Apple Computer
(AAPL) - Get Report
moved up after
The Wall Street Journal
reported that the company is unlikely to make an offer for
Vivendi Universal's
(V) - Get Report
music division. Apple shares were up 3% at $13.55.
Other companies to report results Monday include semiconductor maker
Rambus
(RMBS) - Get Report
and maker of chip equipment
Novellus Systems
(NVLS)
. Shares of both companies were slightly higher ahead of their reports.
"The next few sessions will depend on earnings and outlook, which is what we're really looking for," said Frank Curzio, market analyst and money manager at FXC Investors. Curzio expects most companies to lower their forecasts a bit for second-quarter results, with a pickup happening in the third quarter.
Earnings for companies in the S&P 500 are expected to grow 8.3% in first-quarter results, compared with a 9.7% increase in the fourth quarter of last year, according to Thomson First Call. As for the corporate outlook, for every company forecasting it will beat estimates, almost three companies have warned that they will fall short.
The U.S. Federal Trade Commission cleared the way for
Pfizer
(PFE) - Get Report
, the world's largest drugmaker, to complete its $57 billion acquisition of
Pharmacia
(PHA)
. The companies will begin to operate on a combined basis this week. Pfizer shares were up 1.5% at $32.01, and Pharmacia shares were up 2% at $44.68.
Wal-Mart Stores
(WMT) - Get Report
said sales at stores open for at least a year were showing a 5% to 7% rise in the week ended April 11, in line with the company's forecast. Wal-Mart shares were up 1% at $53.60.
WorldCom
(WCOEQ.PK)
filed a reorganization plan in bankruptcy court, backed by more than 90% of its creditors. The telecommunications company would emerge with about $4 billion in net debt, after heading into Chapter 11 with close to $40 billion.
Unisys
(UIS) - Get Report
said its quarterly profit and sales rose amid strong demand for computer services, which offset a drop in hardware sales. Unisys shares were up 5% at $9.83.
New York Times
(NYT) - Get Report
posted a 26% rise in first-quarter profit to 45 cents a share, beating expectations by 1 cent, with the help of a jump in advertising. The company's shares were 3% higher at $46.08.
Eaton
(ETN) - Get Report
, the world's second-biggest maker of hydraulic equipment, said it earned $1.06 a share in the first quarter, above the 96 cents forecast by analysts, with sales rising on acquisitions and new products. Eaton shares were up 4% at $75.10.
Treasuries were little changed, with the yield on the 10-year note up half a basis point at 4.02%. Oil prices were down, as was gold, while the dollar was firmer against the euro and yen.
Overseas markets were mixed, with London's FTSE 100 up 0.8% at 3840 and Germany's Xetra DAX up 1.2% at 2765. In Asia, Japan's Nikkei shed 0.8% to end at 7752, while Hong Kong's Hang Seng fell 1.3% to close at 8533
The positive sentiment Monday follows a lower week for the markets. The Dow fell 74 points, or about 1%, to end last week at 8203. The S&P 500 fell 10 points, or 1.1%, to 868, while the Nasdaq lost 25 points, or 1.8%, to 1358.