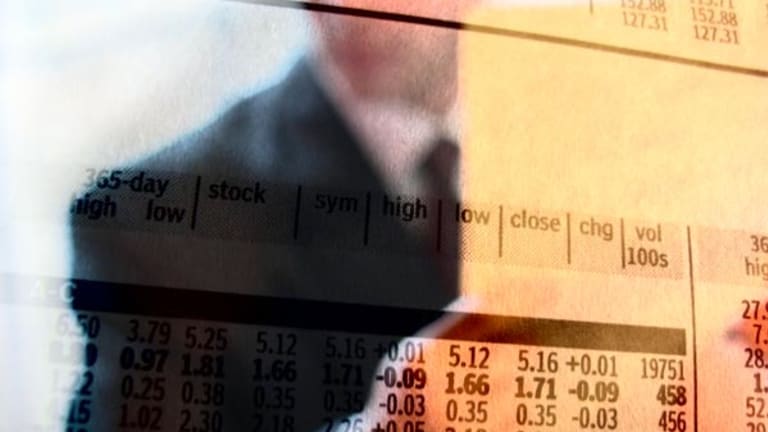 Bank Downgrades, Tech Weakness Crush Stocks
Wall Street's major averages fall roughly 3% apiece in Thursday's selloff. The financial sector is battered, while Research In Motion and Oracle take lumps on the technology side. Simon Constable weighs in with The Real Story.
Updated from 4:24 p.m. EDT
U.S. equities plunged Thursday as analyst downgrades of the financials, weakness in technology shares and record-high oil prices drove fear into investors.
The
Dow Jones Industrial Average
forfeited 358.41 points, or 3%, and ended at 11,453.42, its lowest level in more than a year. The
S&P 500
slumped 38.82 points, or 2.9%, to 1283.15, and the
Nasdaq
plummeted 79.89 points, or 3.3%, to 2321.37.
Partly to blame for the selloff was the financial sector, a downturn that came after Goldman Sachs lowered its ratings on U.S. investment banks to neutral from attractive. Goldman added
Citigroup
(C) - Get Citigroup Inc. Report
to its "conviction sell" list, predicting $8.9 billion in second-quarter writedowns for Citi. Shares dropped 6.3% to $17.67, reaching a 10-year low.
Merrill Lynch
(MER)
also sold off after Bernstein cut its estimates on the brokerage, citing concerns about more writedowns, losing 6.8% to $33.05.
Other hard hit names included
Capital One
(COF) - Get Capital One Financial Corporation Report
and
Barclays
(BCS) - Get Barclays PLC Sponsored ADR Report
, both down more than 6%.
Investment firm
AIG
(AIG) - Get American International Group, Inc. Report
likewise got hammered, tumbling 5.6%.
The selloff in equities was accompanied by soaring commodity prices. Oil reached an intraday record of $140.05 a barrel and settled at $139.64, up $5.09 on the day. Gold finished up $32.80 at $915.10 an ounce. OPEC president Chakib Khelil said that oil could surge beyond $150 a barrel, while Libya announced a potential reduction in its oil production. The dollar was down substantially against the euro, the yen and the British pound.
"The market is telling the
Federal Reserve they must raise interest rates," said Paul Mendelsohn, chief investment strategist at Windham Financial. He said Chairman Ben Bernanke needs to refocus on dollar strength. Doing so, Mendelsohn said, will knock short-dollar, long-commodities speculators out of the market and bring prices down. "If
speculators keep going in that direction, they're going to stall out the economy."
The Fed had decided Wednesday to leave the fed funds rate at 2% while signaling that inflation risk was increasing, but the prospect of slowing growth had diminished somewhat. Mendelsohn said that was the wrong move.
Unless the Fed can stop commodity prices, they can't stop this problem, said Mendelsohn. He said the dollar is approaching important support levels and can fall much farther if it breaks support. "They have nothing to lose by trying a different approach," he said. "Hard times require tough action. The market is telling me 'this isn't going to be good.'"
The broad selloff was due to analysts' reduced expectations for the financials' second-quarter earnings, said Stuart Freeman, chief equity strategist at Wachovia Securities. "Obviously investors have been selling this news over and over again for at least a year now," he said. Freeman predicted a bottom for the market in the coming month as investors begin to look ahead to 2009 and a return to profitability. "It's going to be a slow, u
-shaped trudge back out of this," he said.
Goldman also lowered its opinion of
General Motors
(GM) - Get General Motors Company (GM) Report
. Closing down 10.8% at $11.43, GM, along with fellow Dow component Citi, led the index downward. Every Dow stock lost ground.
Weighing on the tech sector was
Research In Motion
(RIMM)
, which said after the previous session's close that it
didn't meet first-quarter expectations
before then offering a soft outlook. Shares of the Blackberry maker ended down 13% at $123.46.
Similarly, business software seller
Oracle
(ORCL) - Get Oracle Corporation Report
dropped 5% after
its outlook failed to impress investors
. Fourth-quarter results were good, but looking to the current quarter, Oracle cautioned that comparisons would be difficult.
For the new day's earnings,
Lennar
(LEN) - Get Lennar Corporation Class A Report
, the nation's second-largest homebuilder after
D.R. Horton
(DHI) - Get D.R. Horton, Inc. Report
, reported another quarterly loss, although a narrower one than in the year-ago quarter. Prices for homes, along with orders, fell off.
Packaged food maker
ConAgra
(CAG) - Get Conagra Brands, Inc. Report
also beat on earnings thanks to a solid performance by its trading and merchandising business, but delivered guidance that fell below consensus estimates.
Separately, Budweiser maker
Anheuser-Busch
(BUD) - Get Anheuser-Busch InBev SA/NV Sponsored ADR Report
turned down InBev of Belgium's $46 billion takeover attempt. InBev now plans to try to replace the company's board.
Elsewhere,
Countrywide Financial
(CFC)
shareholders approved a $4 billion buyout of the company by
Bank of America
(BAC) - Get Bank of America Corp Report
. Countrywide is also facing legal action related to its mortgage lending practices from California, Illinois and Washington State.
Internet company
Yahoo!
(YHOO)
announced a major reorganization as it seeks direction after rebuffing a takeover bid from
Microsoft
(MSFT) - Get Microsoft Corporation (MSFT) Report
. Activist Yahoo! shareholder Carl Icahn filed a preliminary proxy as part of his effort to replace the company's board.
In one bright spot, gold miners
Kinross
(KGC) - Get Kinross Gold Corporation Report
and
Goldcorp
(GG)
led a rally in the materials stocks.
Middling economic data failed to improve the situation. The government issued its final reading on first-quarter gross domestic product, saying the economy grew 1% between January and March. That met estimates and was slightly above the 0.9% preliminary figure. Weekly initial jobless claims were little changed at 384,000, but were about 9,000 more than expected.
The National Association of Realtors said
rose to an annualized rate of 5 million from 4.99 million in April. The median price of an existing-home dropped 6.3% year over year to $208,600.
Long-dated Treasury securities were rising, with the 10-year up 15/32 in price, yielding 4.04%, and the 30-year bond adding 18/32 to yield 4.61%.
Overseas, most major markets fell. In Europe, London's FTSE and Frankfurt's DAX each surrendered more than 2%. Tokyo's Nikkei and Hong Kong's Hang Seng also pulled back.
Decliners were beating advancers 14-to-1 on the
New York Stock Exchange
on volume of 1.54 billion shares. Losers trounced winners 7-to-1 on the Nasdaq as 2.28 billion shares changed hands.