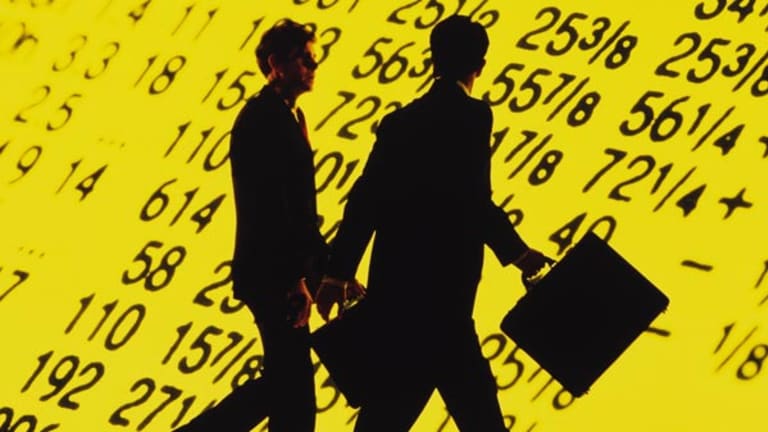 Bad Medicine for Stocks
A rout in two biotech firms and higher oil outweigh latest merger activity after a three-day run.
A rout in two biotech firms and higher oil outweigh latest merger activity after a three-day run.
Updated from 4:07 p.m. EST
Stocks snapped a three-day winning streak Monday after two biotech companies pulled a key drug from the market and bond yields rose on an unexpectedly strong inflation report.
The
Dow
fell 75.37 points, or 0.7%, to 10,766.23, after a 230-point run-up to close last week. The
S&P 500
slipped 7.77 points, or 0.6%, to 1203.60, and the
Nasdaq
lost 13.68 points, or 0.7%, to 2051.72. The 10-year Treasury note fell 23/32 in price to yield 4.36%, a level not seen since late December, while the dollar fell against the yen and euro.
Bond investors were spooked by an unexpected rise in a price gauge contained in the government's consumer spending numbers, released Monday morning. While spending was flat, the price index for consumer spending gained 0.2% in January, and rose 0.3% excluding food and energy. The statistic is thought to be one of the
Fed's
preferred price indices.
Volume on the
New York Stock Exchange
was 1.80 billion shares, with decliners beating advancers by a ratio of about 3-to-2. Volume on the Nasdaq was 2.12 billion shares, with decliners outpacing advancers by about 3-to-2.
Oil prices gained again with the April futures contract, which flirted with $52 for the third session in a row, closing up 26 cents to $51.75 a barrel in Nymex floor trading.
The Dow, which started the session at its highest level of the year, went as low as 10,730 before firming in the last 90 minutes of trading.
"The buyer's strike was in force today, but people like a bargain, which is what
happened late today," said Dave Briggs, head of equity trading with Federated. "We had a nice week last week, where we started on a low-note early. In the grand scheme of things, I don't think today derails anything."
Shares of
Biogen
(BIIB) - Get Report
and partner
Elan
(ELN)
plummeted after the companies pulled their multiple sclerosis drug Tysabri from the market Monday. The drug was withdrawn after one patient died and another came down with a rare nervous system disease while taking Tysabri and Avonex, Biogen's other big MS drug. Biogen fell $28.63, or 42.6%, to $38.65 while Elan dropped $18.90, or 70.3%, to $8.
The setback helped boost shares in rivals with alternative treatments.
Teva Pharmaceutical
(TEVA) - Get Report
jumped $2.55, or 9.3%, to $30.11, while
Chiron
(CHIR) - Get Report
rose 57 cents, or 1.6%, to $35.58.
"Biogen is an isolated case, but people are looking to see what impact it will have on biotech and pharmaceutical companies," said Robert Pavlik, portfolio manager with Oaktree Asset Management. "Its loss gives opportunities to other companies in the sector."
Part of the Dow's loss was due to a 2.3% decline in
American International Group
(AIG) - Get Report
, which fell after the
Financial Times
reported that New York Attorney General Eliot Spitzer had reopened an accounting investigation related to two affiliated companies. AIG lost $1.55 to $66.80.
Dow component
General Motors
(GM) - Get Report
fell more than 3% after Banc of America Securities advised clients to sell both it and
Ford
(F) - Get Report
ahead of expected market-share losses. GM lost $1.24 to $35.65. Ford was off 35 cents, or 2.7%, to $12.65.
A number of major mergers made headlines Monday. In the biggest,
Federated Department Stores
(FD)
entered a definitive agreement to acquire
May
(MAY)
for cash and stock worth about $35.50 per May share, or about $11 billion. Federated is the parent of Macy's and Bloomingdale's, while May owns Filene's, Lord & Taylor and many other chains. May closed down 84 cents, or 2.4%, to $34.51. Federated dipped 34 cents, or 0.6%, to $56.45.
"If we didn't have the Biogen news from this morning, the M&A news would play a larger role for the market," said Pavlik. "It's a positive sign that there is more M&A activity, but people are so surprised with the Biogen drug news, it's being downplayed."
Yellow
(YELL)
will acquire rival shipper
USF
(USFC)
for a choice of cash or stock worth $45 per USF share, or about $1.47 billion overall. Yellow kicked off the consolidation wave in overland trucking with its acquisition of Roadways Corp. last year. Shares of Yellow fell $3.56, or 5.8%, to $57.75. USF soared $8.98, or 23.1%, to $47.80.
Meanwhile,
Wal-Mart
(WMT) - Get Report
said February same-store sales rose 4% from a year ago, boosted by strong early demand for Easter items and steady food sales. The discounter had previously estimated February comps in a range of 2% to 4%. Wal-Mart added 12 cents, or 0.2%, to $51.61.
An eight-month-old merger saga might be over after
Mylan Labs
(MYL) - Get Report
agreed to drop plans to acquire
King Pharmaceuticals
(KG)
. The action is a victory for Mylan shareholder Carl Icahn, who opposed the merger. Mylan gained 66 cents, or 3.9%, to $17.47, while King fell 70 cents, or 6.8%, to $9.55.
In earnings news,
H.J. Heinz
(HNZ)
said third-quarter earnings slipped from a year ago due to a writedown. Excluding items, the condiment maker earned 60 cents a share, beating estimates by a penny. Sales rose 8% from a year ago to $2.26 billion. Shares rose 25 cents, or 0.7%, to $37.64.
Tiffany & Co.
(TIF) - Get Report
reported fourth-quarter net earnings of $217.0 million, or $1.48 a share, from $110.5 million, or 74 cents a share, a year ago. Excluding a one-time gain from the sale of the company's stake in Aber Diamond, earnings were 81 cents a share. Analysts had expected earnings of 79 cents a share, according to the Thomson First Call consensus. Sales rose 11% year over year to $810.1 million. Tiffany expects a 2005 growth increase between 8% and 10%. Shares fell 77 cents, or 2.5%, to $30.15.
Lehman Bros. raised its price target for
Apple Computer
(AAPL) - Get Report
to $94 from $73 and lifted 2005 estimates, citing strong sales of the company's new iPod Shuffle and Mac computers. Apple shares gained 37 cents, or 0.8%, to $44.86, reflecting a 2-for-1 split effective Monday.
J.P. Morgan upgraded
Best Buy
(BBY) - Get Report
to overweight from underweight, citing the company's move to smaller store formats and the customer traffic potential from digital TV upgrades. Shares of Best Buy added $2.33, or 4.5%, to $54.02.
On the economic front, the Commerce Department reported Monday that personal income dropped in January by 2.3%, while personal spending was unchanged for the month. The consensus was for a 2.6% drop in personal income and a 0.1% increase in personal spending.
The Commerce Department also reported that sales of new homes fell 9.2% to a seasonally adjusted rate of 1.106 million in January. Sales were down 4.2% from last year. December's new-home sales were revised higher to 1.218 million from 1.098 million units. Economists had expected sales for January of 1.13 million.
Also Monday, the Chicago purchasing managers index rose to 62.7 from 62.4, better than the expected reading of 60.0. New orders rose 2.7 points to a four-month high of 68.5, while employment jumped 4.9 points to 57.7.
Overseas markets were mostly higher, with London's FTSE 100 ending down 0.8% at 4968 and Germany's Xetra DAX adding 0.04% to 4350. In Asia, Japan's Nikkei added 1.1% overnight to 11,658, while Hong Kong's Hang Seng added 0.7% to 14,157.