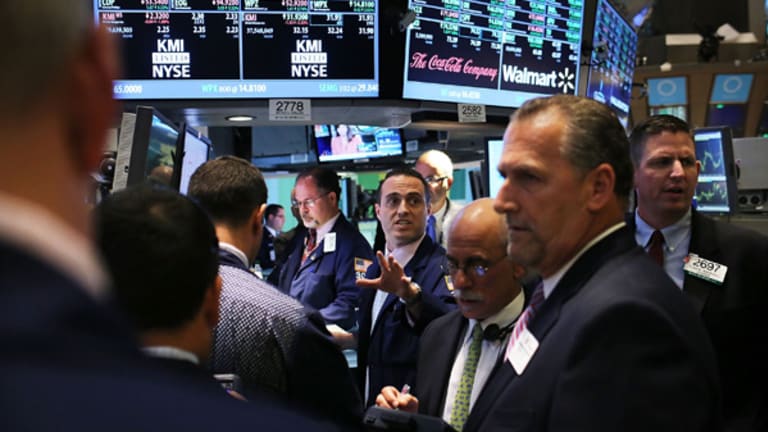 Averages End Lower Despite Late Rally
The Dow closes down 144 points, while the Nasdaq falls 27.
Updated from 4:13 p.m. EDT
Stocks fought back from steep losses but still ended lower Wednesday as concerns about possible U.S. military retaliation against terrorists weighed on the market. The
Dow Jones Industrial Average
closed down about 144 points, or 1.6%, to 8759, while the
Nasdaq
fell 27 points, or about 1.8%, to 1528. The
S&P 500
lost 17 points, or about 1.7%, to 1015. Earlier in the session, waves of selling sent the Dow down more than 400 points and the Nasdaq down by more than 100.
Volume was again extremely heavy, with about 2.15 billion shares changing hands on the NYSE and 2.46 billion shares trading on Nasdaq.
Kodak
(EK)
pressured the blue-chip average throughout the day, and ended down $2.22, or 5.5%, at $37.61. The company lowered its third-quarter guidance and warned of job cuts.
Boeing
(BA) - Get The Boeing Company Report
, which said it might lay off as many as 30,000 workers, ended down 53 cents, or 1.6%, at $32.61.
The Dow Jones Industrial Average traded to its lowest levels since the deep selloff in the fall of 1998. Below 1000 for much of the day, the benchmark S&P 500, too, was in territory it hasn't seen since the Russian debt crisis sent investors scurrying out of stocks.
The Nasdaq is back to early 1999 levels. The tech-laden index has lost nearly 70% of its value since its peak.
The impact of last week's terrorist attack continued to move through corporate America.
Viacom
(VIA) - Get Via Renewables Inc. Report
said the impact on television and radio advertising will lower its cash flow growth. The company's shares fell 1.6% to $31.40. Transport giant
CNF
(CNF) - Get CNFinance Holdings Limited American Depositary Shares each representing twenty (20) Report
said it will report a third-quarter loss on steep declines in freight traffic. That stock was off 7% to $25.66 before the close.
Mean Reversion
Stocks Running in Place
Widely held technology issues were also struggling.
Cisco
(CSCO) - Get Cisco Systems Inc. Report
finished down 8 cents, or 0.6%, to $13.49.
Oracle
(ORCL) - Get Oracle Corporation Report
fell 18 cents to $11.20,
Sun Micro
(SUNW) - Get Sunworks Inc. Report
lost 0.8% to $9.10, and
Intel
(INTC) - Get Intel Corporation Report
was down 5% to $32.28.
AOL Time Warner
(AOL)
closed up 50 cents to $30.95.
The 10-year note was up 3/32 to 102 13/32, yielding 4.69%.
Asian stocks rebounded for a second straight session overnight, with Japan's Nikkei index closing up 2.7% to 9940 and the Hang Seng up 2.7% to 9558. In Europe, London's FTSE 100 was down 1.3% to 4786, and Paris's CAC-40 was down 0.4% to 3956.