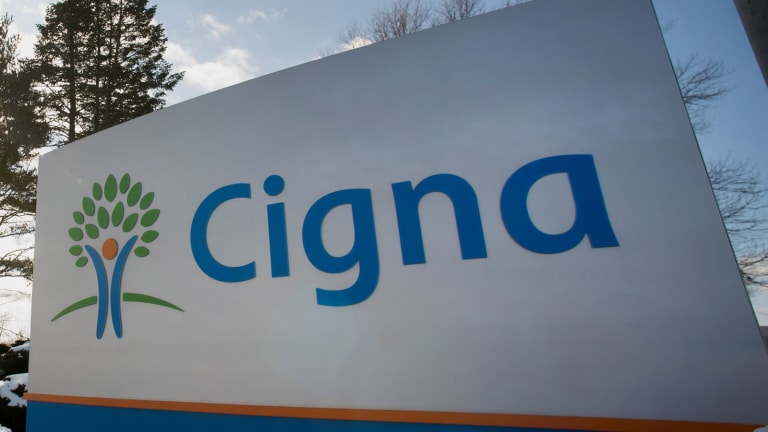 AT&T-Time Warner Ruling a Positive for Cigna-Express Scripts, CVS-Aetna Deals
The ruling has a positive read-across for Cigna's pending acquisition of Express Scripts and CVS' deal for Aetna, according to Leerink's Ana Gupte.
A federal judge's decision on Tuesday, June 11, to clear the merger of AT&T Inc. (T) - Get Free Report and Time Warner Inc. (TWX) bodes well for Cigna Corp.'s (CI) - Get Free Report pending purchase of pharmacy benefit management company Express Scripts Holding Co. (ESRX) , as well as CVS Health Corp.'s (CVS) - Get Free Report deal for health insurer Aetna Inc. (AET) .
"While the cable marketplace is not the same as the [managed care organization-pharmacy benefit manager] marketplace, with the latter seeing third party pay, the decision is favorable for the two large vertical mega-mergers," wrote Leerink Partners LLC analyst Ana Gupte in a note.
This story has been updated from 6:00 a.m. with additional information. 
Shares of Express Scripts rose 4.8% to $83 in morning trading on Wednesday and Cigna's shares were down 0.8% to $177.40. Aetna's stock jumped 4.1% to $188.03 and shares of CVS advanced 4.5% to $69.30.
The ruling "has a positive read-through for the CI-ESRX merger as well as any other [managed care organization-pharmacy benefit manager] combinations," wrote Evercore ISI analysts Ross J. Muken and Michael Newshel in a note.
In March, Bloomfield, Conn.-based Cigna unveiled an agreement to acquire Express Scripts in a cash-and-stock transaction valued at about $67 billion, including the assumption of about $15 billion of debt.
CVS, based in Woonsocket, R.I., in December said it was buying Hartford, Conn.-based Aetna for $69 billion. With the assumption of debt, the total transaction value is $77 billion.
On Tuesday, U.S. District Court Judge Richard Leon announced his decision on the AT&T-Time Warner case during a packed courtroom session in Washington.
"The judge's ruling that AT&T's increased negotiating leverage with distributors through its ownership of Time Warner will not increase consumer costs in excess of efficiency gains is a positive for CI-ESRX deal approval," according to Muken and Newshel.
The Cigna-Express Scripts deal, however, differs materially from the AT&T-Time Warner transaction, the analysts pointed out.
"Although the government in both cases will argue that the deals would result in higher consumer costs, PBM services may be viewed as more replaceable and interchangeable than TV content, which is differentiated by channel or program, and the efficiencies and cost savings of medical/pharmacy benefit integration may be more demonstrable as evidenced by CI's studies and data points on the topic,"  Muken and Newshel wrote.
-- David Hatch and Chris Nolter contributed to this article