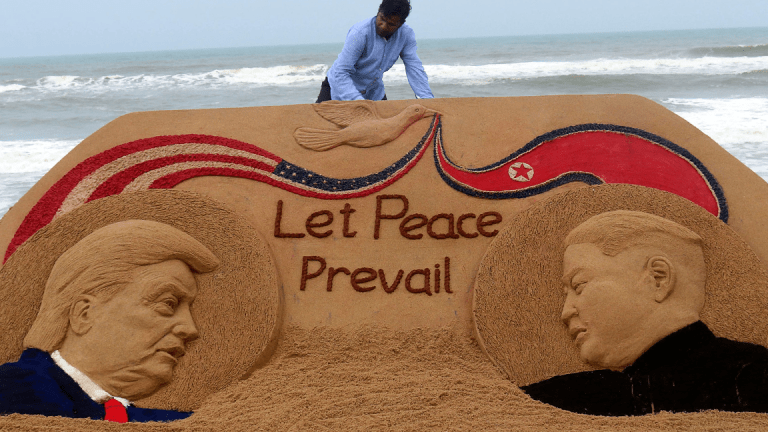 AT&T, Time Warner Trial Carries Sweeping Implications -- ICYMI
Here's what you need to know now for Monday, June 11.
Here's what you need to know now for Monday, June 11.
We've almost reached the end of the AT&T T-Time Warner (TWX)  saga, as a judge in D.C. is set to rule on the DOJ's suit to block the deal on Tuesday, June 12. While much of the talk has been about how the merger could affect other cable and telecom deals-Fox (FOXA) - Get Report  , Disney (DIS) - Get Report  , Sky, Comcast (CMCSA) - Get Report  , Sprint S and T-Mobile (TMUS) - Get Report  are certainly all paying attention-the review of AT&T-Time Warner will also have implications for other mergers. Executives at CVS Health (CVS) - Get Report  and Aetna (AET)  and ExpressScripts (ESRX)  and Cigna (CI) - Get Report  are also eyeing the ruling as it would have big implications for their respective deals, as well. "While the cable landscape is not the same as health insurance and PBMs given the latter is third party pay, the vertical nature of T-TWX still offers insights into the stance of the DOJ under the Trump Administration," writes Leerink Partners' Ana Gupte in a note Monday. "The most likely outcome is that the DOJ will win... and we may see some short covering of CI and CVS, while the spread that AET and ESRX trade at could still narrow." If the DOJ loses its bid to block the AT&T-Time Warner combo, "expect the spreads that ESRX and AET are trading at to narrow meaningfully, and CVS to trade up as this would be a precedent-setting transaction and would point to higher likelihood of deal close." Cigna, the analyst said, is a bit more difficult to decode as investors remain conflicted about the Express Scripts deal.
Markets today: Stocks finished higher on Monday, June 11, as Wall Street prepared for an extraordinary week for risk events around the world. The Dow Jones Industrial Average was up 7 points, or 0.03%, to 25,323. The S&P 500 gained 0.11% and the Nasdaq rose 0.19%. Investors were on edge as Tuesdayapproached when President Donald Trump is set to meet with North Korean President Kim Jong Un in Singapore. The meeting will be the first time an American president will meet with a sitting North Korean leader. What could go wrong?
M&M's, Snickers Bars, Dove chocolate and vets-yes, like animal doctors. That's the name of the game for Mars Inc., which announced Monday that it would spend more than $2 billion to acquire U.K. veterinary business and clinic operator Anicura. For Mars, the acquisition is a second European veterinary clinic deal in less than a week as it embarks on a spending spree aimed at replicating its North American pet care operation in Europe, the world's No. 2 pet care market after the U.S. Mars' acquisition of Anicura will make it the biggest single operator of clinics in both Scandinavia and Germany, and provide a platform from which it can continue to consolidate a hugely fractured market. In Germany, Anicura operates a network of about 40 clinics, or just 0.4% of the total of about 10,000 veterinary clinics. Mars, of course, broke into the pet business in earnest in 2017 when it acquired U.S. veterinary giant VCA Inc. for $9.1 billion and tacking on other pet-related products and businesses shortly thereafter.
This is an excerpt from "In Case You Missed It," a daily newsletter brought to you by TheStreet. Sign up here.