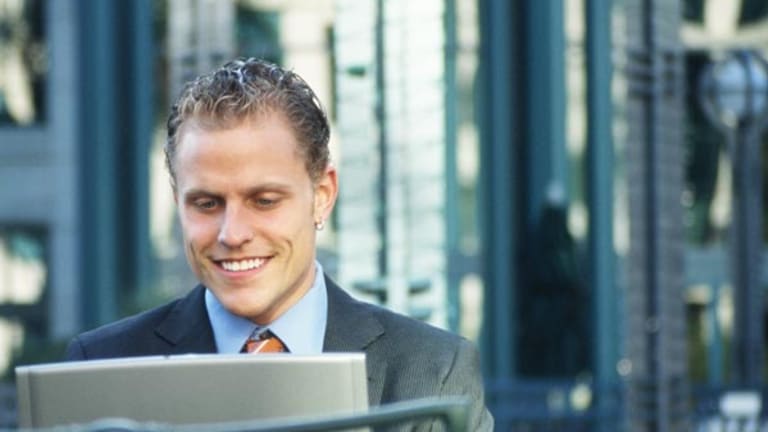 Publish date:
AstraZeneca's Just What the Doctor Ordered
If you're looking for a major drugmaker with a solid track record, look no further.
If you're looking for a major drugmaker with a solid track record, look no further.
This column was originally published on RealMoney on May 1 at 7:55 a.m. EDT. It's being republished as a bonus for TheStreet.com readers. For more information about subscribing to RealMoney, please click here.
London-based drugmaker
AstraZeneca
(AZN) - Get Report
made a major move last week, expanding its presence in the biotech market with a $15.6 billion agreement to buy
MedImmune
(MEDI)
, a biotech company whose products include a nasal spray flu vaccine and a medication designed to mitigate the negative effects of chemotherapy and radiotherapy.
The buyout comes at a time when the biotech drug industry is surging. A recent study by pharmacy benefits manager Express Scripts showed that while spending on nonspecialty drugs slowed to record low levels last year, spending on biotech drugs jumped 21%.
Many of these drugs, which are made from living organisms such as bacteria, yeasts, enzymes and re-engineered human proteins, have had fewer side effects -- and more success -- than traditional chemical-based drugs in treating diseases such as cancer or multiple sclerosis. The biotech market has even caught the attention of legislators, with Congress mulling a bill that would allow production of generic versions of the costly drugs.
It's unclear whether AstraZeneca's big biotech investment will pay off -- the company paid a hefty 53% per share premium for MedImmune, according to
USA Today
. But what is clear is that as it attempts to diversify its product line, AstraZeneca, the maker of such drugs as Crestor and Nexium, is positioned well in the drug market. Along with
Pfizer
(PFE) - Get Report
(
which I highlighted back in December), the company is one of just two major drug firms that get approval from more than one of my guru strategy computer models, each of which mimics the philosophy of a different Wall Street great.
AstraZeneca, which has its U.S. headquarters in Delaware, gets high marks from the strategies that I base on the writings of James O'Shaughnessy and Peter Lynch.
The O'Shaughnessy Strategy
My O'Shaughnessy-based method likes the company in part because of its size. O'Shaughnessy finds that stocks with large market caps exhibit solid and stable earnings, so this strategy looks for companies with caps of $1 billion or more. With a cap of $83.1 billion, AstraZeneca easily passes that test.
My O'Shaughnessy-based method also evaluates a stock by comparing its cash flow, sales and shares outstanding with the market as a whole. With a cash flow per share of $5.05, AstraZeneca exceeds the market mean of $1.57 per share, which indicates that it is a good value-type investment and passes the first test. The drugmaker's trailing 12-month sales ($27.26 billion) are also more than 1.5 times the market mean ($17.57 billion), passing another of this strategy's criteria.
Companies with a high number of shares outstanding are usually more well-known and highly traded. So my O'Shaughnessy strategy looks for stocks whose number of outstanding shares exceeds the market average, which is currently 638 million. AstraZeneca passes that test, with 1.53 billion shares outstanding.
When O'Shaughnessy looks at value stocks, dividends are also important. My O'Shaughnessy-based method takes all of the companies that have met the four aforementioned criteria and ranks them according to dividend yield, with the top 50 passing this final dividend test. With a dividend yield of 4.48%, AstraZeneca is among the top 50 of the companies that pass those four other tests, satisfying this strategy's final criterion.
The Lynch Strategy
For Lynch, the most important variable in judging a stock may be the PEG ratio, which divides a company's price-to-earnings ratio by its historic earnings-per-share growth rate to identify growth stocks that are selling at a good price. My Lynch-based method likes companies that have a PEG ratio below 1.0, with a ratio of 0.5 or less being best. AstraZeneca's P/E ratio of 13.84 and growth rate of 26.69% (based on the average of the three-, four-, and five-year EPS figures) result in a stellar 0.52 PEG figure, indicating that the stock is a good buy at its current price.
Lynch also likes companies that have shown a recent history of strong growth, so my Lynch-based model targets stocks whose EPS growth rates are between 20% and 50%. With the aforementioned growth rate of 26.69%, AstraZeneca passes the test.
Another factor Lynch looks at is debt, with less being better. My Lynch-based model requires companies to have debt equal to no more than 80% of their equity. AstraZeneca easily passes this test with an 8.24% debt/equity ratio.
One final category that Lynch examines is the relationship between a company's inventory and its sales. If inventory is increasing faster than a company is selling its merchandise, that is a red flag to Lynch. AstraZeneca's inventory-to-sales ratio decreased 0.71 percent since last year.
The pharmaceutical industry is constantly evolving -- just look at the new commercials that seem to pop up daily on television touting new drugs. While AstraZeneca's decision to expand its efforts in the surging biotech market seems, at least on the surface, to be a wise move, I'm certainly in no position to predict just how popular or successful these drugs will become.
What I do know, however, is that AstraZeneca is hardly putting all its eggs in one basket. According to
USA Today
, almost three-quarters of the company's development work will remain in the traditional, nonbiotech-drug arena, where it has excelled in recent years. The company has created a variety of drugs that have found their niches, allowing the firm to post several years of strong earnings and carve out a major stake in the big pharma industry.
If you're looking for a drug company with a track record of success and a diversified look for the future, you'd be wise to check out AstraZeneca.
At the time of publication, Reese had no positions in any of the stocks mentioned in this column, although holdings can change at any time.
John P. Reese is founder and CEO of
, an investment research firm, and
, an asset management firm serving affluent investors and companies. He is also co-author of the best-selling book,
The Market Gurus: Stock Investing Strategies You Can Use From Wall Street's Best
. Under no circumstances does the information in this column represent a recommendation to buy or sell stocks. Reese appreciates your feedback.
to send him an email.
TheStreet.com has a revenue-sharing relationship with Amazon.com under which it receives a portion of the revenue from Amazon purchases by customers directed there from TheStreet.com.