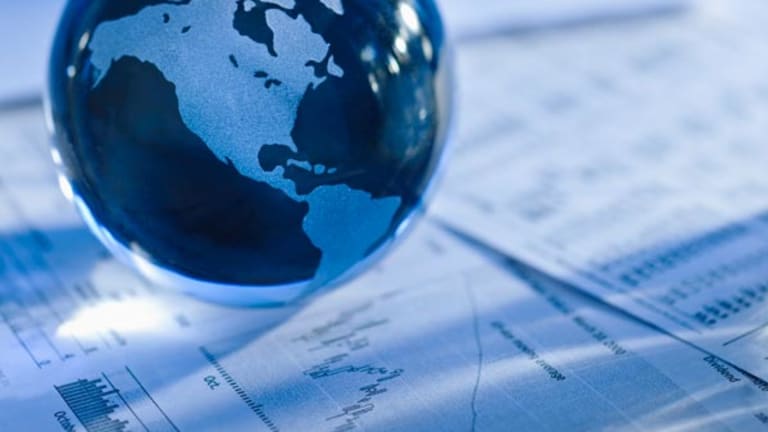 Asian Markets Tread Water
Chinese telecom stocks dominated light trading on Thursday.
LONDON -- Asian stocks continued to tread water Thursday on thin end-of-year trading, with the major indices ending mixed.
In China, the Shanghai Composite climbed 75 points, or 1.4%, to 5308. After a similar morning rally in neighboring Hong Kong, the Hang Seng gave away its early gains to end 285 points, or 1%, in the red, at 27,842. The Nikkei finished 88 points, or 0.6%, down, at 15,564, while the South Korean Kospi rose 2 points, or 0.1%, to 1908.
"Toward the end of the year, most of investors are becoming more cautious. The market is lacking focus, with no special stock driving the market to go up," says Castor Pang, a buy-side strategist for Sun Hung Kai in Hong Kong.
Market turnover on the Hang Seng dropped to HK$76.1 billion, or $9.8 billion, vs. over HK$81 billion last week.
Pang adds that investors focused their attention on selling shares of
China Mobile
(CHL) - Get China Mobile Ltd. Report
, ahead of Beijing's new plans to restructure the Chinese wireless industry in 2008. Market participants think that may make
China Unicom
(CHU) - Get China Unicom (Hong Kong) Ltd. Report
and
China Netcom
(CN) - Get Xtrackers MSCI All China Equity ETF Report
more competitive rivals, he says.
Shares in China Mobile dragged on the Hong Kong exchange, as they fell 2.3%, to HK$138.60, while those of the smaller competing operators surged.
China Telecom
(CHA) - Get China Telecom Corp. Ltd. Report
soared 6.3%, to HK$6.28, and China Unicom jumped 3.6%, to HK$17.98, and China Netcom leapt 3.4%, to HK$24.05.
Beijing is expected to unveil 3G wireless technology during the Olympics in 2008, although it is still not clear whether it will implement the Chinese homegrown TD-SCDMA network, or one of the two currently established versions in the West.
Among financial stocks,
HSBC Holdings
(HBC)
lost 0.75%, to HK$131.60, while
Bank of China
(BACHF)
fell 1.6%, to HK$5.68. In headline news, HSBC is pursuing a Chinese mainland listing in Shanghai, in 2008.
Other Hong Kong shares were mixed. In property stocks,
Hang Lung Properties
(HLPPY)
rose 1%, to HK$35.1, but
Cheung Kong
(CHEUY)
fell 0.2%, to HK$141.50, and
Hutchison
(HUWHY)
lost 1.8%, to HK$87.10.
Commodity stocks were broadly ahead, after a rally in the price of crude oil over the Christmas holiday, and after news that China will continue a run of imports to keep up with growth in its surging economy, in particular in copper.
PetroChina
(PTR) - Get PetroChina Co. Ltd. Report
lost 0.7%, to HK$14.04, but in China,
Sinopec Shanghai Petrochemical
( SHL) rose 5%, to 16.02 yuan, while
China Shenhua Energy
(CUAEF)
rose 0.3%, to 37.05 yuan, and
Aluminum Corp of China
(ACH) - Get Aluminum Corp. of China Ltd. Report
jumped 1.4%, to 40.53 yuan.
Yanzhou Coal Mining
(YZC)
ended 0.1% ahead, at 22.09 yuan.
The gains come despite moves by Beijing to stem exports of domestic fuel, by raising export taxes, at the same time as decreasing import taxes on energy in general, says Sun Hung Kai's Pang. Combined turnover of commodity futures in China this year was 40 trillion yuan, or $5.5 trillion, vs. 21 trillion yuan, or $2.9 trillion, in 2006, according to official data released Wednesday.
Despite strong gains in fuel stocks, shares in Chinese air carriers also rose.
China Eastern Airlines
(CEA) - Get China Eastern Airlines Corp. Ltd. Report
climbed 4.3%, to 19.94 yuan, and
Air China
(AIRYY)
jumped 2.3%, to 27.14 yuan.
Chinese shares also got a boost after an announcement by Beijing that profits on Chinese industrial output from the January to November period -- a broad proxy for economic growth -- increased by 36.7% this year, to 2.3 billion yuan, or $314 million.
In Japan, stocks were sluggish, as a strengthening yen held down exporters from building on last week's gains. The yen was trading at 114.20 vs. the dollar in Japanese trading vs. 114.31 on Wednesday.
Sony
lost 0.5%, to 6,340 yen, while
Honda
(HMC) - Get Honda Motor Co. Ltd. Report
fell 1%, to 3,780 yen.
Canon
and
Nintendo
(NTDOY) - Get Nintendo Co., Ltd. Report
gained, however, rising 0.18%, to 5,340 yen, and 0.14%, to 67,300 yen, respectively.
After shareholders punished Nintendo for its messy handling of Christmas orders in mid-December, the company has got some reprise in the last day from the announcement by
Amazon
(AMZN) - Get Amazon.com, Inc. Report
that the Wii and Nintendo's games were some of the best selling items on the site this year.
In other news, output from carmakers rose by 3.8%, to 1.07 million cars built on the year in November, propelled by exports, which accounted for 600,422 vehicles.
Toyota
(TM) - Get Toyota Motor Corp. Report
, Japan's largest manufacturer, said that it will raise domestic output by 2%, to 4.3 million vehicles in 2008.
For early 2008, Pang recommends investors buy consumption and retail stocks in China and Hong Kong, which he says will continue to benefit from mainland growth, while being protected from macroeconomic risks such as a rising yuan.
"The government is trying to cool down the economy, but it is still encouraging domestic consumption," says Pang.
Daniel M. Harrison is a business journalist specialising in European and emerging markets, in particular Asia. He has an MBA from BI, Norway and a blog at
. He lives in New York.