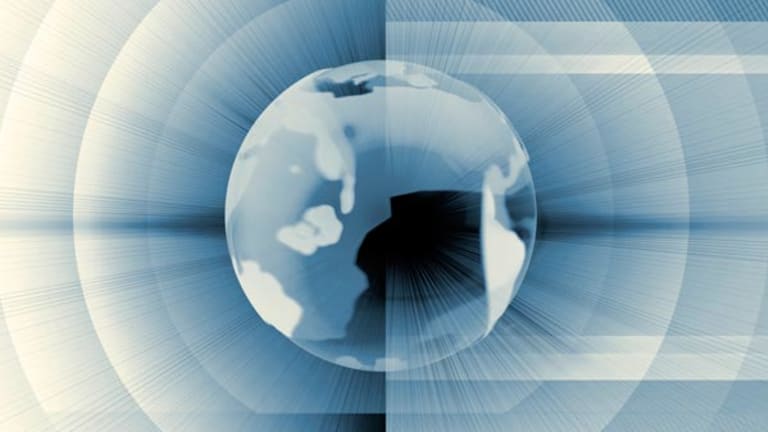 Asian Markets Muddled
A Chinese rate hike and the Korean election highlight the day.
Asian markets ended mixed on Thursday, as volumes continued to thin out ahead of year-end, while investors locked in gains from the recent China-led rebound in Hong Kong shares.
In China, the Shanghai Composite Index entered a two-day winning streak, pulled higher by commodity stocks like
PetroChina
(PTR) - Get PetroChina Co. Ltd. Report
. The index finished 101 points, or 2%, higher, at 5043, retesting the 5,000 points benchmark. In Hong Kong, after a similar rally, the Hang Seng pulled back 12 points, or 0.05%, to 27,017.
"The general feeling of the Hong Kong market is to try to lock in profit while it is rebounding," says Jackson Wong, investment manager for Tanrich Securities in Hong Kong. "The market is window dressing for the year-end, and pretty much waiting for China or the U.S. to roll out more news."
Wong adds that investors can expect the Hang Seng to continue trading in bands of 1000 points, upwards and downwards, until the world's largest economy, or the world's fastest growing one, give further indication of where they are headed in 2008.
Some of that news came after market hours closed, when China announced that it
raised interest lending rates by 18 basis points, to 7.47%.
Leaders in Hong Kong trading included financial stocks, which gained strength from
China Investment Corp.'s
announcement on Wednesday that it will take a 9.9% stake in U.S. investment banker
Morgan Stanley
(MS) - Get Morgan Stanley Report
for $5 billion.
HSBC rose 0.15%, to HK$131.10, while local subsidiary
Hang Seng Bank
(HSNGY)
jumped 1.4%, to HK$152.60, and
Bank of China
(BACHF)
climbed 1.8%, to HK$3.89.
"We should take some comfort from the wave of reinvestment that we are seeing flow back from those exporting nations flush with excess foreign currency reserves," wrote London-based Seven Investment Management's Justin Urquhart-Stewart in a research note this week. In addition to China, he points to sovereign wealth funds in India and Singapore as potential providers of more liquidity to ailing U.S. assets.
Among property stocks,
Cheung Kong
(CHEUY)
gained 0.5%, to HK$134.60, and
Hang Lung Properties
(HLPPY)
extended a three-day rally by 0.9%, to HK$33.
Hutchison
(HUWHY)
however, fell 0.3%, to HK$87.40.
Other sectors were turbulent as dealers pursued a mixture of long and short-selling strategies throughout the day.
In telecoms,
China Unicom
(CHU) - Get China Unicom (Hong Kong) Ltd. Report
rose 0.4%, to HK$16, and
China Telecom
(CHA) - Get China Telecom Corp. Ltd. Report
fared similarly, up 0.7%, to HK$5.80.
China Netcom
(CN) - Get Xtrackers MSCI All China Equity ETF Report
was one the day's biggest fallers however, plunging 4.5%, to HK$23.30, and
China Mobile
(CHL) - Get China Mobile Ltd. Report
also fell, by 0.4%, to HK$134.80.
"Telecom stocks rose a lot earlier this year as investors speculated on 3G alliances which never happened," Wong says. Although he predicts such licenses to be released next year, he points to China Mobile as investors' best bet, which he says "will still be better off than the others even without 3G licenses."
In China, shares in PetroChina were some of the day's best performers among the blue chips, leaping 3%, to 30.50 yuan, while in other commodity stocks,
Aluminum Corp of China
(ACH) - Get Aluminum Corp. of China Ltd. Report
gained 0.9%, to 37.71 yuan, and
China Petroleum and Chemical
(SNP) - Get China Petroleum & Chemical Corp. Report
surged 6.8%, to 23.04 yuan.
Shares in
China Eastern Airlines
(CEA) - Get China Eastern Airlines Corp. Ltd. Report
jumped 2.98%, despite further reports in Hong Kong that
Air China
(AIRYY)
, which owns a 12% stake, is still considering voting against a proposed sale of 24% of the company to
Singapore Airlines
and Singaporean fund
Tesmasek
. China's national carrier cites uncertainty over "little synergy".
Joseph Yam, CEO of the Hong Kong Monetary authority, encouraged China to adopt a policy of "liberalization" regarding cross-border money flows between Shenzhen and Hong Kong. The announcement was seen as a positive indicator for Hong Kong shares, though by others as legitimizing the widely reported illegal practice of "backpacking" currency from the mainland to the island.
In Japan, the Nikkei ended flat after a choppy trading session, rising 1 point, or 0.01%, to 15,031. Investors in
Nintendo
(NTDOY) - Get Nintendo Co., Ltd. Report
continued to show their frustration at the company's messy handling of Christmas Wii orders, as the shares declined 1%, to 61,900 yen, while exporters
Canon
and
Honda
(HMC) - Get Honda Motor Co. Ltd. Report
fell around 0.8% in the wake of a stronger yen.
NTT DoCoMo
(DCM)
however leapt 1.7%, to 182,000 yen, continuing its surge on the back of a pending deal with
Apple
(AAPL) - Get Apple Inc. Report
to bring the iPhone to Japan. Financials
Mitsubishi UFJ
(MTU)
and
Mizuho Financial
(MFG) - Get Mizuho Financial Group Inc. Report
gained around 2%, while
Sumitomo Mitsui Financial
( SMFJY) fell slightly, by 0.3%.
In South Korea, an election victory by former Hyundai CEO Lee Myung-Bak initially cheered investors, but exporters weighed on the market throughout the day after weaker than expected U.S. holiday sales and the Kospi ended 17 points lower, or 0.9%, at 1844.
Daniel M. Harrison is a business journalist specialising in European and emerging markets, in particular Asia. He has an MBA from BI, Norway and a blog at
. He lives in New York.