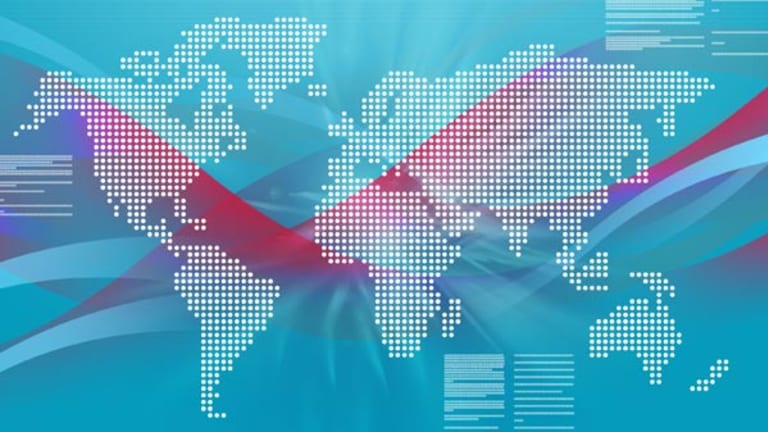 Asian Markets Chase Gold Higher
Gold futures' debut in Shanghai spur the metal and the region's stocks higher.
HONG KONG -- Asian markets shrugged off Wall Street's selloff and early declines on Wednesday, fueled by bullish sentiment when the price of gold reached a record $891 an ounce. Gold gained after heavy buying on the debut of futures contracts in Shanghai, and other commodities followed.
The Hang Seng leapt the most of all, by 502 points, or 1.9%, to 27,615, while China's Shanghai Composite Index rose 49 points, or 0.9%, to 5435. The Nikkei continued on a volatile trend for the second day running, gaining 70 points, or 0.5%, to 14,599, after hitting a new 18-month intraday low.
Other major Asian indices ended in the green, too, as the Taiwanese Taiex jumped 122 points, or 1.5%, to 8085, and the South Korean Kospi climbed 18 points, or 1%, to 1844. The only decliner was the Bombay Sensitive Index, which fell flat, down 3.5 points, at 20,869, after hitting an all-time high.
"There has been a regular correction recently in a bull market that is otherwise continuing," says Mark Mobius, who manages $45 billion for Franklin Templeton Investments in Singapore. "The economists keep talking down the economy but the numbers are not there yet to support that view."
In Shanghai, June gold futures traded as high as 230.99 yuan a gram, or $988 an ounce, before settling back to around 224.74 yuan a gram, or $962 an ounce, according to
Bloomberg
. Shanghai futures trade at a premium to ordinary gold futures, in order to deter retail investors from over-speculating on the commodity.
By the end of Asian trading, the price of gold globally was up 1% for the day, at $889.79. Dealers pointed out that Asian investors who are applying the same historical valuation methods to gold as to oil view the commodity as very cheap, since in that case the yellow metal would be worth over $2,000 an ounce.
The surge in the price of gold prompted big gains in mining stocks. In Hong Kong,
Sino Gold
( SIOGF) leapt 5.1%, to HK$53.50, while
Zijin Mining
(ZIJMF)
rose 2.5%, to HK$13.10,
Lingbao Gold
(LGBOF)
jumped 5%, to HK$5.93, and
Zhaojin Mining
(ZHAOF)
surged 9.6%, to HK$41.10, as trading volume rose 75% above the average volume for Zhaojin.
Other commodity stocks rose strongly too, as the price of crude oil was fetching 0.5% more than on Tuesday, at $96.06 a barrel.
PetroChina
(PTR) - Get Report
climbed 2.7%, to HK$14.24, while
China Shenhua Energy
(CUAEF)
rose 2%, to HK$46.80, and
CNOOC
(CEO) - Get Report
inched up 5.7%, to HK$13.90. In Shanghai, shares in
Aluminum Corp of China
(ACH) - Get Report
saw some of the biggest gains in the region, up 5.8%, to 42.32 yuan.
The Hang Seng was also lifted by property stocks, as investors in Hong Kong are increasingly confident of a 50 basis point interest rate cut by the
Federal Reserve
this month.
Cheung Kong
(CHEUY)
advanced 2.4%, to HK$146, while
Hang Lung Properties
(HLPPY)
gained 2.1%, to HK$33.90, and conglomerates
Hutchison
(HUWHY)
and
Swire Pacific
(SWRAY)
rose 1.9%, to HK$89.80, and 1.5%, to HK$110, respectively.
"Certainly the reason for local market strength today is the continuing speculation over a U.S. interest rate cut," said Miles Remington, head of sales trading for BNP Paribas in Hong Kong in the Asian morning.
"There is a very low level of unsold property on the market, and the growth in Asia relative to the rest of world appears strong. It won't slow down in Hong Kong," he added.
Telecoms also got a boost, with
China Telecom
(CHA) - Get Report
the day's leader, up 6.1%, at HK$6.60, as investors searched for value on renewed hopes of Chinese 3G license issuances.
China Mobile
(CHL) - Get Report
rose 1.9%, to HK$136.60, while shares in
China Unicom
(CHU) - Get Report
and
China Netcom
(CN) - Get Report
increased 2.1%, to HK$16.34, and 1.9%, to HK$24.25, respectively.
Locally, fundraising for IPOs Tuesday was reportedly strong, and many now say the launch of several billion-dollar Chinese companies in Hong Kong later this quarter may be an upward catalyst for the market.
In Japan, the yen declined the most in two weeks, to 109.38 vs. 108.90 previously. That helped exporters like
Sony
(SNE) - Get Report
, which jumped 2.7%, to 6190 yen. Sony is increasingly susceptible to bargain hunting by Asian investors, say market participants. Other exporters rose too, as
Nintendo
(NTDOY)
gained 1.5%, to 59,900 yen, and
Kobe Steel
(KBSTY)
climbed 1.7%, to 360 yen.
Rumors about the U.S. interest rate cut, and about cash infusions to the U.S. market from the Fed lifted Japanese megabanks.
Mitsubishi UFJ
(MTU)
rose 2.7%, to 1047 yen, while
Sumitomo Mitsui Financial
( SMFJY) gained 1.5%, to 605 yen.
Templeton's Mobius says that fears over a U.S. recession are unwarranted, and that there is no economic basis for the increasingly popular theory stateside that one will materialize soon.
"The global money supply situation is very good,' says Mobius. "At the end of the day, it comes down to price, and that's why you see these corrections along the way."
Daniel M. Harrison is a business journalist specialising in European and emerging markets, in particular Asia. He has an MBA from BI, Norway and a blog at
. He lives in New York.