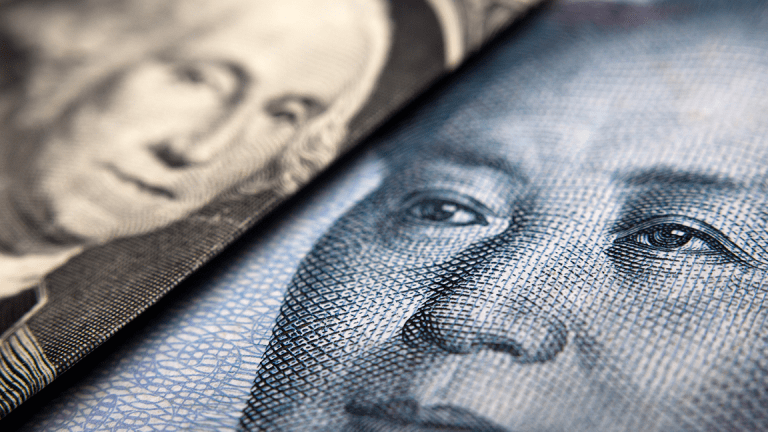 Asian Benchmarks, U.S. Stock Futures Strengthen
Asian markets and U.S. stock futures rose overnight, while China pegged its currency rate weaker than 7 to the U.S. dollar.
Asian stocks were mixed to slightly higher Thursday morning, while U.S. stock futures also edged up, as China's central bank pegged its daily onshore currency rate at weaker than 7 for the first time since 2008.
Japan's Nikkei 225 was up 0.35% to 20,588.75, and Hong Kong's Hang Seng added 0.85% to 26,218.91.Australia's S&P/ASX 200 Index fell 0.2% and South Korea's Kospi index rose 0.7%. The Shanghai Composite Index rose 0.7%.
The yen rose 0.1% to 106.16 per dollar. The offshore yuan rose 0.3% to 7.0680 per dollar. Bloomberg News noted that China's currency fixing rate for Thursday was interpreted as a sign Chinese authorities were trying to stem a recent slide.
Dow futures were up 0.22% to 25,998; Nasdaq futures added 0.43% to 7,586.00 and S&P futures rose 0.24% to 2,887.50.
On Monday, the People's Bank of China allowed the yuan to weaken beyond the key psychological threshold of 7 to the U.S. dollar, which led to the U.S. to designate the world's second biggest economy a "currency manipulator" for the first time since 1994, noted a story from the South China Morning Post. However, analysts say that China's central bank had found the yuan increasingly burdensome to defend and, therefore, its decision to allow it to drop below 7 was reasonable and long overdue, amid lower growth and escalating trade tensions with the U.S., the SCMP report said.
On Wall Street Wednesday, stocks finished mixed after a wild trading day, paring sharp losses sparked by fears over the U.S.-China trade war.
The Dow Jones Industrial Average, which was pulled down by Walt Disney's (DIS) - Get The Walt Disney Company Report disappointing earnings, hit a session low nearly 600 points down, before finishing down 22 points, or 0.09%, to 26,006. The S&P 500 rose 0.08%, while the Nasdaq was up 0.38%.