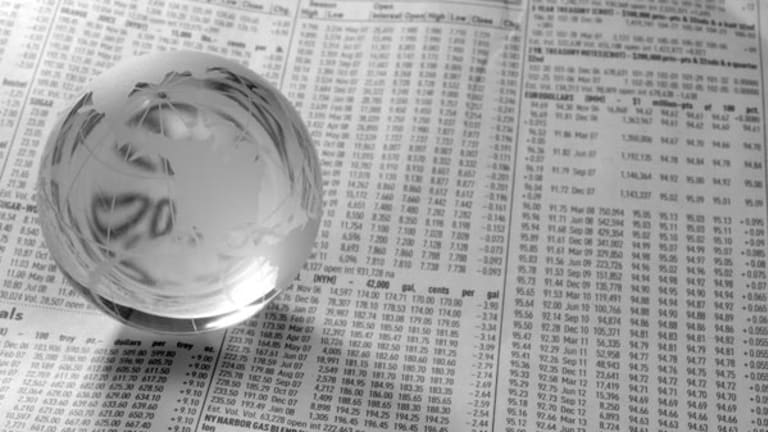 Asia: Stronger Yen Hits Japan's Stocks
Other markets in the region pulled back slightly, with Shanghai the lone winner.
Markets in Asia pulled back slightly Tuesday, as investors cashed in profits after a heavy run of buying over the last week, but China's Shanghai Composite Index bucked the trend, edging into the green.
The Shanghai Composite rose 13 points, or 0.4%, to 3612.54, while the Hang Seng fell back 267 points, or 1.1%, to 24,311.69. In Japan, the Nikkei eased 199 points, or 1.5%, to 13,250.43. The selling was broadly expected by traders, after a weak performance overnight on Wall Street followed gains of 9% in China over the past four trading days.
Traders said that they were using the dips to pick up shares in undervalued Chinese "red-chips" like
PetroChina
(PTR) - Get PetroChina Company Limited Report
, which have gained buying momentum in the last week's rally.
"We're noticing Japanese value funds and global value funds stepping up the buying over the past three weeks," says Bryan Watkins, a trader for Daiwa Bank in Hong Kong. "This is the first time we've seen convincing activity in the name since the beginning of the year."
PetroChina, the largest single stock weighting on the Shanghai Composite Index and the seventh largest on the Hang Seng, is considered by many a key proxy of market direction. In Hong Kong, PetroChina lost 1.1%, to 10.64, while A-listed shares fell 0.8%, to 18.20 yuan on the mainland. Shares have gained around 10% over the last week in Hong Kong.
Other commodity stocks were volatile, as oil traded at around $109 and gold rose $4.60, to $924.60 an ounce, in Singapore trading.
Aluminum Corp. of China
(ACH) - Get Aluminum Corporation of China Limited American Depositary Shares Report
rose 1.4%, to 23.17 in Shanghai, and lost 4.1%, to HK$13.50, in Hong Kong. In Shanghai,
Sinopec Shanghai Petrochemical
( SHL), a downstream oil supplier, lost 1.1%, to 9.12 yuan, and fell 4.3%, to HK$7.29, after the company said it would lose money in the first quarter this year on higher crude prices and retail price caps in China.
Zijin Mining
(ZIJMF)
shone, however, surging 7.5%, to HK$8.60, after the gold miner announced it may raise as much as $1.5 billion by selling 1.5 billion new shares in its Shanghai listing, due to take place next week. The IPO is scheduled for pricing on April 17.
Other sectors in Hong Kong were sluggish as investors cashed in gains. Telcos pulled back slightly, with
China Netcom
(CN) - Get Xtrackers MSCI All China Equity ETF Report
and
China Mobile
(CHL) - Get China Mobile Ltd. Report
falling the furthest, down around 2%, at HK$22.20 and HK$125.80, respectively.
Real estate developers rose a bit on anticipation of more easing in monetary policy stateside. Conglomerate
Hutchison
(HUWHY)
gained 0.5%, to HK$75.50, and parent
Cheung Kong
(CHEUY)
eked out 0.1% in gains, to HK$121.80.
Short selling activity fell to 4.9% of total listed shares vs. 5.7% Monday, as volumes on the Hong Kong main board declined around 12%, to HK$87.74 ($11.26 billion). Some of Tuesday's weakness was also attributed to Beijing's approval for mainland banks to make investments in U.S. shares, announced after market hours Monday. The permission is part of a structure known as the qualified domestic institutional investor program, which permits Chinese institutions to invest outside their domestic markets.
Japan succumbed to the heaviest profit taking in the region, as the yen strengthened slightly vs. the dollar. By the end of Asian trading, the dollar was buying 102.23 yen vs. 102.40 yen previously.
Exporters were hit hardest.
Sony
dropped 3.7%, to 4210 yen, and
Canon
(CAJ) - Get Canon Inc. American Depositary Shares Report
slid 2.6%, to 4850 yen.
Nintendo
(NTDOY) - Get Nintendo Co. Ltd ADR Report
fell 2.3%, to 55,000 yen.
Other Asian markets were weak. The Taiwanese Taiex fell 0.7%, to 8672.85, and the South Korean Kospi slipped 1.1%, to 1754.71. In India, the Bombay Sensitive Index declined 1.1%, to 15,587.62.
Be sure to check out the Far East Portfolio at Stockpickr.com to find out which Indian and Chinese companies are making big moves and announcing major news.
Daniel M. Harrison is a business journalist specialising in European and emerging markets, in particular Asia. He has an MBA from BI, Norway and a blog at
. He lives in New York.