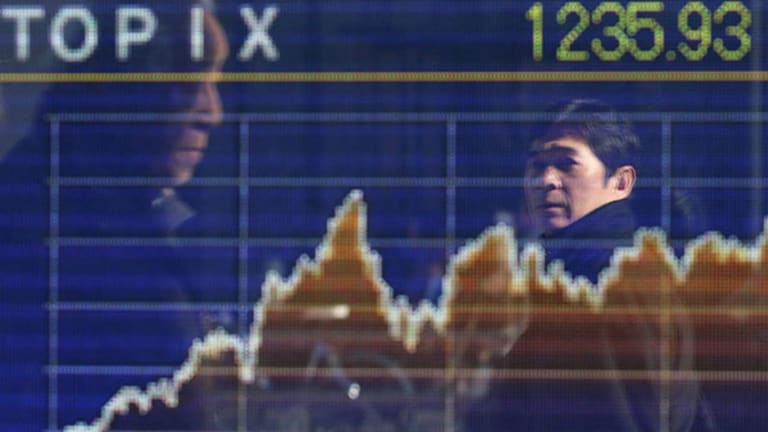 Asia Stock Markets Mixed; Japanese Indices Rise on Intervention Hope
Car makers and banks buck the positive trend in Japan.
Car makers and banks buck the positive trend in Japan.
Asian stock markets were mixed on Monday after the U.K.'s Brexit referendum vote, with Japanese indices trading sharply higher on expectations of policy intervention to stem the rise of the yen.
Trading resumed after a weekend of political turmoil within the U.K. following the resignation of Prime Minister David Cameron on Friday and amid a rebellion by opposition lawmakers against the leadership of Jeremy Corbyn, a far-left politician who was blamed for campaigning only half-heartedly for Britain to remain in the European Union.
As investors awaited a promised statement by U.K. Chancellor of the Exchequer - or finance minister- George Osborne before European markets opened the Nikkei 225 was recently up 1.96% at 15,244.72. It had slumped 7.92% on Friday to its lowest level in 20 months as it posted the largest decline in more than 16 years. The Topix was up 1.38% at 1. 1,221.12.
Japanese Prime Minister Shinzo Abe said he'd told Finance Minister Taro Aso to watch currency markets "ever more closely" and intervene if necessary.
Car companies continued to fall amid concern that the U.K.'s retreat from the EU - and the uncertainty accompanying it - will weigh on global demand. Toyota Motor (TM) - Get Report was recently down 2.6%. Nissan (NSANY) was down 3.9% and Mitsubishi Motors (MMTOF) was down more than 5%.
Banks Mitsubishi UFJ Financial Group was down almost 4% and Sumitomo Mitsui Financial lost close to 2%. Investment bank Nomura was harder hit, down 6%.
The yen continued to rise against the dollar, the euro and the pound. One dollar recently bought Y101.640, a decline of 0.57%.
In Hong Kong the Hang Seng was down 0.73% to 20,110.88. On mainland China indices rose, with the CSI 300 composite index up 0.83% at 3,102.73.
In Sydney the S&P ASX 200 was recently up 0.68% at 5,147.80. The world's leading miners, BHP Billiton (BHP) - Get Report and Rio Tinto (RIO) - Get Report were both up about 3%. Top Australian banks Westpac Banking, Australia & New Zealand Banking and National Australia Bank were little changed.
Stock futures pointed to further losses in Europe, with FTSE 100 futures down 3.5%. The benchmark U.K. index had fallen 3.2% on Friday. S&P 500 mini futures were recently down 0.52%.
Spot gold prices were up 0.89% at $1,327.42 per ounce after earlier reaching a near-two-year high.
Brent crude
was down 0.50% at $48.17 per barrel.